Artist:
LiveStream Setup Help
LiveStream: With a Pre Recorded Performance
How to Add a Pre-Recorded Video to Livestream
Start off by opening up your OBS program (if you do not already have OBS installed you can head to this help article for full info on that.
(NOTE: If you don't want a thumbnail image for your performance you can skip down to VIDEO SETUP.)
Then you will need to click on the + button on the bottom left under Scenes. It will then give you the option to name your image. Once you do that you just need to hit Ok.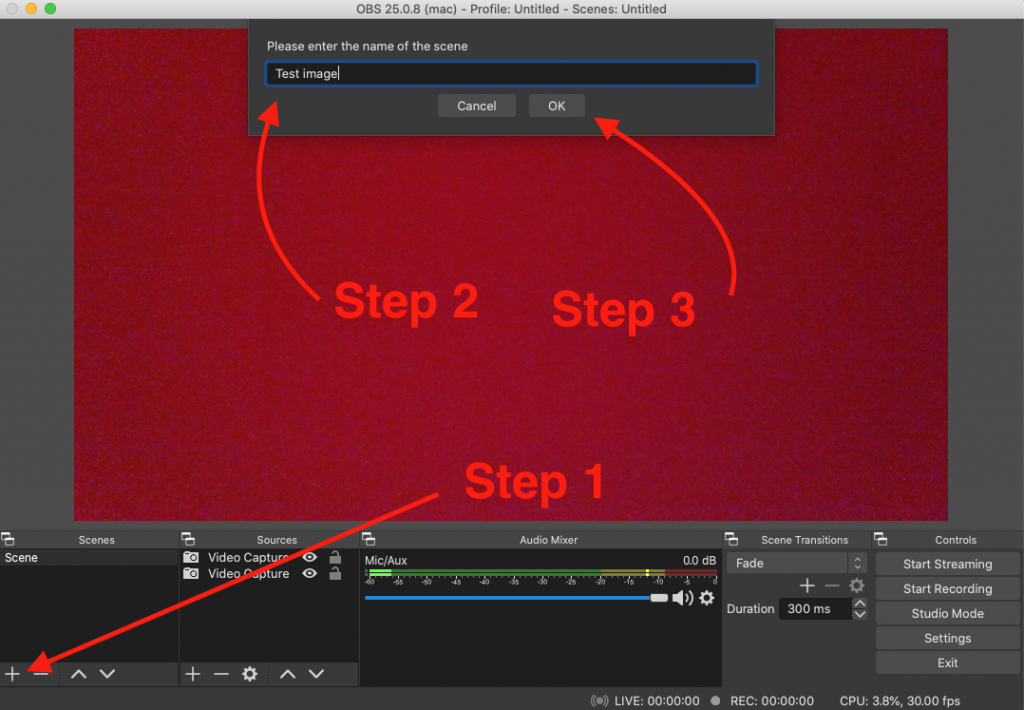 Then you will need to make sure that image is selected and then hit the + button in the Sources box to the right of that and click on Image.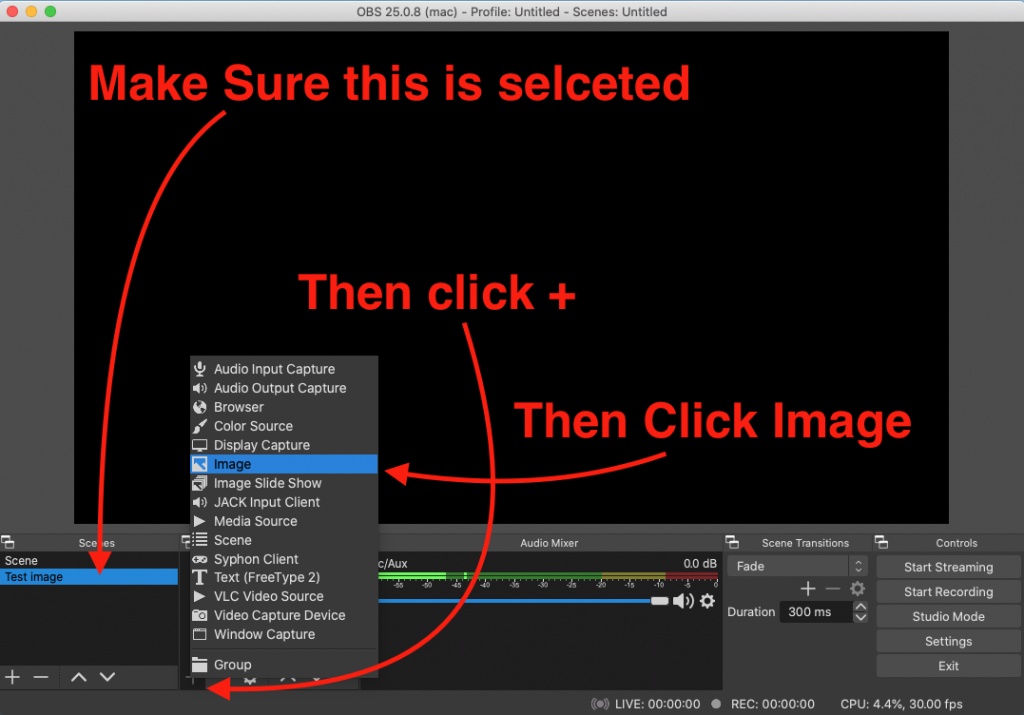 Then you will need to make sure that Create New is selected and that your image is named. Then click Ok.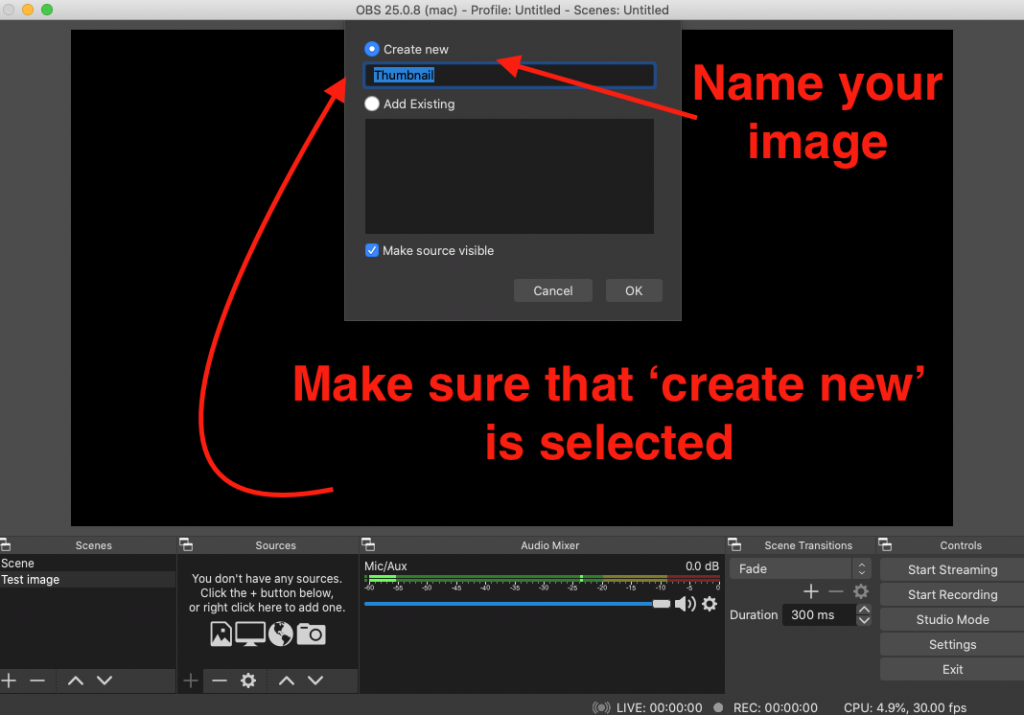 Next you will need to click on Browse to find the image that you would like to use and then click Ok.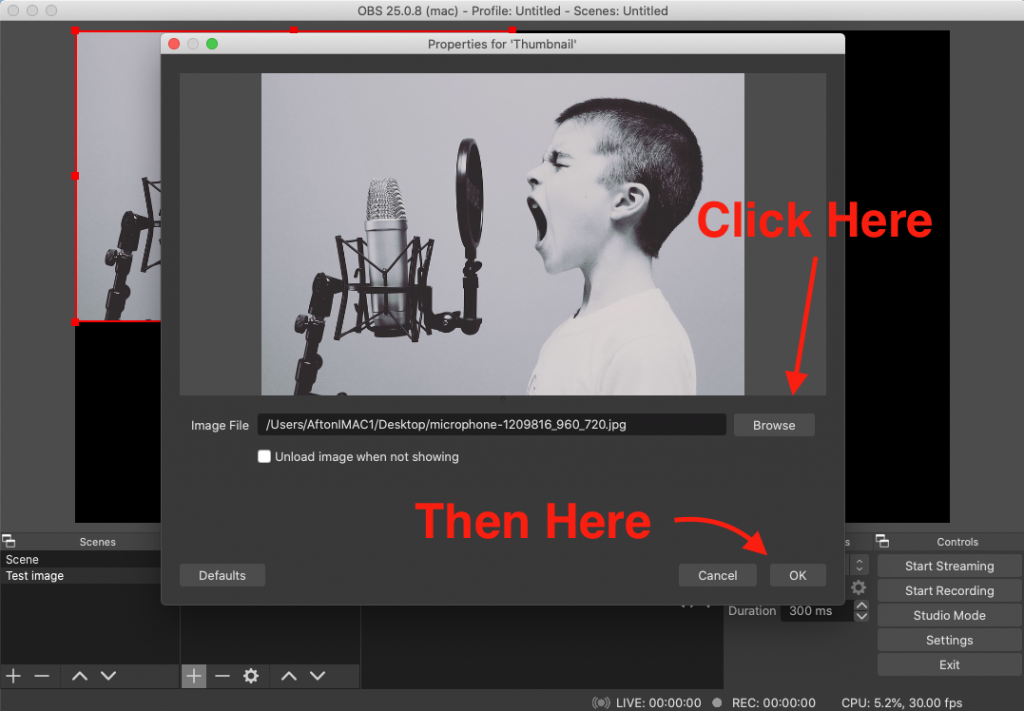 Video Setup
Starting off you will just click on the + button in the bottom left corner under Scenes. Then you will need to name the file and hit Okay.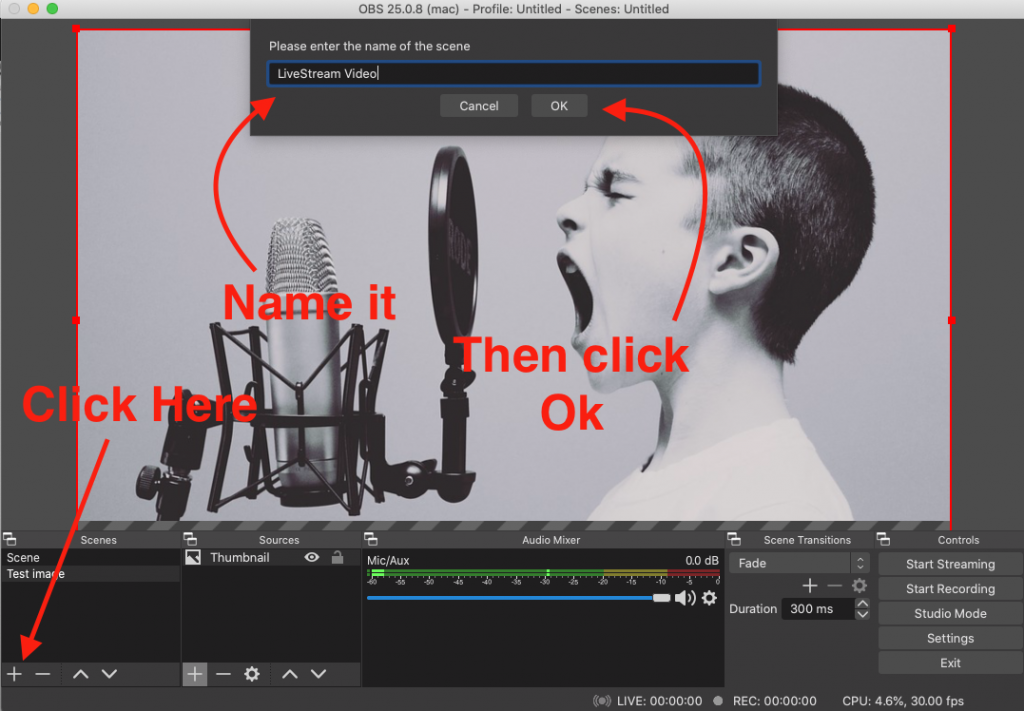 Next you will need to make sure that you have your Scene selected (in this case mine is called 'LiveStream Video'. Then hit on the + button in the Sources section. Then click on Media Source.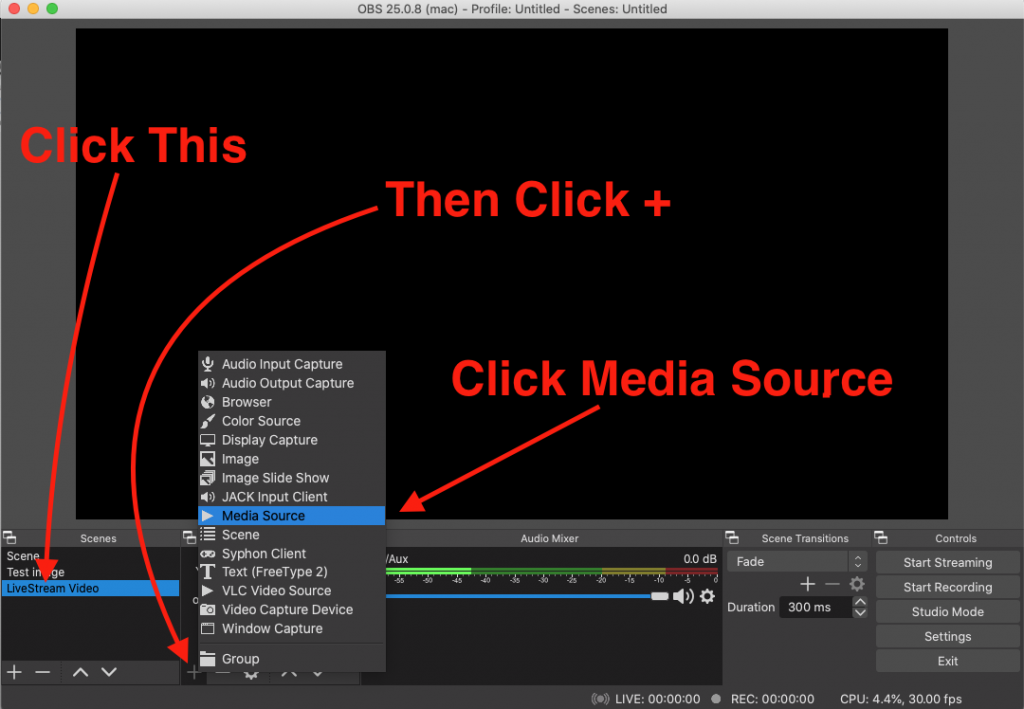 Then you just need to name the file and click Ok.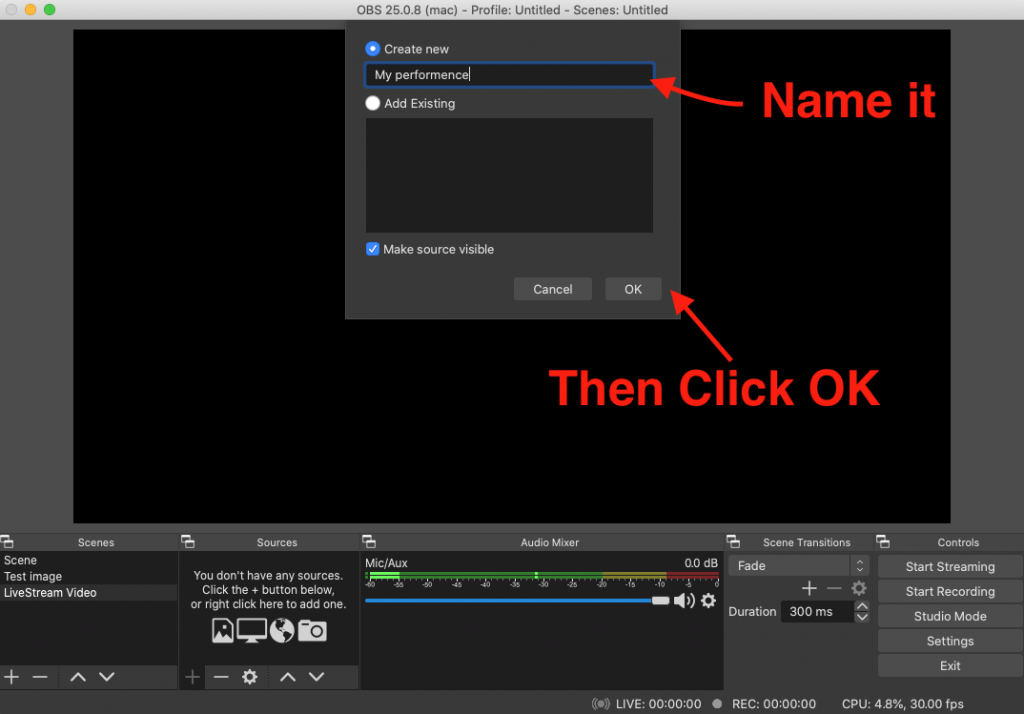 Next you will need click on Browse and locate the pre recorded video that you want to be played on your LiveStream. Once you find it just hit Ok.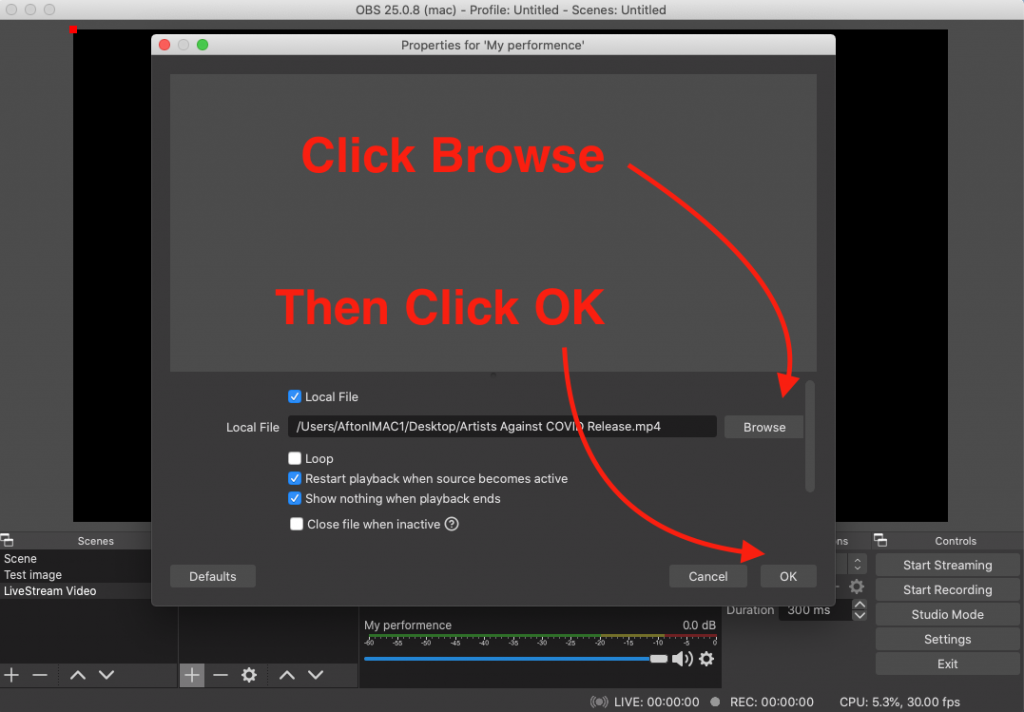 Finally you will just need to click on the Video Scene in order for it to play. In this case mine is called 'Livestream Video'. Once you click that the video will start. So once you have your livestream all setup and streaming you would just click on the video file for it to begin playing for your audience.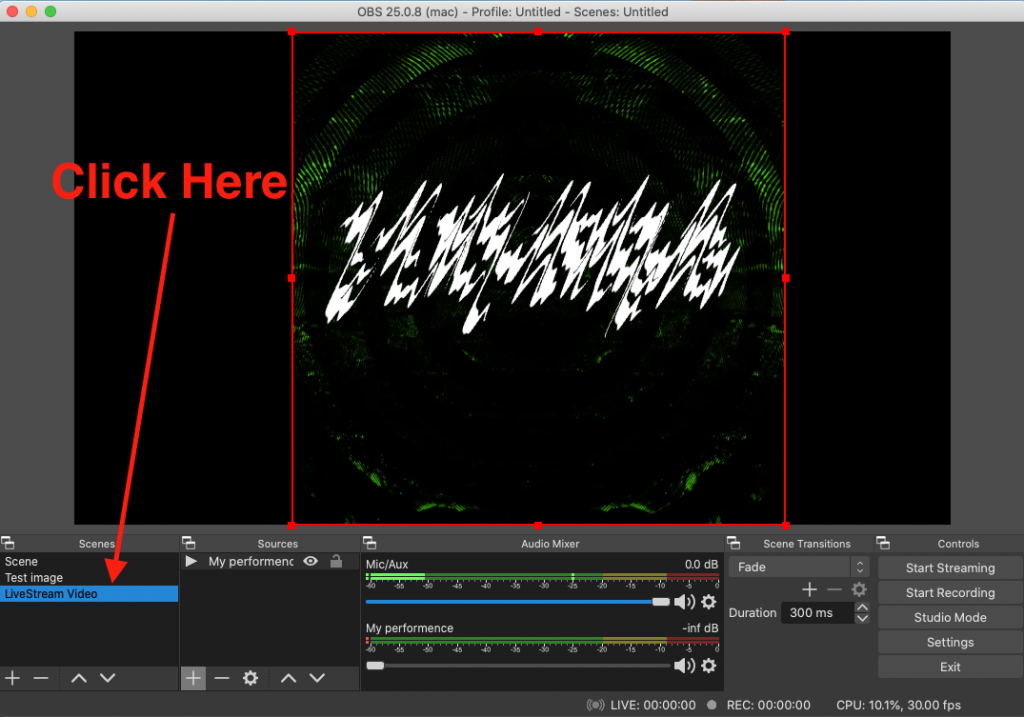 Video Tutorial
You can also watch the below video to walk you through the process. Skip to 2:10 in the video for the start of the tutorial.
LiveStream: Mac Users Only. Send DAW Master Audio Output to OBS with BlackHole
The First Steps
Make sure that your programs are all up to date to ensure complete compatibility.
Make sure that you have Blackhole downloaded. (If you do not make sure to head HERE for the full article on how to download and install it.)
Setting Up Master Output
Head to Applications -> Utilities -> Audio MIDI Setup (NOTE: If your Audio Devices window is not visible, click Window -> Show Audio Devices)
Then you will need to Right Click on the Blackhole 16ch item and select Use This Device For Sound Output. (See image below for reference)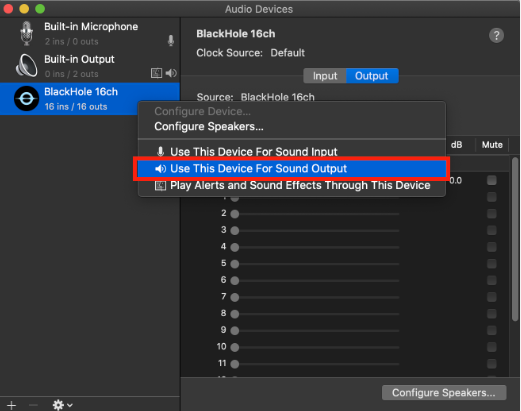 If you selected correctly you should see a speaker icon right next to BlackHole 16ch device.
You will now need to quit Audio MIDI Setup.
Setup DAW Audio
We recommend using Reaper. But, whatever DAW you use, you will need to select BH as the audio driver/interface. This may require creating an aggregate device on a mac:
For additional help, watch this video: https://www.youtube.com/watch?v=NrzcEYzcbXA
The specific menu and buttons to click will be different for every DAW program, so if you need additional help, find a resource specific to the DAW you are familiar with and using. But again, you need to select BlackHole as your audio driver in your DAW. Once that is set up, you can route the output of the DAW to the BlackHole channels. From there you will need to point OBS's input to the same BH channels you selected for output in your DAW. More on this below.
Setup OBS for Audio
Download and Install OBS. If you have not already done that you can head HERE for the full help article on how to do that.
Once you have it downloaded and open. Click the + button at the bottom of the Sources window in order to add a new Audio Input Capture source.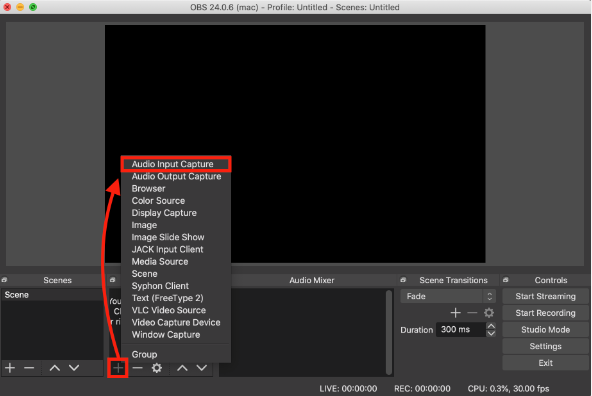 The default settings are just fine, so just click OK. Next select BlackHole 16ch from the device drop down. Then click OK.
Once you have started playing audio (within rekordbox) you will now see activity on the meters in the Audio Mixer within OBS.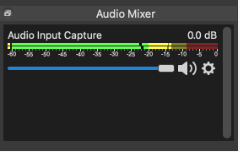 Go ahead and adjust the volume to 6.0db (or as needed to get the single track peak levels just dipping in the red).
You should now be all setup to LiveStream!
LiveStream: MAC Users Only. Install BlackHole
Easy Installation Instructions
Download BlackHole HERE
Close all audio applications that are running.
Open and Install the downloaded Package. (as shown below)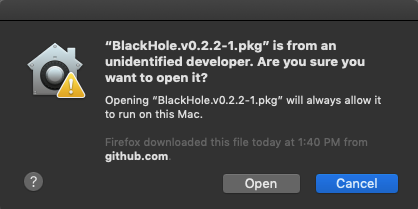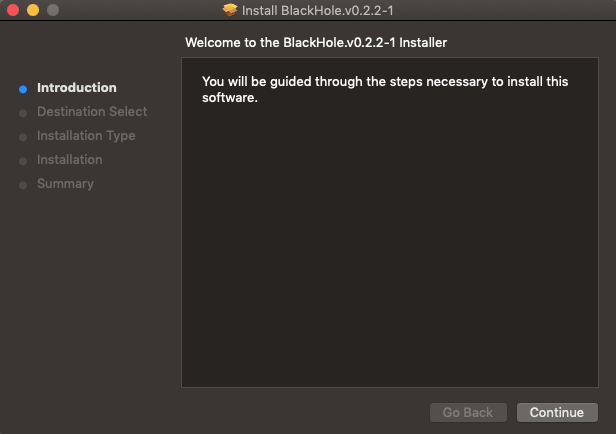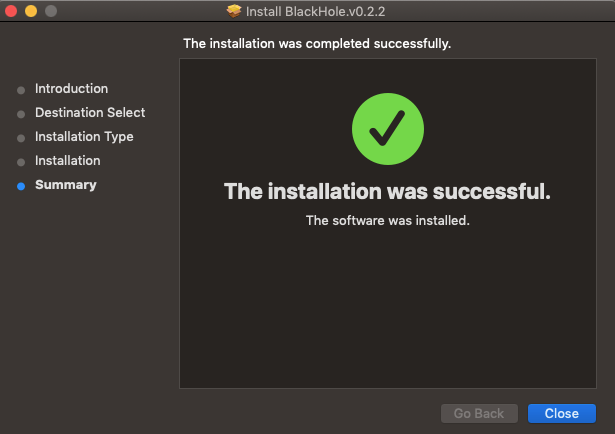 4. Next you will need to restart your computer to finish the installation.
5. BlackHole is not a regular app that you can open. To Find it make sure to go to System Preferences -> then click Sound. (as shown below)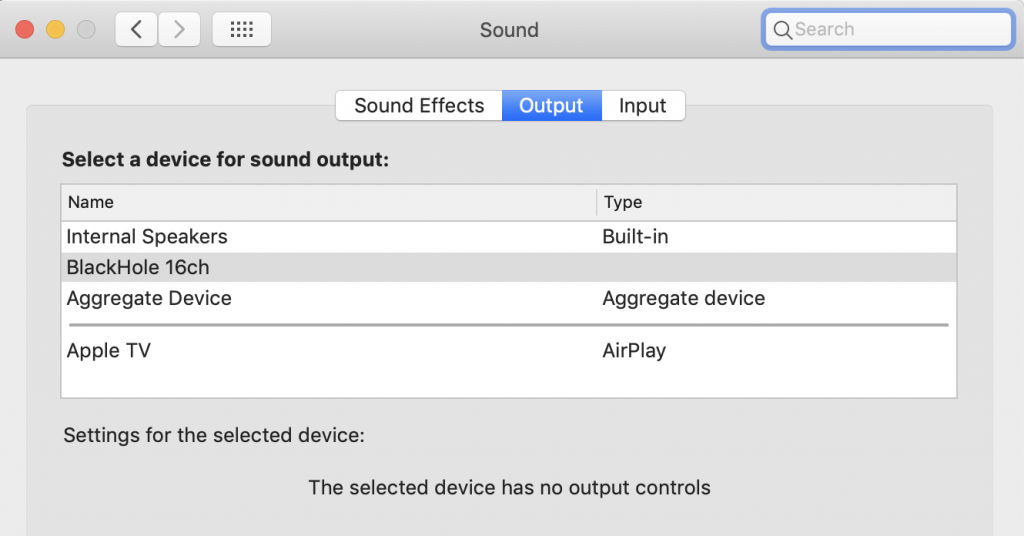 After installing BH successfully, you will need to select BH as your audio driver in your DAW. Click HERE for additional instructions!
LiveStream: Frequently Asked Questions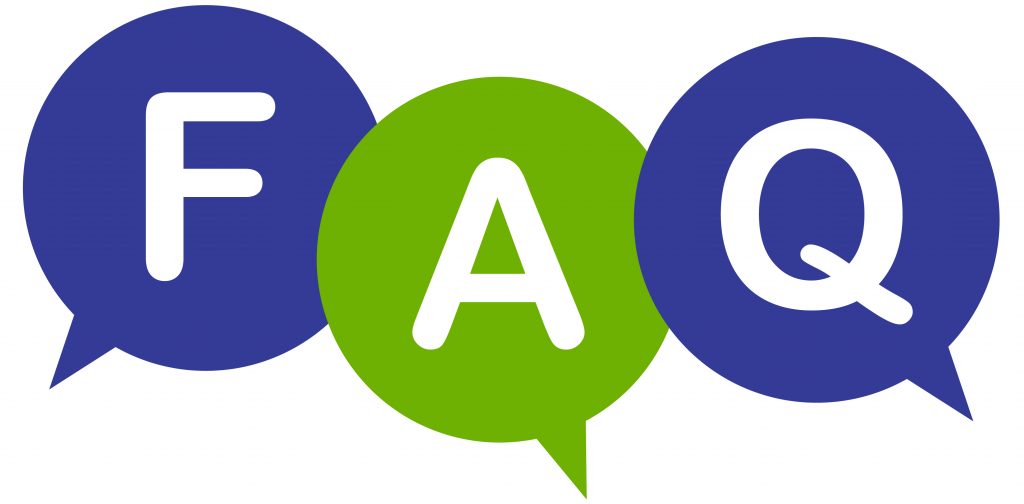 Frequently Asked Questions
For Artists
How do I sign up for a LiveStream?
In order to sign up for a livestream you can simply head to MYAFTON and create an account. Once you are signed up just click on "Create LiveStream" on the top toolbar.
---
How Does Payment work for LiveStream?
Here at Afton we are very proud of our pay scale for LiveSteam shows! It can be found during the setup process when you book a LiveSteam. For more info you can also checkout our help article about payment HERE.
---
How much is it to LiveStream?
Our booking services are completely free to artists!
---
Can I choose my own ticket price?
Yes the ticket price is chosen by the artist that is performing.
---
Can I have a soundcheck before my performance?
Yes of course! Before your LiveSteam we have a built in Tech Rider that walks you through the process and one of the main steps is the Sound Check.
---
I am not very tech savvy. Is the LiveSteam easy to figure out?
Yes we make the process as easy as can be. We have a ton of help articles that can get you through any issues that you may have during the process.
---
Can I message my fans during a LiveSteam?
Yes we have a built in messenger for the artist and the fans. Fans can even tip the artist during the performance if they so desire.
---
Can I use a pre recorded video for my LiveStream?
Yes you are able to use a pre recorded video if you so desire. For full instructions on how to set that up just head HERE.
For Fans
Where do I watch a LiveSteam?
You can purchase a ticket to any upcoming LiveSteam shows over by clicking HERE. From there you can watch the stream on many different devices.
---
How do I access my LiveSteam tickets?
In order to watch the LiveSteam that you bought a ticket for you can either check your email for the direct ticket link OR you can head to Afton Shows and click on your account to access the ticket. If you need further help you can check out our help article HERE.
---
Can I watch a LiveSteam from my TV?
Yes you can! You we have help articles that show you how to stream from an Android device to your TV. OR from an Apple device to your TV.
---
Can I get a refund on my ticket?
All sales are final once purchased as discussed in our refund policy. For further info you can read over our policy HERE.
---
What if I cannot find my ticket(s) in my email?
That is okay you can simply login to your Afton Shows account and access the tickets from there. If you need some more help check out our article HERE.
---
I am still having issues who can I get in contact with?
We are here to help! If you have further questions just reach out to your Afton booking rep (if you have one) or email Booking@Myafton.com.
LiveStream: Performance Tips & Ideas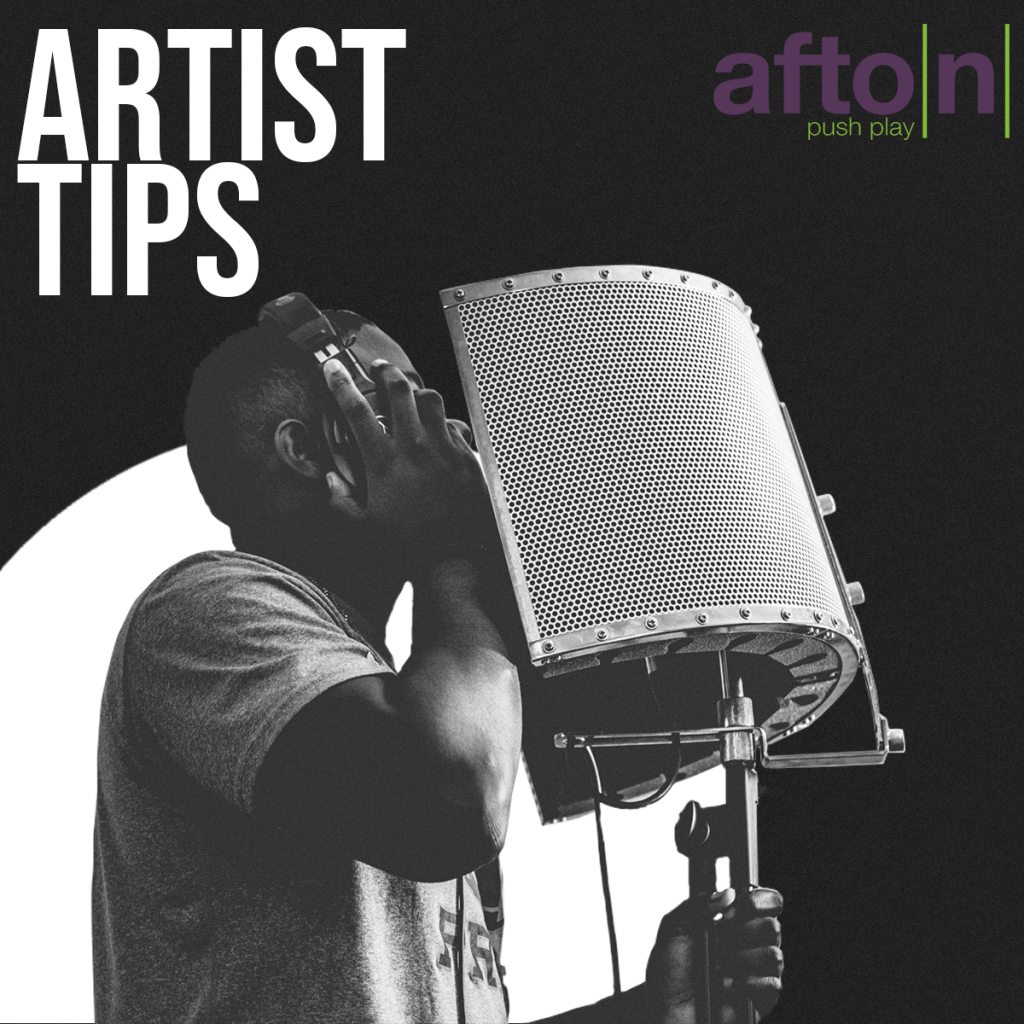 Performance Tips & Ideas
In this help article we will be going over some great tips that can help you improve the overall quality of your LiveStream performance. We hope that you can use them for your upcoming LiveStream event.
BackGround
Make sure to make the background of your performance stand out to make sure your show more enticing for fans! You can do this with a few methods.
Create a backdrop for your performance that ties into the theme of your show.
If you are able to rent or buy (or if you already have one) you could use a projector that displays some affects behind you for your performance.
A lot of artists have put on great shows by having Hype men/women or dancers that help stregthen their show. You could use some choreographed dancers in the background for some of your songs or just have a Hype men/women there to help you out with some of your songs.
You could have your setlist shown in the background to help fans anticipation level rise as they get closer to some of their personal favorite songs of yours.
Live Q/A
Either before or after your LiveStream set you could have a live Q/A with your fans. This is a great way to make the shows more personal for fans. Sometimes fans will ask specific questions about the meaning of songs or how you wrote a specific song. Depending on how personal you want to get with your fans this can bring them closer to you as an artist as it will help them connect with songs if they relate to the fan.
You could also have a Q/A that is geared more towards asking the fans which songs they would like to hear in your LiveStream set. Most artists have more songs ready to perform then they had initially prepared to perform for their show so you could then alter your set to reflect some more songs that fans specifically ask for.
Live Set Sneak Peak
A lot of aritsts will actually use a livestream as a way to show fans what their new set will sound like when they go on tour. This is a great way to give fans a "sneak peak" at what is to come with their live show.
At a time when no shows are not happening (because of the social distancing rules that come with COVID-19) and artists are having to wait to go on tour this makes the live set sneak peak an even better option. It keeps the fans up to date on your music and where you are as an artist/band.
Album Listening Party
Another cool option for your show is to advertise it as a listening party once your set has ended. So after your show is over you can play some of your new songs that are going to be released for your fans so they can get a taste of the new songs.
This is a great way to get your music out to your fans before they are released. Sometimes labels or companies might have your music releases delayed which means your fans can't listen to them. However this is a great way to get around that so your fans will be able to listen to some of the new tracks before they are released.
We hope that you can use some of these ideas and tips to help improve your LiveStream performance.
LiveStream: Options on making it the highest quality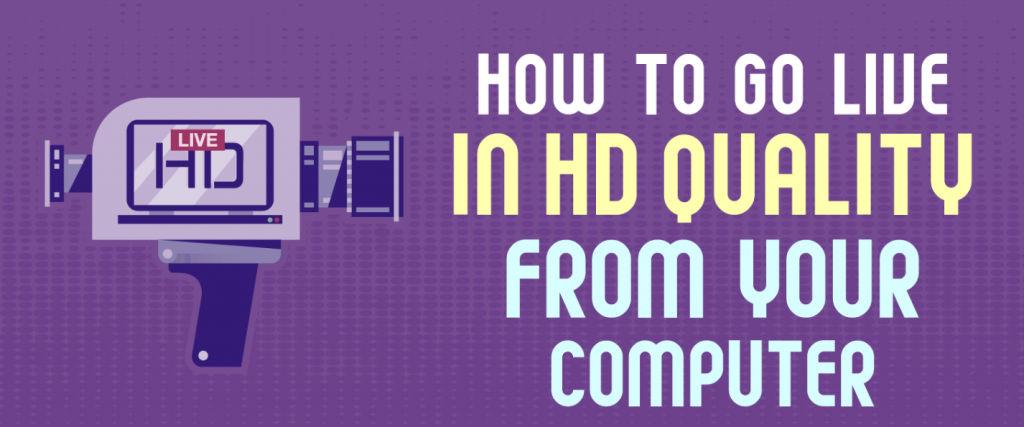 Making it The Highest Quality
In this article we will go over some tips on how to create the highest quality of livestream for both for free and with some investment.
1. Built-in Microphone & WebCam
All you really need for this one is a laptop or a desktop. This setup is great for performers who want to keep things simple by just opening up their laptop, doing a quick soundcheck and puting on a great show for their fans. This takes out the hassle of setting up a ton of gear. All though the sound can sometimes not be 100% a lot of fans will apprciate it because it creates a more real sound that is not as perfected.
To use this method you simply just grab a computer and open it up. Next you will need to head over to the source menu which usually brings up a couple drop down menus. You then will just click 'built-in webcam' for the video and 'built in microphone' for the audio. Once you have selected both you are all set!
2. External Webcam & Microphone
The next step up from the previous method is using both an external Microphone and Webcam. This will help to improve the sound and video quality a bit for your performance. With both of these being used you can pair them with an audio interface to navigate the sound to your computer for an even better experience for the fans.
If you already have an audio mixer at your disposal you can use it to easily bring in more than one audio source for your show. You will need to make sure that you have the correct cables that are able to bring the audio from the mixer to your computer.
3. HD Video Camera & External Audio Mixer
If you find that one of the above two options is not going to cut it for your show don't worry we have a couple others to go through. One of them is by using an HD video camera to help improve the over all quality of your stream experience. In order to do this you will need some kind of desktop client software. A couple free options are; Adobe Flash Media Live Encoder, ShadowPlay, or AirParrot 2. There are also some paid options as well like Wirecast. Some people have found those to be better and it could be worth it depending on how often you stream.
You will also need a way to get your HD camera connected to your computer. A couple options for this are either an analog-to digital video converter or a Firewire connection. Using a cable like that you would need to couple it with an audio setup that was mentioned in the previous tip.
4. More Than One Camera
A final option that you can use is more than one camera for your performance. This can give the fans the feeling of being a little bit closer to the artist as they can see more than one angle of the performance. If you are able to get your hand on a Tricaster (a portable live production appliance that is easy to use, affordable and most models are small enough to fit in a backpack) or something similar you are able to setup more than one camera for your show.
This option may be the hardest of the methods mentioned but it will possibly be the most rewarding for fans so they can have a more personal experience for their show. You might be able to find a place that rents out cameras and Tricasters at a reasonable price so you don't have to fully commit to purchasing the products.
We hope that you found some of these methods useful for your LiveStream performance. And if you have any questions about any of the methods just email Booking@Myafton.com and we can try to help you through the process!
LiveStream: How Does Payment Work?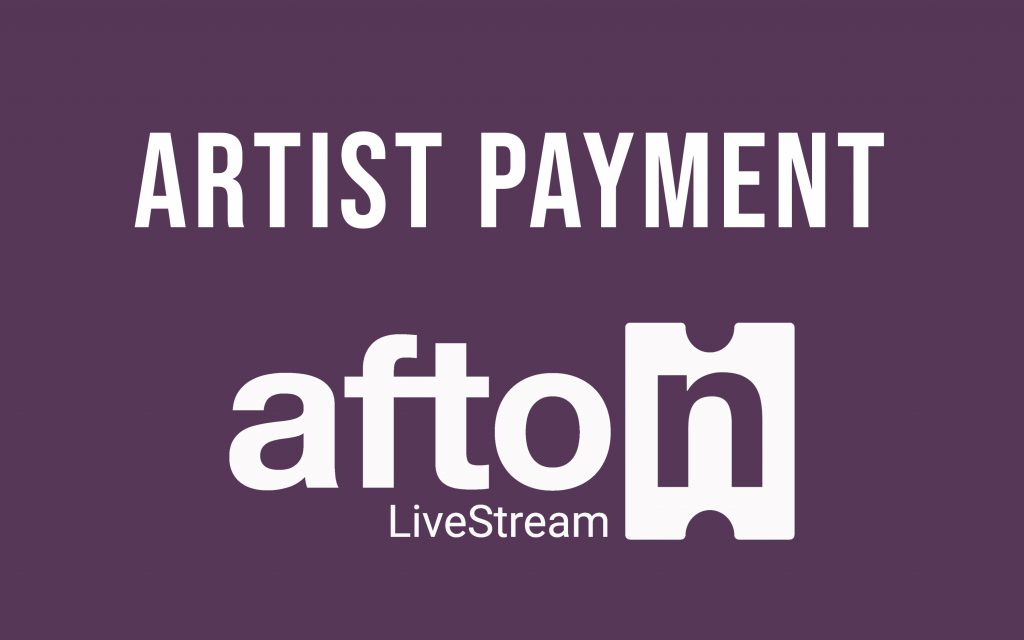 Artist Payment Amount (LiveStream Only)
A common question among artists is how does your pay structure work? Even though a lot of artists have booked shows with us and are aware of our pay scale for local shows, the pay scale for Afton LiveStream shows is setup differently. So we will dive in deeper to go over just how that process works.
From the research that we have done our payout is higher than all the other streaming services that we have found. Some platforms take 50% of the profit and others start payout at 60% for the artist. Here at Afton we start the payout at 70% when 6+ tickets have been sold for the show. And it only goes up from there.

As you can see from the image above our payout starts at 70% when only 6 tickets are sold and goes all the way up to a 90% payout for the artist.
Payment Method
We will send it via EMAIL as an E-Check. It is issued through deluxe.com which is the e-check platform for Deluxe Corporation (the 2nd largest check printer in the United States).
Your payment will only be issued if the artist successfully completes their LiveStream performance. Payout will be issued within 7-10 business days of the performance. And all the checks are valid for 90 days from the issue date.
If you have any further questions please reach out to your booking rep or email Booking@Myafton.com and we can get your questions answered.
LiveStream: Connecting With Your Fans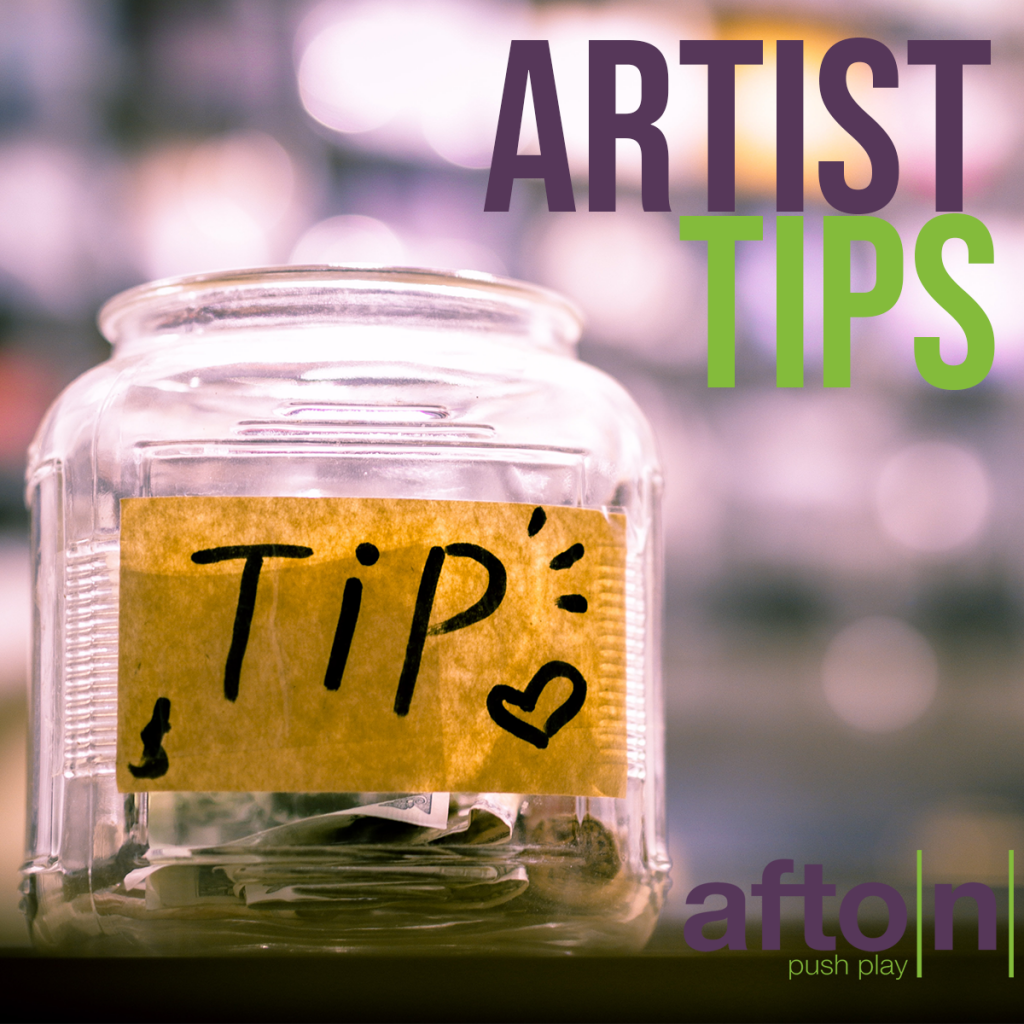 Maximizing Tips
One of the cool features that we have available is the 'Tip' feature during your livestream. This is a great method for fans to show their support to you the artist. And we make it very easy for fans to tip during your performance. Other streaming websites make you login to another website (like PayPal) in order to send tips to the artist. Afton has created the ability for fans to tip using the same card that they used to make the purchase for the livestream. Which creates a smoother and easier process for the fan.
We also have fun additions to Livestream like customizable tip jars. The artist has the option to choose from options like, a beer mug, a guitar case or even a bong. Whatever jar that the artist chooses will appear on both the artists page and the fans side.
Prizes
Within the tip feature the artist has the option to create a tip goal for their livesteam. This gives the artist the ability to choose whatever amount they want to try to achieve for the show. We have seen artists that are doing a show for charity choose an amount of $300 or so and make a note in the show details that all the proceeds will go to a charity of the artists choice. So there are endless possibilities when it comes to your tip goal.
You can also choose prizes for the top three tippers (fans that tip you money).
One example of this is we have seen artists that make the 1st prize something like an opportunity for the fan to sit in on one of the aritsts recording sessions for a new song.
Another prize could be something like a one on one Factime/video call for the fan that wins the 1st place Tipper award.
A third option could be the top tipper gets to be in your next music video.
Just like with the tip goal the options are endless when it comes to setting up prizes for your fans. Just make sure to be creative!
Engagement
The main thing to keep in mind when it comes to your LiveStream is to keep your engagement with your fans up! The more the fan feels engaged the closer they will feel to the performance and the more into it they will be. A couple ideas when it comes to keep fan engagement are:
Make sure to take time to message the fans after performances. This is a key difference from normal concerts to LiveStream shows. After 1-2 songs head over to your computer (or whatever you are streaming from) and check to see if any fans have messaged you. This will make them feel like their voice is being heard.
Another idea is to try to take song requests from the fans. You could say something like " Okay guys during this next performance make sure to let me know which one of my songs you would like to hear next". Then after your song you can check to see what they want to hear. Sometimes this may mean that you have to change up your set a little bit but it will be worth it! And this is a good way to find out which songs of yours are favorites among fans.
The final example would be to remember that even though the fans are not physically there in the building with you they are watching so you can look into your camera to make the performance more engaging.
We hope that these tips will help to make the LiveStream show more memorable for your fans! Have a great show!
LiveStream: How To Setup Your LiveStream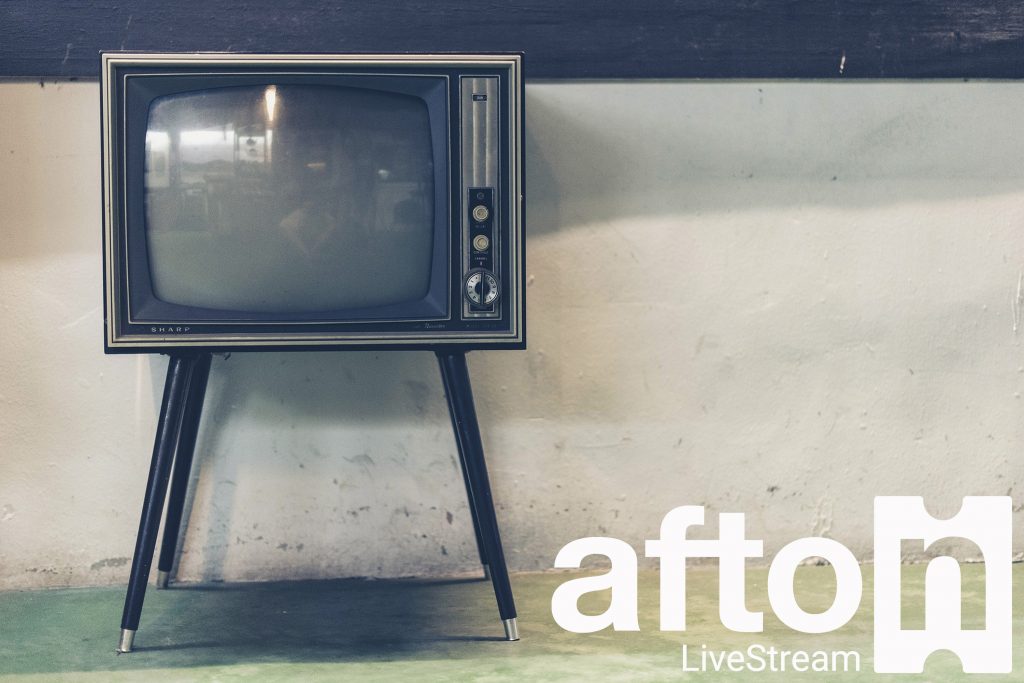 Creating The Show In Your Account
When you are logged into your account just click on the button at the top of the page titled 'Create LiveStream Gig'.
It will navigate you to the page where you enter in the details for your show.
You will start off by entering in the Title of your show, the date, the time (and timezone) as well as a description of your event. This is a good spot to add any details that make your show sound more enticing to fans. The final step in this section is choosing your ticket price.
Next you will need to setup your genres for the show. We give you three sections to fill in your genre. Just make sure to be as accurate as possible so that fans know what to expect when the see your show details.
The following section is your tips settings. This is were you can have some fun with your show. You can setup a 'Tip goal' that you would like to reach. Then you can pick the icon of your tip jar that is displayed (My personal favorite is the bong icon). We then give you the option to choose prizes for your tippers (fans that tip you during the show). So an idea could be 1st place gets to sit in on a studio session of the artist recording a new song. You can get creative with this section.
Finally you will fill out your social links so that fans can hear your music before the buy a ticket. You will also add an image for your show that will be displayed to fans before your show starts.
Just click the update button and you are good to go.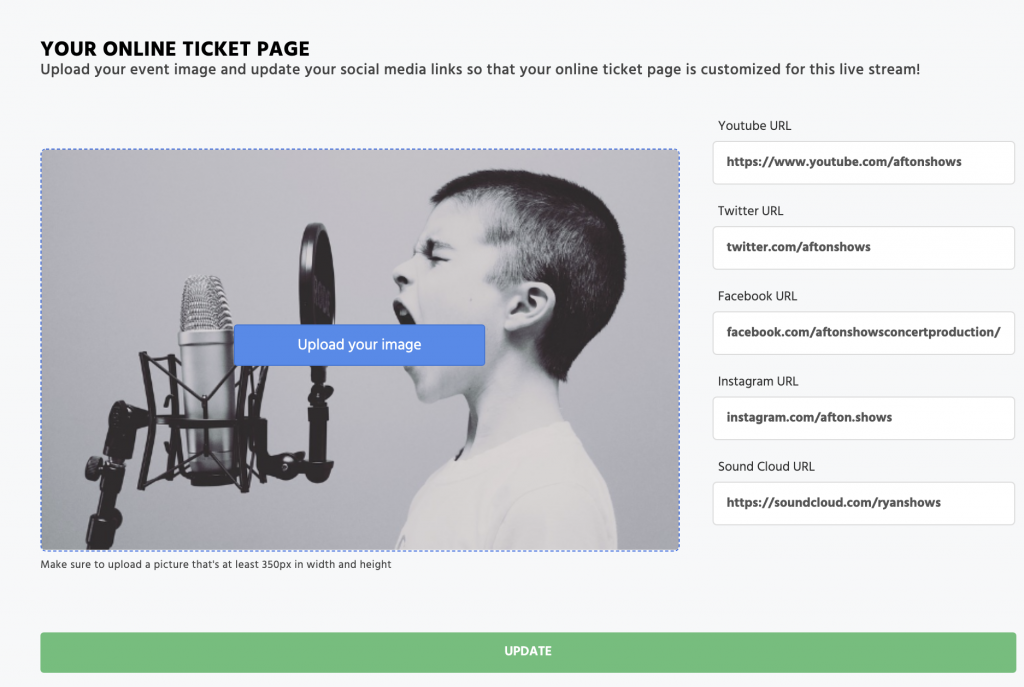 Event Dashboard
Once you have finished the above section it will bring you right to your Event dashboard. This is where will a timeline of your show will be displayed. Make sure to take some time on this screen to look around as a lot of the info will be helpful to you.
This is the page that you will receive your link to share with your fans and it is also there so the artist can double check to make sure all of the info they selected is correct. If you have gone through all of this then you can click the 'Tech Rider' Button that appears in your timeline.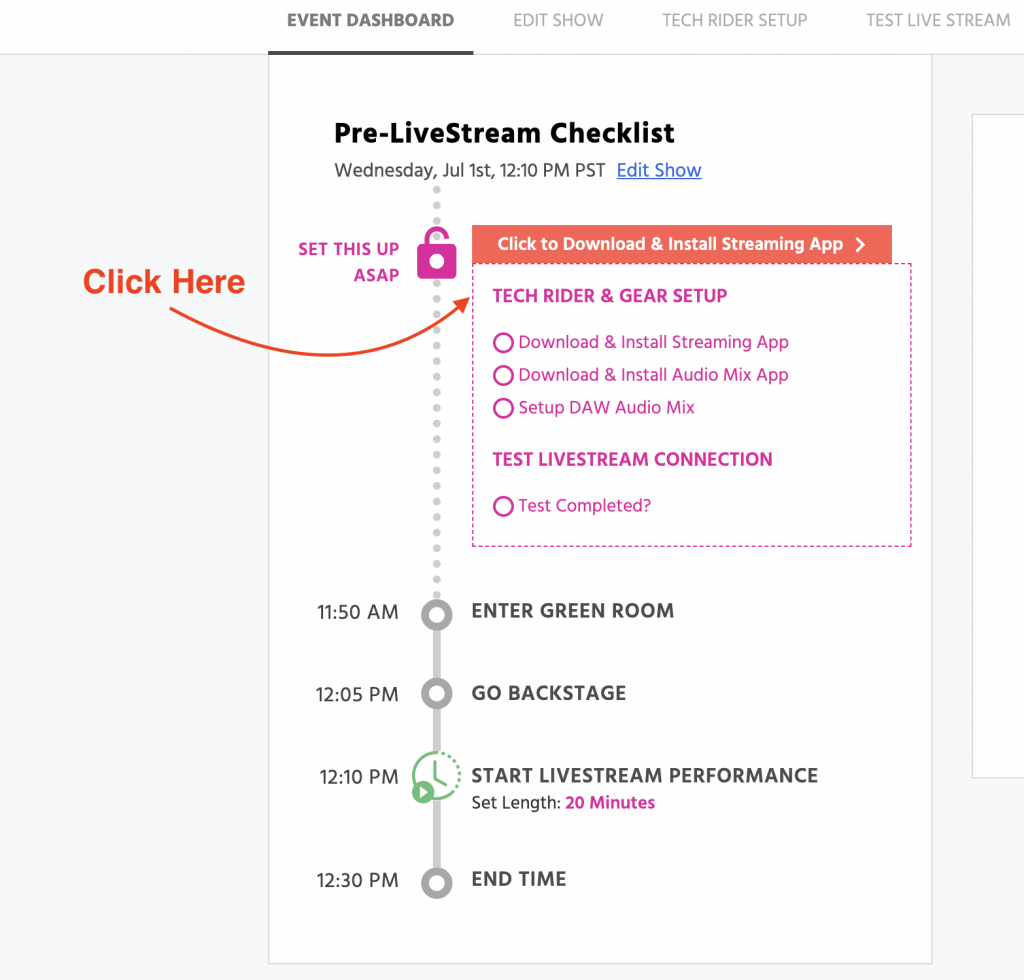 Tech Rider Setup
On this screen it will walk you through some questions about your show setup. Make sure to read over the questions a couple times so that you know that you are filling out the correct information. If you do accidentally click the wrong button you can go back a step and click on the correct button.
Once you have carefully gone through the Tech Rider Setup and installed OBS (we have a full article HERE about installing and setting up OBS if you have not already done that) just click on finished.
Test Connection Page
Now you are on the 'Test Connection' Page. Here you will need to do the connect your encoder (OBS) to your Livestream. Their will be a detailed step by step window that comes up on your MyAfton account. Just make sure to follow that closely.
Once you have entered in all the info just click Test My Connection'. It should only take about 15 seconds for it to connect. Once you are done with that and everything is setup how you want it to be. Just click on 'Complete My Test'. Lastly, if you are not going to go directly from sound check to green room then you need to click 'Stop Streaming' in your OBS program.
Green Room, Backstage and Going Live
You then will need to click on 'Enter Green Room'. Here you will seen your video displayed along with an image of a green room. This is where you can hang out until it is closer to the time that you go live. When it is 5 minutes before your show you will automatically be navigated from 'Green Room' to 'Backstage'.
Here is where you can will hang out and make any last minute preparations for your songs so that you are ready to go live!
When you are physically and mentally prepared just click the 'Go Live' button. When you see the red blinking light and the words 'Streaming Live' you know that you will be live. We would recommend waiting 20 or so seconds after you hit 'Go Live' to so that your fans do not miss part of your performance in case there is a delay. You can see a preview of the screen below.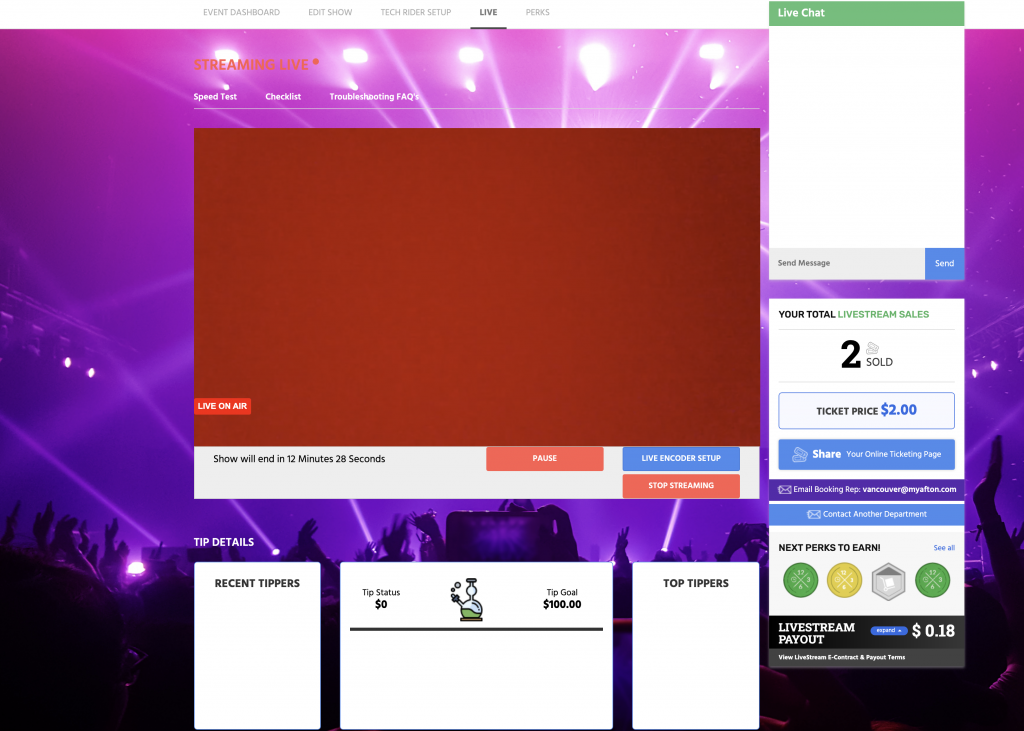 You are all set! We hope you enjoy your show!
LiveStream: How To Use OBS Studio App

The First Steps
Once you have successfully installed and setup OBS (if you have not done that step please read this help article for tips HERE) open the program and click on the 'Settings" (As shown below).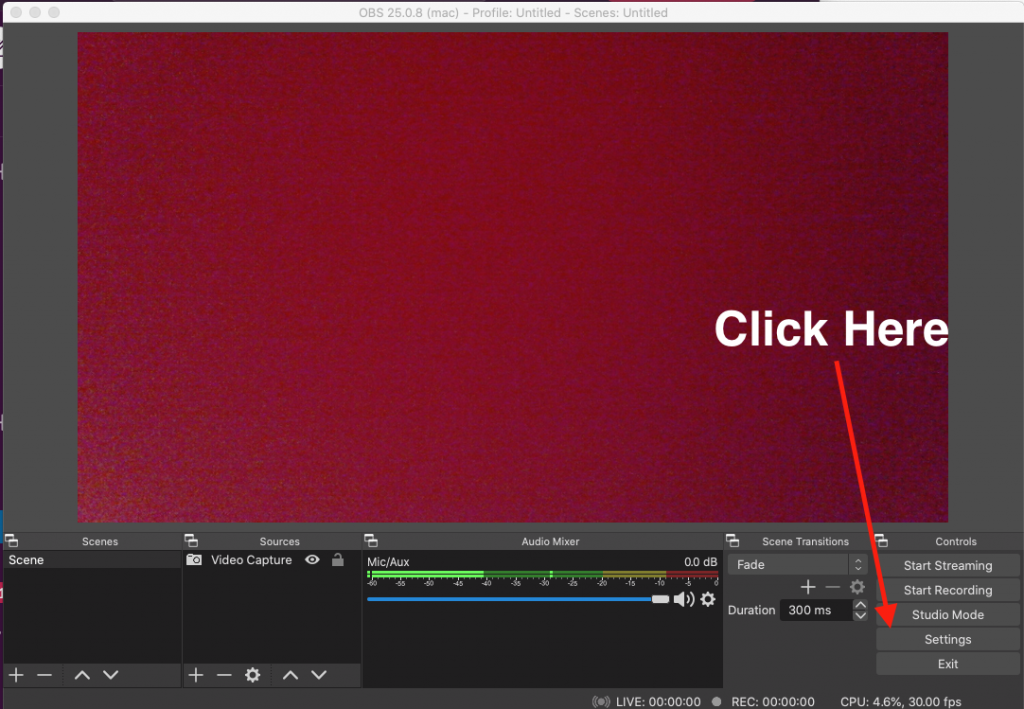 Once that is clicked another window will appear and you will need to click on 'Stream' on the left. From here you will see the main options needed to setup your steam. You will be shown a few options. The first is 'Service' that has a drop down button. Click that and make sure that it is on 'Custom' as you will need that chosen in order for your MyAfton streams to work.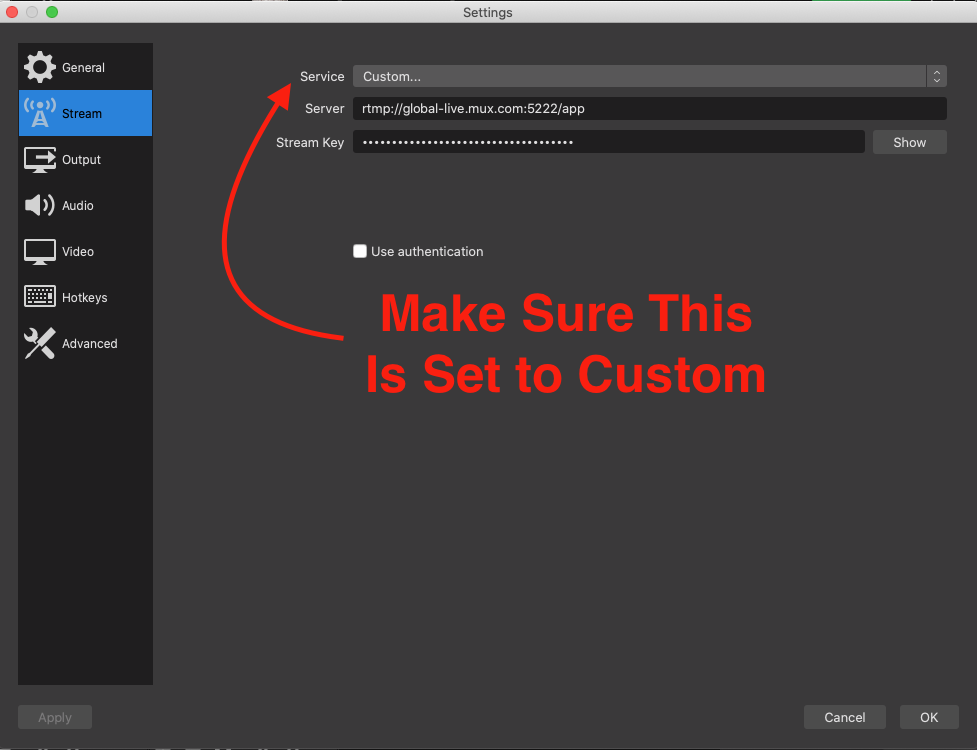 When you have an actual LiveStream show scheduled with us you will be given a correct 'Server' and 'Stream Key' when it is time to do a sound check for the event (However you will not need to do anything with "use Authentication"). So just take note that these options are here for you in the future.
Setting Up Your Microphone.
In order to setup your camera so that you have it ready when you are trying to setup your LiveStream Show you will need to click on the bottom right of your screen where it says 'Sources' Either click the + button or right click on your mouse and click 'Add'. Then you will scroll down to 'Video Capture Device' and click on it.
Then another window will appear (as seen below). From here just click on 'Device' to bring up an options menu and then click on the device that you would like to use. In my case it was 'Facetime HD Camera (built In)'. Leave 'Use Preset" checked and leave "Use Buffering" unchecked. Once you have selected it just click on OK.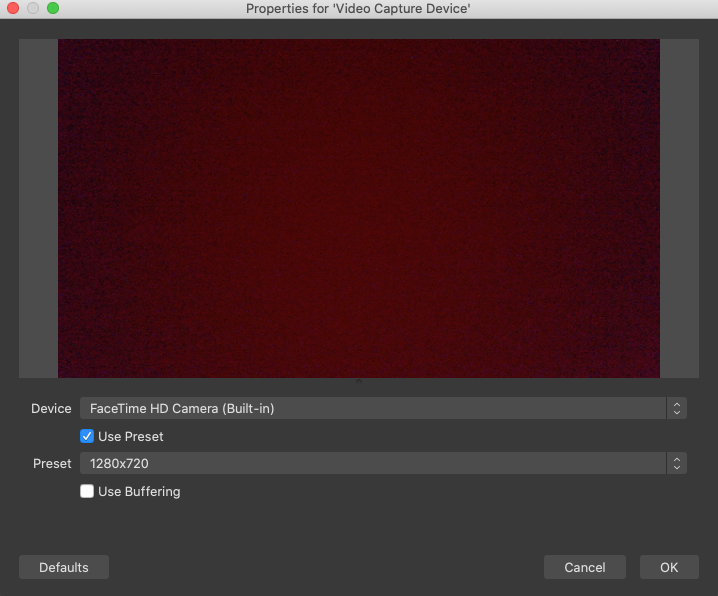 NOTE: If the size of your video is incorrect you can simply drag the corners of the screen to adjust it to the correct size that you want. (as shown below). Most users appreciate full screen, so we would recommend dragging and dropping the video display corner to the corner of the OBS app so that it is full screen.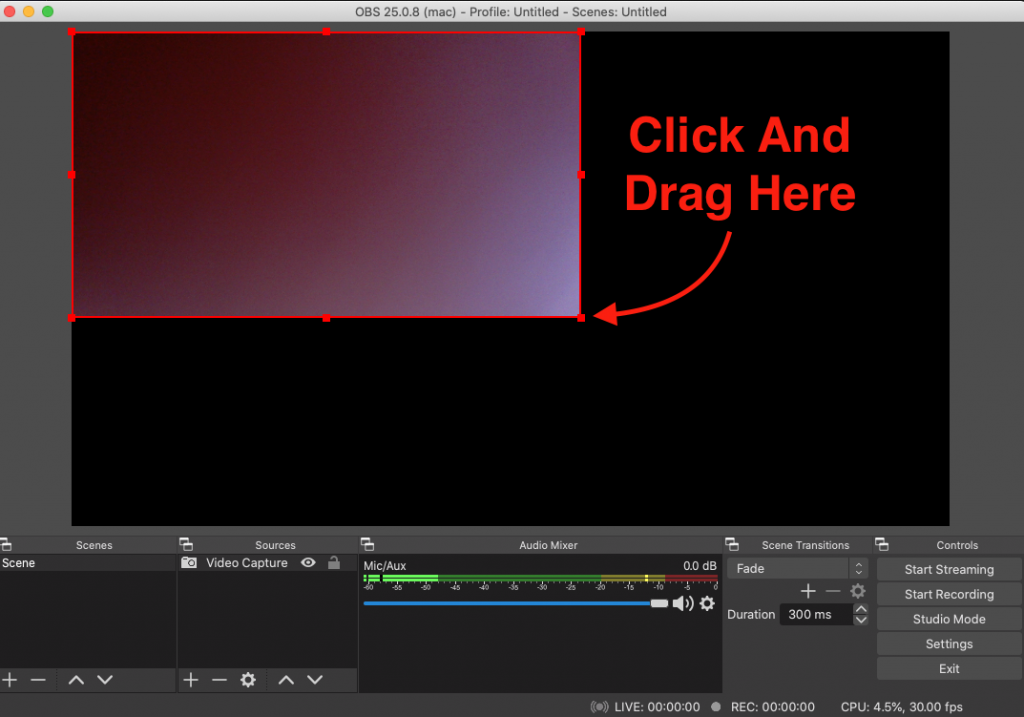 Once you are finished your settings will be saved for the next time that you open up OBS to get ready for your LiveStream.
---
Video Walkthrough

Email Us
Send us an Email