MyAfton
Platform: Account Help
How Do I Fill Out My Set Time Preferences?
One of the first things that you should do when you finish your eContract for a show is to fill out your 'Set Time Preferences'. That way you don't run the risk of forgetting to do this later in the booking process.
It is also very important fill out your set time preferences because once you get 20 tickets sold your booking rep will need to know what time slot to lock you in to. If they are not filled out then you run the risk of getting a time slot that you do not want.
Setting Your Preferences
First you will need to heads to www.myafton.com and login to your account.
Next you will need to click on 'Your Timeslot' (as seen below)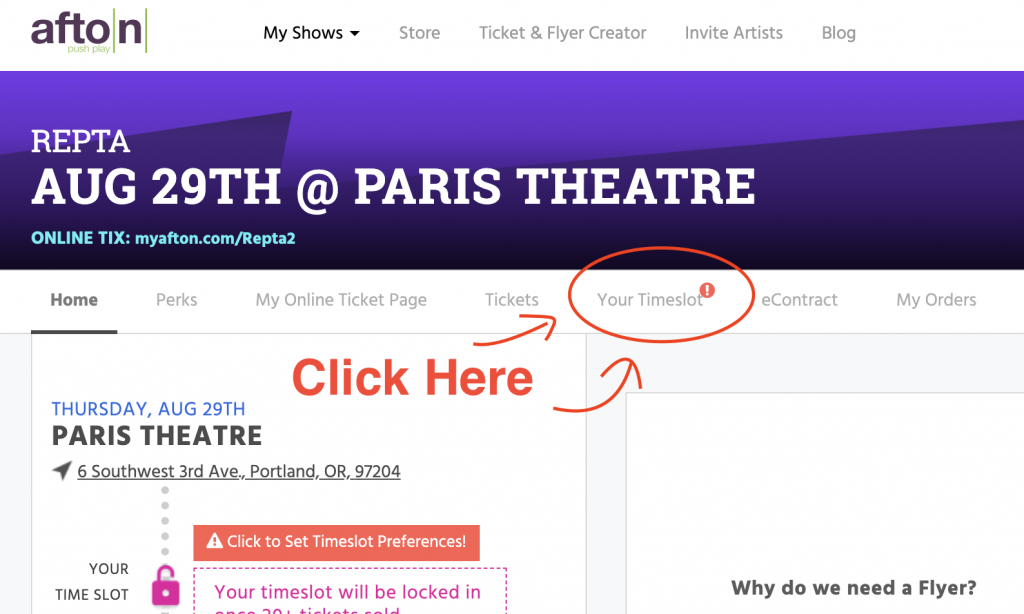 On this page you will need to drag and drop the time preferences that you want starting with what you most want all the way until what you least want. (As seen below)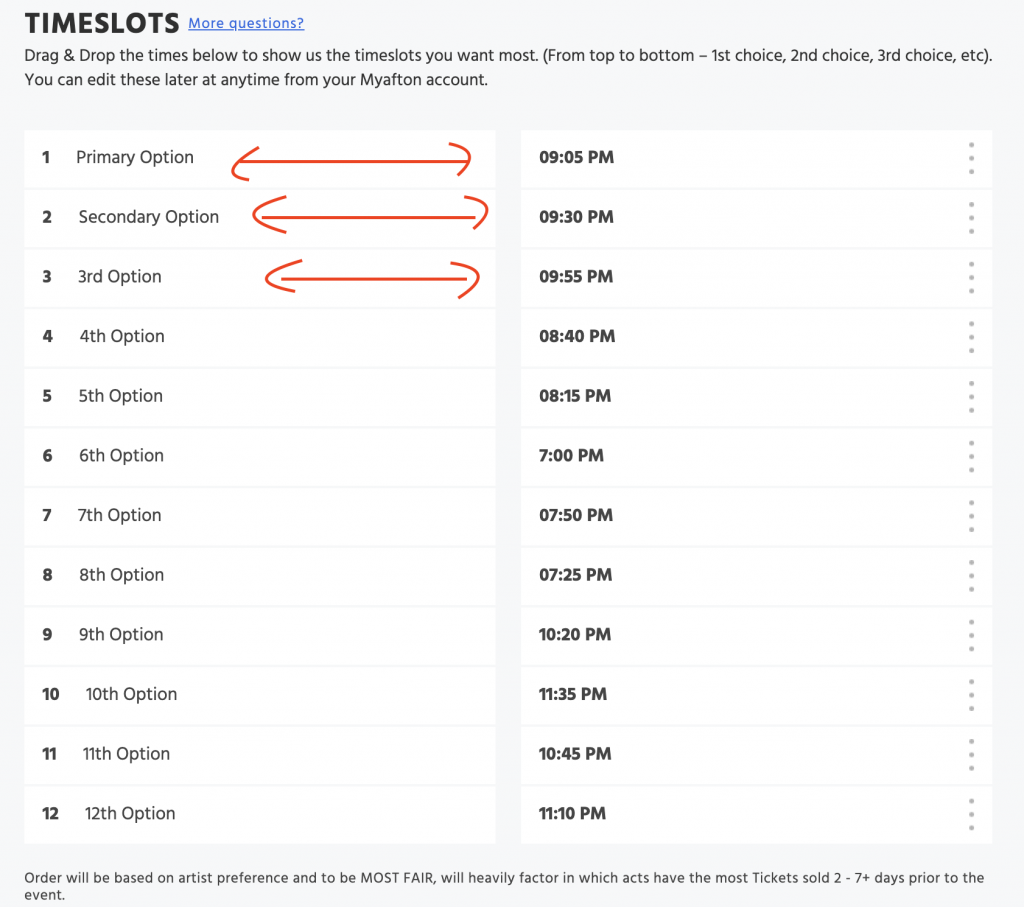 NOTE: Since you are not able to drag and drop on most cell phones you may need to use a computer to successfully fill these out.
Once you have finished picking your set time preferences you are good to go. No need to hit confirm or anything. It will automatically save your preferences.
Tips
If you are not able to successfully fill them out make sure to email your booking rep and let them know what set time preferences that you prefer. That way they can update them in your account notes.
Please remeber that just because you fill these out it doesn't mean you are guaranteed to play at that time. It is also dependent on what time slots are left when you reach the agreed upon amount of tickets sold.
How To Find My Booking Rep

Where Do I Email?
There are a lot of different departments on the My Afton website so it can sometimes get confusing when trying to figure out where to send your email to.
The easiest reference when you are trying to figure out where to send your email is to login to your account and check your main dashboard. Your booking reps contact email will be listed on the bottom right corner as seen in the image below.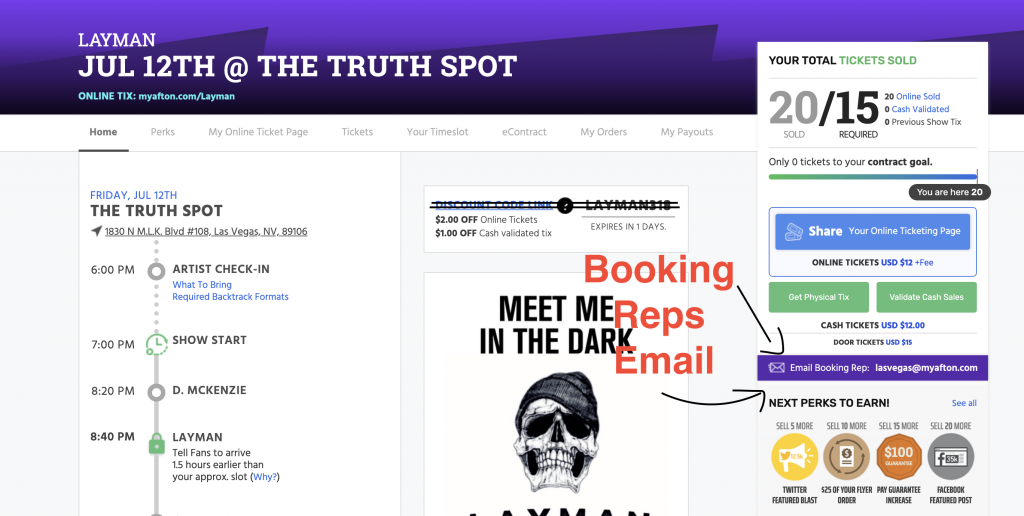 The email address that is displayed is of course going to be different than the email address displayed in your account, but that is where your booking agents email will be listed.
Other Departments
Below you will find a list of all of the different contacts for each department on the MyAfton website.
Artist Payment
If you are an artist that is looking to receive some help for a payment related question please make sure to email Artistpayment@myafton.com
Print Shop
The best email to reach out if you have a question about Thermal Tickets, Flyers, Posters or Hand bills that you ordered is Printing@myafton.com
Afton Store
If you purchased a product on the Afton website (Promo blast, album review, mixtape submission, beat…etc) and you have a question about the product please email Store@Myafton.com so we can answer your question.
Social Media Submission
A lot of artists that we book want to get their performance videos posted on our social media pages but do not know where to send the pics/videos to. Please make sure to send the footage along with your artist name to Socialmedia@myafton.com and we will get that posted for you.
Fan Ticket Support
If your fans are reaching out to you with questions that they have regarding tickets that they bought from the aftonshows.com website the best place for them to reach out to is Support@aftonshows.com
General Booking
Sometimes artists have some friends or other musicians that they know that they want to refer to the MyAfton website. If this is the case for you then make sure to have them sign up using your referral link in your account. Also if that customer needs some questions answered they can reach out to Booking@Myafton.com and we will be happy to help answer them.
How to Change Your Act Name
You can edit, update, or change your Act Name (Band Name, Group Name, Act Name, Artist Name) at anytime. Here's how:
1. Login to your MyAfton account.
2. Click on the circular icon image in the top right corner of your screen to select the Artist Profile whose name you'd like to change.
3. Once on the correct Artist Profile's HOME page, click the
sub-navigation link named "Artist Profile." Or click Edit Profile link underneath the listed Act Name.
4. Here you can edit the Act Name as well as everything else related to this specific Artist Profile.
How to Change Password for Your User Account
You have a personal User Account for MyAfton. You?re a member of our community and can utilize the services we offer even when you?re not part of any actively performing acts.
Each musician on our platform has their own unique User Account. So you should never share your User Account login with anyone, not even other members of your group. If you need to change your User Account password, here's how:
1. Login to MyAfton.com with your User Account username and your current password.
2. Click on the circular icon in the top right of your screen and then click "My User Account" from that drop down menu.
3. Now you are on the "My Account" dashboard for your User Account.
4. Click the Edit Password button and update your password. Here you can update all of the information about you.
*Remember, you have a unique User Account that is specific to you. Any other group members in your Artist Profile will all have their own unique User Accounts. User Accounts can be associated with an Artist Profile (or many Artist Profiles) and given access permissions of Member or Admin.
*Artist Profiles will never have a password. Instead, each User Account that is a Member or Admin of that Artist Profile can access it by logging into their User Account and clicking the circular icon in the top right of the screen to choose the Artist Profile they want to access.
How to Create Additional Artist Profile's
If you're in more than one band, group, act, or have another artist you perform as you should create additional Artist Profiles so that we can book each act separately. This also applies to any managers that manage more than 1 act.
You can access the Artist Profile for multiple acts with your existing User Account.
At this time, if you already have 1 Artist Profile created and attached to your User Account you will need to contact your Booking Rep via email and request that they CREATE additional Artist Profile(s) for you.
We require this so that we can screen and review the music of any additional Artist Profile's that you wish to create.
Please include the following information for this artist and email it to your Booking Rep with subject line: CREATE NEW ARTIST ACCOUNT.
1. Act Name
2. Primary Contact: Email Address & Phone Number
3. Secondary Contact: Email Address & Phone Number
4. Music URL Link (where we can stream your music)
5. Facebook page for this act.
6. Your role (manager, member, admin/leader of the group)
7. Age of youngest member.
8. Verify the home city/state/country that this act currently lives in.
Once your Booking Rep receives that information they can review this act's music and create their Artist Profile. Shortly after that this Artist Profile will appear when you login to your User Account.
Reset Your Password
We make it easy to get access to your User Account even if you forget your password. So relax, and follow these steps!
1. Click the Login button in the top right corner of the MyAfton.com home page.
2. Click the "Forgot Your Password?" link.
3. Choose how to reset your password! We recommend the "via SMS" option so that we can text message your mobile phone. This is best if you're on the go! Or, you can choose "via Email" option if you have access to your email account.
RESET PASSWORD VIA SMS TEXT MESSAGE
1. Enter the mobile phone number that we have on file for the User Account you're trying to access. (This won't work if you deleted your mobile phone number from your User Account).
2. We'll immediately text your phone with a 6-digit code. Enter that on this screen in your browser and click the Verify button.
3. Choose the User Account you want to reset the password for.
4. Type in your new password and click submit. Then you're done!
OR
RESET PASSWORD VIA EMAIL
1. Enter the email address associated with the User Account you are trying to access.
2. We'll immediately email that email address with a 6-digit verification code. Copy and paste that into your browser and click verify.
*OR you can click the verification URL link in that email if you prefer.
3. Now just type in your new password and click submit. Then you're done!
How to Add or Delete Members from My Act
You can add members, delete members, or give higher or lower permissions access to existing members for any of your Artist Profiles. Here's how:
*Note: Only ADMIN level members can utilize some of these features. Contact your Artist Profile Admin users if you only have Member permissions.
1. Login to your MyAfton.com User Account.
2. Click the circular icon in top right of screen to select the Artist Profile you want to access.
3. Click the sub navigation link called "Members."
TO ADD MEMBERS
1. Enter the member's email address. If they already have an existing User Account with MyAfton then we'll automatically send them an invite to join this Artist Profile.
*If the email address you enter does not exist on our platform yet, we'll email them asking them to sign up with a User Account so they can access your Artist Profile.
2. Remember to choose either ADMIN level access or MEMBER level access to your Artist Profile. Please read the definitions of what each user type can do on this page.
3. You can view the Pending Invites section at bottom of this screen to see if the members you have invited have signed up yet or not. Followup with them if they haven't done so yet!
TO DELETE OR REMOVE MEMBERS
Login and click the circular icon in the top right to select the Artist Profile you want to edit members for. Then click the "Members" sub navigation link. Now just click the blue "EDIT" button for the member(s) you want to edit, in the hover window that appears there is a "Remove" link in the bottom left corner. Click that if you want to remove that member from this Artist Profile.
CHANGE MEMBER PERMISSIONS LEVEL
You can click the "Edit" button next to each member if you want to change their permissions from either member or admin.
Get Paid to Refer Artists to MyAfton?
That's right. GET PAID to refer artists through your MyAfton account portal. We'd much rather send our money directly to our artists instead of spending it on Facebook, Instagram, YouTube, and Google Adwords!
COMMENT ON OUR BELOW FACEBOOK VIDEO ABOUT ARTIST REFERRALS for a chance to win Beats, Flyers, Posters, & Promo Blasts from our MyAfton Store!
Click the COMMENT icon below video to go to Facebook.
2. If you leave a COMMENT it counts as 1 entry.
3. If you SHARE the video it counts as 5 entries to win!
HERE'S HOW YOU GET PAID.
Any musician that you REFER to MyAfton is tracked by our system. When they performs on their 1st MyAfton show you GET PAID $1.00 for every Fan they draw to that show, (as long as they draw 10 or more fans).
There is no limit on earnings. We have some well-connected artists that have referred 100's of musicians to us and some of them have been earning over $5,000 per year off of Artist Referrals. Some of our top referrer's are making upwards of $15,000 per year while also helping the musicians in their network book more gigs!
So help out your friends, invite them to MyAfton, and earn some extra cash.
Pro Tip: Have you COMMENTED yet on our Facebook video?

Easy way to win Free Beats, Posters, Flyers, & Promo Blasts.
HOW TO REFER ARTISTS TO MYAFTON
1. Login to your personal MyAfton account.
2. Click "Invite Artists" link at the top of the page.
SEVERAL WAYS TO REFER ARTISTS…
1. UPLOAD YOUR CONTACTS LIST: If you have lots of email addresses of musicians you know or work with, you can upload a .csv file (or Excel spreadsheet). Make sure you have only 1 email address in each row. Once uploaded, those email addresses are forever tracked as your referral.
2. REFER VIA EMAIL: You can type in or copy and paste email addresses manually into the Refer via Email field 1-by-1, make sure each email address is separated by a comma.
3. SHARE ON FACEBOOK: Click the Connect & Share button to automatically post your unique Referral URL to your Facebook page. Anyone that clicks on your Referral URL page and signs up will be tracked in our system as your referral.
4. YOUR REFERRAL LINK: You can also use the "Copy Link" button to copy your unique Referral URL page. Then you can email it out, post to your website and social sites, or text message it to musicians that you're friends with.
DISCLAIMER
If you try to invite an email address that is already an existing MyAfton user, or if an already existing MyAfton user tries to sign up with your Referral URL it will not count as your referral. Only musicians that have not yet had an account with us or musicians that have not been referred by other members of our platform can qualify as your referral. Also, please understand that if you verbally tell your friends about MyAfton and they sign up on their own (without using your Referral URL link), or if you didn't invite their email address before they signed up, then we will have no way to track or prove that you referred them and they will not qualify as your referral.
Pro Tip: We recommend that anytime you refer musicians to MyAfton you make clear to them that they need to sign up through your Referral URL link in order for you to get credit for their referral. Or, the safest way is for you to directly invite their email address through this refer artists tool.
Don't miss our Facebook Live video rebroadcast about this! Our founder Ryan Kintz talks about why we created this referral program!
Don't forget to FOLLOW US on social media!
We want to interact with you during our next Facebook Live session! Follow us:
Afton Facebook
Afton Twitter
Afton Instagram
Afton YouTube
How to View Show Offers?
How do you check on the show dates that MyAfton is offering you? Your Booking Rep will email you each week with the show(s) they want to book you for. But shows usually will fill up before you get that email, because everyone's MyAfton account is updated in real-time to display the shows they are eligible for.
*Remember, if you have more than 1 Artist Profile with us, you need to select each Artist Profile when logged into your User Account to view the show offers that are available to each act.
HOW TO NOT MISS OUT ON SHOW OFFERS?
You should regularly login to your MyAfton User Account to look through all of the shows you're eligible to play. Just login and click the "My Shows" drop down in the upper lefthand corner of your screen. You'll see a numbered badge next to the My Shows link if you have alerts or new shows to look at. Click the "Check Now" button to view all show dates you're eligible to confirm.
MARK WHICH SHOWS YOU DON'T WANT.
If you scroll through your show offers and click "Don't Offer it Again" our system will notify your Booking Rep. This drastically cuts down on email clutter and followups about that show date! So please mark the shows that you cannot play or do not want to play.
HOW TO CONFIRM A SHOW INSTANTLY.
We make it easy, if you've viewed the show details and you want to 100% Confirm a date, click the green "CONFIRM" button for that show. You'll then be able to complete the E-Contract for that show (if you're pre-screened and in good standing with your Booking Rep) and you'll be able to setup your tickets and start promoting right away. Artists in good standing get FIRST pick of all of our show dates.
*Note: Artists that are not in good standing with their Booking Rep will not be able to Instant Confirm, but instead have to wait until their Booking Rep can review them, which may take several days. In many cases this means that this artist will not be put on the show if the show fills up before we can do this manual review.
HOW TO STAY IN GOOD STANDING WITH MY BOOKING REP?
Artists are in good standing with us and are able to instantly confirm shows as long as they have fulfilled their end of the contract on past shows. Reasons for artists not being in good standing with us would include: Canceling, not showing up for a show, not selling the amount of tickets agreed on in the previous show contract, etc.
**The only exception here are our opening slots for National Tours. We have to manually review every artist before we can officially book openers for National Tours, but of course we give first priority to artist who are in good standing.
ACCESS UPCOMING CONFIRMED SHOWS
When you click "My Shows" we'll list any show dates that you're 100% confirmed to play. Click those to access the Confirmed Dashboard to see the stats, ticket sales, details, and other promotional tools for that show.
My Shows Section has Greyed Out Show Dates
If you see "greyed out" show dates in your My Shows section that means you are not eligible for that show. This could be for a few reasons.
YOUR "NO TO" SETTINGS
If you've set your Gig Preferences (located in the Gig Preferences sub navigation link when you select an Artist Profile) to NO for this specific venue, the day of the week this show is on, or to 21+ FOR FANS age restriction shows – these could be reasons this show is ineligible for your act. You can change your mind and update your Gig Preferences which then would allow you to Confirm this show if you want to play it.
OTHER DISQUALIFICATIONS
Sometimes it's not due to your gig preferences, but external venue rules that make you ineligible for a show. For instance, the venue might Age Restrictions for performers which bar you from playing their club. (Always make sure your member Ages are up to date so that we don't disqualify you from a show you actually are old enough to play)!.
Other reasons could include: This venue is not setup for full bands, or does not allow Rap/Hip Hop groups, etc.
We recommend that you keep your Gig Preferences all turned to "YES" to maximize the types of shows you get offered.
We also recommend that you always keep your AGE OF MEMBERS up to date, so that you don't miss out on shows we incorrectly think you're too young for.

Email Us
Send us an Email