Fan:
LiveStream Setup Help
LiveSteam: Can I Buy Tickets for My Friends?
You are welcome to purchase tickets for friends – there is a 1 device limit per ticket, so multiple people cannot watch the same stream unless they are together.
When an artist creates their LiveStream, they will get a unique ticket url that they can share with fans who want to purchase.
You can definitely share that with your friends as well to help the artist promote their LiveStream. The more watching, the better for the artist and the more exposure and money they make!
Just make sure to reach out to the artist that you are buying a ticket to see and they can send over their URL so that you can buy a ticket from them.
LiveStream: Frequently Asked Questions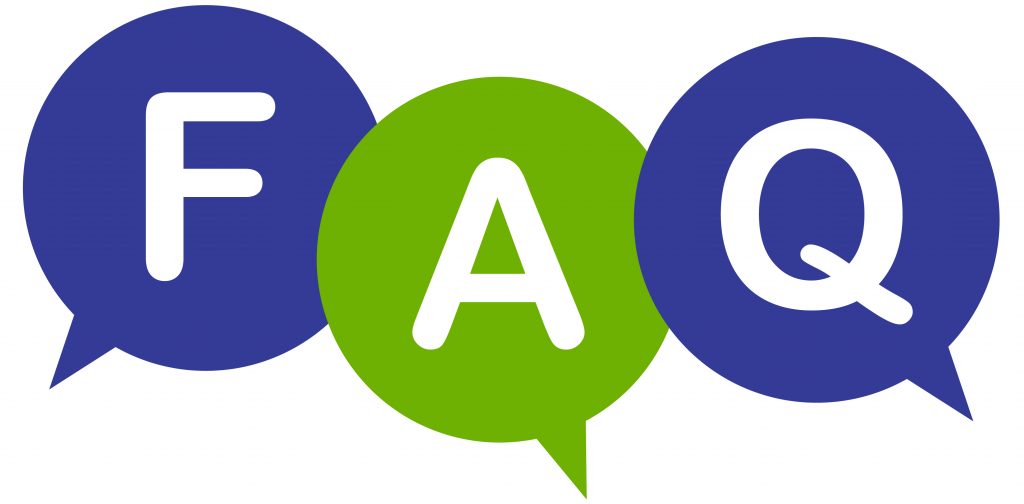 Frequently Asked Questions
For Artists
How do I sign up for a LiveStream?
In order to sign up for a livestream you can simply head to MYAFTON and create an account. Once you are signed up just click on "Create LiveStream" on the top toolbar.
---
How Does Payment work for LiveStream?
Here at Afton we are very proud of our pay scale for LiveSteam shows! It can be found during the setup process when you book a LiveSteam. For more info you can also checkout our help article about payment HERE.
---
How much is it to LiveStream?
Our booking services are completely free to artists!
---
Can I choose my own ticket price?
Yes the ticket price is chosen by the artist that is performing.
---
Can I have a soundcheck before my performance?
Yes of course! Before your LiveSteam we have a built in Tech Rider that walks you through the process and one of the main steps is the Sound Check.
---
I am not very tech savvy. Is the LiveSteam easy to figure out?
Yes we make the process as easy as can be. We have a ton of help articles that can get you through any issues that you may have during the process.
---
Can I message my fans during a LiveSteam?
Yes we have a built in messenger for the artist and the fans. Fans can even tip the artist during the performance if they so desire.
---
Can I use a pre recorded video for my LiveStream?
Yes you are able to use a pre recorded video if you so desire. For full instructions on how to set that up just head HERE.
For Fans
Where do I watch a LiveSteam?
You can purchase a ticket to any upcoming LiveSteam shows over by clicking HERE. From there you can watch the stream on many different devices.
---
How do I access my LiveSteam tickets?
In order to watch the LiveSteam that you bought a ticket for you can either check your email for the direct ticket link OR you can head to Afton Shows and click on your account to access the ticket. If you need further help you can check out our help article HERE.
---
Can I watch a LiveSteam from my TV?
Yes you can! You we have help articles that show you how to stream from an Android device to your TV. OR from an Apple device to your TV.
---
Can I get a refund on my ticket?
All sales are final once purchased as discussed in our refund policy. For further info you can read over our policy HERE.
---
What if I cannot find my ticket(s) in my email?
That is okay you can simply login to your Afton Shows account and access the tickets from there. If you need some more help check out our article HERE.
---
I am still having issues who can I get in contact with?
We are here to help! If you have further questions just reach out to your Afton booking rep (if you have one) or email Booking@Myafton.com.
How To Watch a Livestream After Buying a Ticket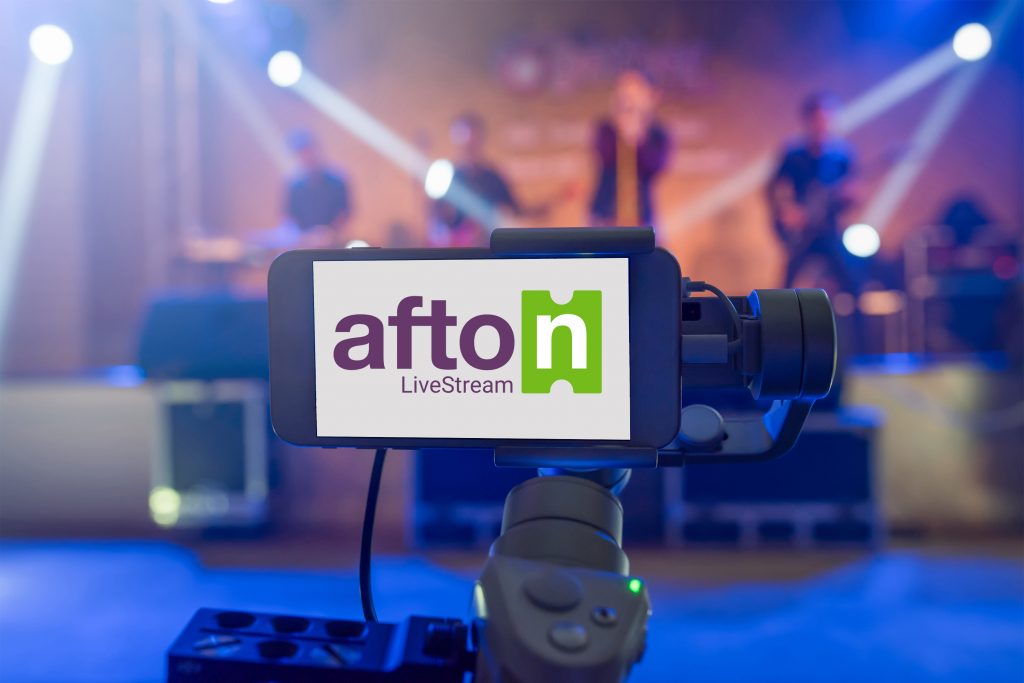 Purchasing A Ticket
You will need to head to Aftonshows.com and find the LiveStream that you want to buy a ticket for. (In most cases you will get a direct link from the artist).
IF You have a Direct link from fans then just head to the link and click the drop down to make sure the correct show is selected (In some cases the artist might have more than one show). Then click on the number of tickets that you want to purchase and click 'Buy Livestream Tickets'.
IF you did not have the direct link from fans then you would just find the correct show date on the Afton Shows website and click on 'Find Tix'.
Then it will have you create an account or login if you already have an Afton Shows Account.
Once you have gone through the tickets process you will see the below success message.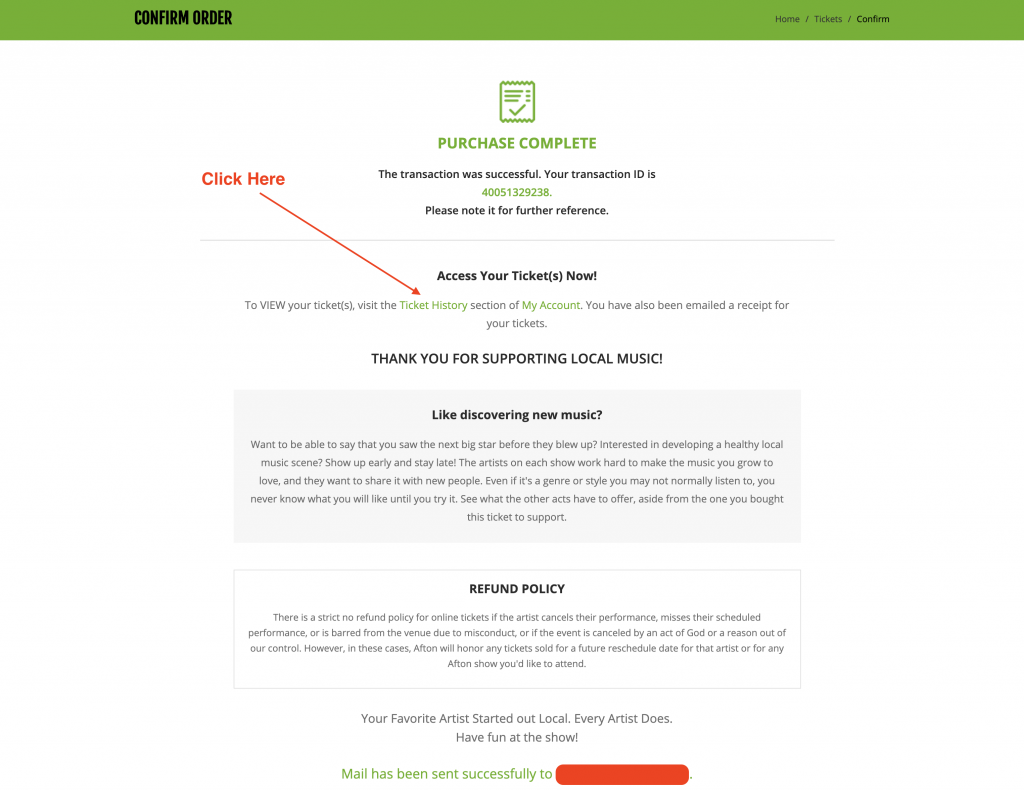 Watching The Show
To watch your performance you can either find the tickets in your email address that is linked to your account.
OR you can simply click on the 'Ticket History' button (as seen above) and it will take you right to the LiveStream.
Enjoy the show!
How To Watch a Livestream On Your TV With Chromecast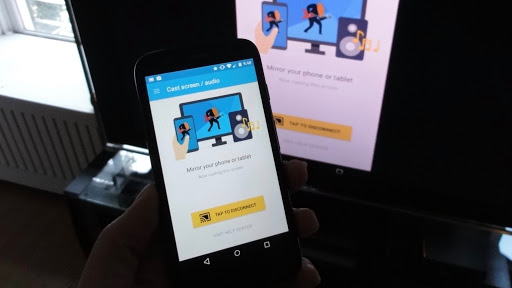 Cast Your Entire Android Screen
Make Sure your mobile phone or tablet is on the same Wi-Fi network as your Chromecast device.
Open the Google Home app (The Rainbow app that looks like a house).
Tap the device you want to cast your screen to.
Tap 'Cast my screen' icon (It looks like a box with a Wi-Fi symbol).
Tips
Make sure your device is 5.0 or later.
Turn off "Power Saving Mode"
Turn Microphone permission on (found in Apps ->Google Play Services -> Permissions. Look for "Microphone" and slide to on.)
Streaming Recommendations
Please take a look at this link for the current recommendations for streaming settings. HERE
Video Tutorial
How To Watch a Livestream Show From an Apple TV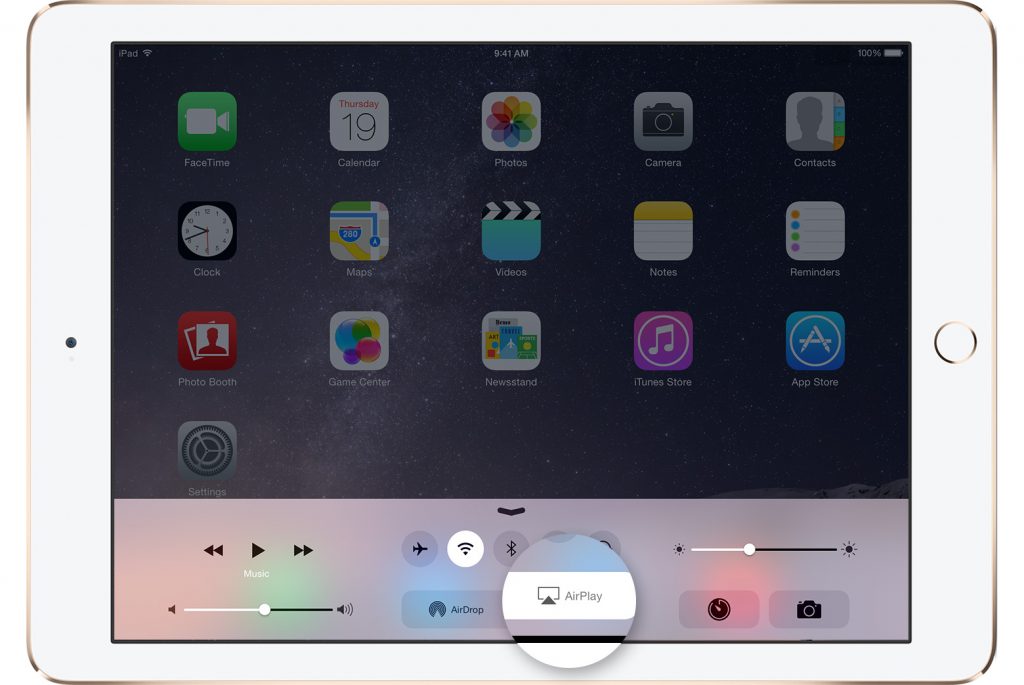 AirPlay Video From Your iPhone or iPad
Connect your iOS device (iPhone or iPad) to the same Wi-Fi network as your Apple TV or AirPlay 2-compatible smart TV.
Find the video that you want to AirPlay.
Tap the TV icon (below)
In Some third-party apps, you might need to tap a different icon first and then click the TV icon (Seen above)
4. From the drop down menu click on the correct Apple TV or AirPlay that you want to stream to.
AirPlay Video From Your Mac
Connect your Mac to the same Wi-Fi as your Apple TV or AirPlay compatible smart TV.
On Your Mac, open the Afton Livestream that you want to display
In the video playback controls, click TV icon (seen below).
4. Select your Apple TV or Smart TV that you want to stream to.
Mirror your iPhone, iPad or iPod touch.
Connect your iOS device to the same Wi-Fi network as your Apple TV or AirPlay.
Open your 'Control Center'. (iPhone X or later: Swipe down from the upper-right corner of the screen.) (iPhone 8 or older: Swipe up from the bottom edge of any screen.
Tap the screen Mirroring button (as seen below).
4. Select your Apple TV or AirPlay that you would like to stream to.
5. If an AirPlay passcode appears on your TV screen, enter the passcode on your iOS device (iPhone or iPad).
Streaming Recommendations
Please take a look at this link for the current recommendations for streaming settings. HERE
Video Tutorial

Email Us
Send us an Email