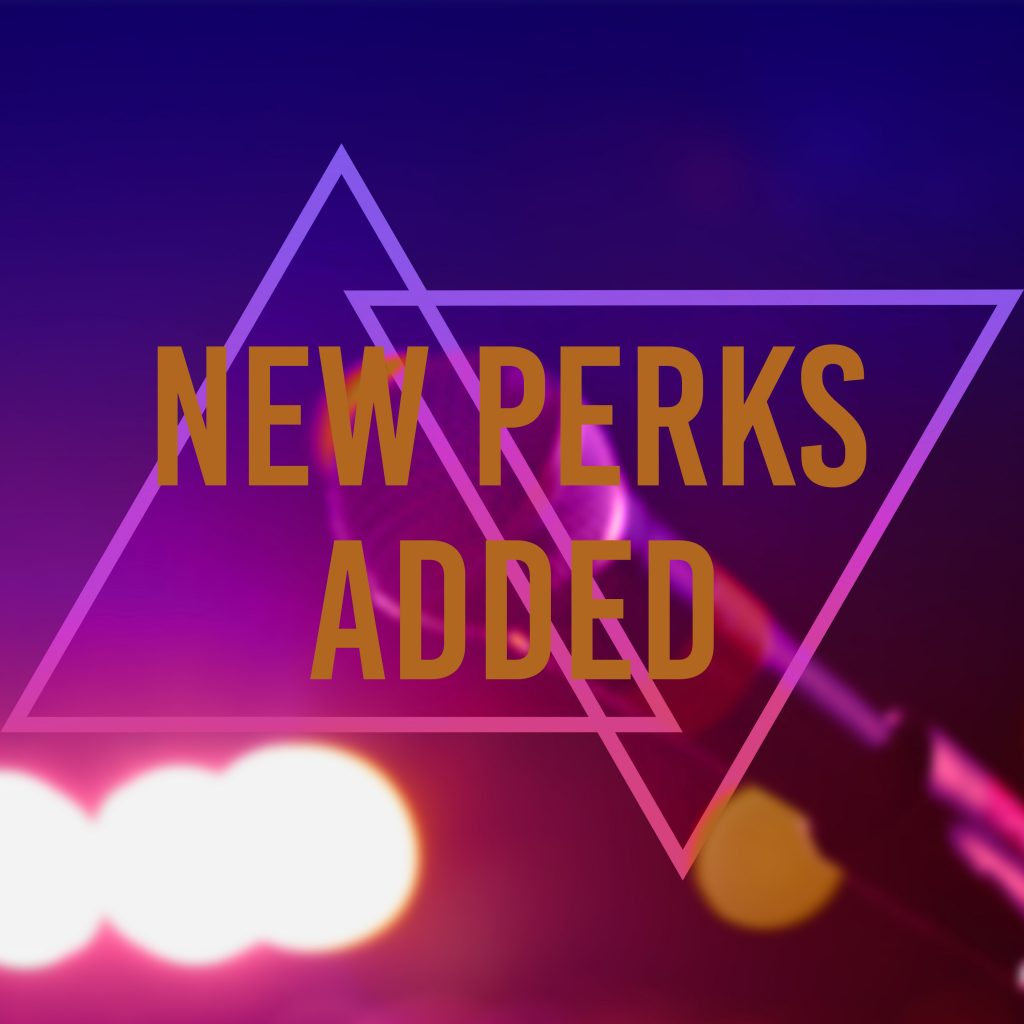 New Perks Added
We are happy to announce that we are in the process of adding new perks to our website to help incentivize artists and also reward them for their promotion efforts on their show!
We already have a HUGE list of perks that we have available on our site like, being added to BandsInTown, a free Facebook impression ad, social posts, and even refunds for promotional items when sales benchmarks are hit.
You can check out the list of all the perks that we have already available HERE.
The New Perks
We are excited to add a wide range of new perks to our site. In the beginning these perks will be listed here in this blog article. but eventually we will get them added to the page that we linked to above.
Post Your Flier
If you are able to get 10 tickets sold within the first week of being booked for a show all you need to do is, make sure that you have a flier created in your account (click HERE for tips with that), then just email your booking rep with the image of the flier and let them know that you reached the 10 ticket limit within your first week. We will then get the Flier posted to our social media. We will also make sure to post the link to your ticketing page for some extra sales!
Headliner Sales Status: Pre Show
For this perk we use your online ticket sales link as the main link when we create our Facebook event for the show. For these Facebook events we put all of the show information for fans to see in the event description, as well as the venue as co host (if they gave us that info), we list all of the main artists on the show, and lastly we post the online sales link for the top selling artist so far. This is great because if you are one of the artists that has gotten sales in advance then we use your ticket link as the main sales link for the show. That means that any fan that comes across the event on Facebook and buys tickets they will be brought your sales page and you will get credit for their purchase.
Branch Out Your Account
For this perk when an artist gets 30 or more tickets sold on their show we give them the ability to branch out their account to other cities. This means that originally your account may only be setup to receive show offers in one city (Say Austin Texas), but once you unlock this feature you can have another city like San Antonio added to your account for more show offers. So once you sell 30 or more tickets sold on a show just let your booking rep know of another city that you have a draw in (can bring fans to a show in) and they can add that city to your account and let you know the new cities booking rep to contact for shows.
Free Mixtape Submission
For any show that we book the top 3 selling artists will receive a free mixtape submission from our store. As a company we put out 2-3 mixtapes a year for artists to have their songs featured on. Usually we put out a Summer, Fall and Winter mixtape. Artists are able to purchase a mixtape submission from our store HERE. Now we are making the mixtape submissions available for free for the top 3 selling artists on a show. If you hit that top three mark, please make sure to let your booking rep know so they can get you in touch with our Mixtape team.
Artists To Watch
This next perk is given to all the top sellers on our shows over the weekend. So there is not a set number of tickets that need to be sold for the show. It is just being part of the top sellers for the show. For this perk you actually don't need to do anything to initiate it. Our staff will reach out to all of the top sellers on the shows from the past weekend to request the needed info. However because we push these 'Artists To Watch' articles just about every week we will need to quickly receive the requested info in order to make you a part of the blog. So if you think you are a high seller on your show that you booked then please be ready to send over the info needed in a timely manner.
Headliner Sales Status: Post Show
There are many things that make up a good headliner for a show, but we want make sure that artists get the recognition that they deserve when they sell/promote like a headliner does. So any artist that gets 60+ tickets sold on any Afton shows that they are booked for will receive a free Featured Blog Article from our store.
In order to receive this all you need to do is, get 60 tickets sold for your show, then email your booking rep to let them know and they will get you in touch with our staff member that posts the blog articles on our blog. Then, they will reach out to you to receive the needed info for the post.
We are very excited to get to work on these new perks and hopefully artists will like them! If you have any questions about the perks please reach out to your booking rep so they can help answer them and when in doubt just remember anytime you think you met the criteria to receive one or all of these perks make sure you check with your booking rep so that it doesn't fall the cracks and we are able to get you the perk[s] that you deserve.
Other Resources
Album Review: Love and Otha Drugz