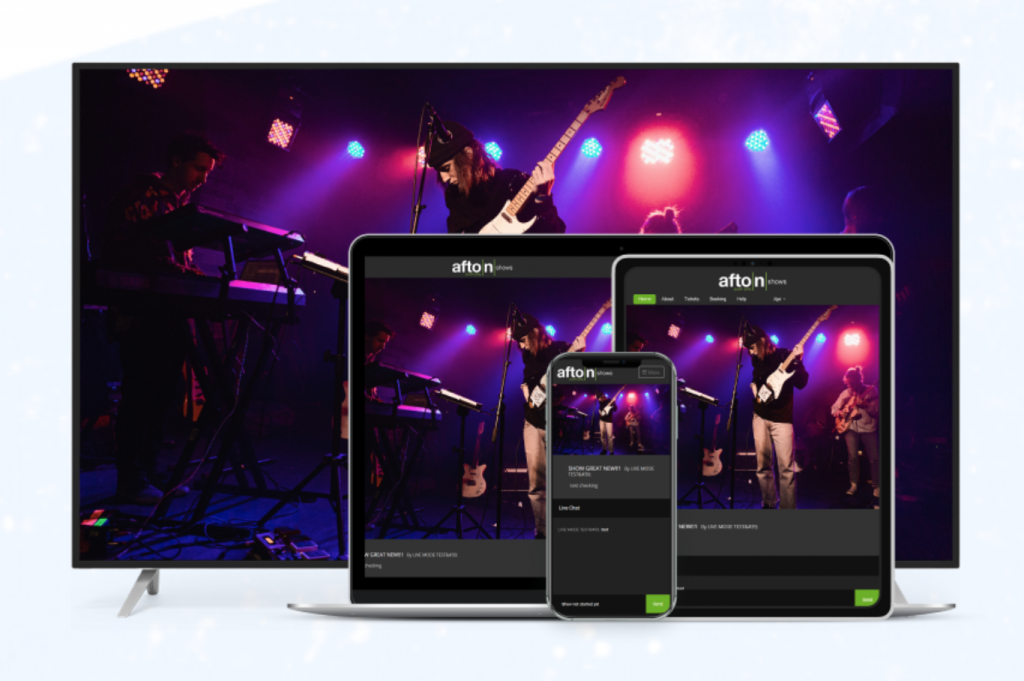 Recently, artists of all sizes have ramped up their free livestream performances on Facebook for donations only. But what if you could design a unique, special, and interactive LiveStream performance that you could sell virtual pay-per-view tickets for? How much more money could artists be making to help support their music career if they used their marketing skills and existing fan base for a pay-per-view LiveStream plus tips/donations?
This is the big question the Afton Shows and MyAfton founders, Ryan Kintz and Amy Kintz, asked themselves when COVID-19 hit in mid-march.
"Suddenly, within 3 days, all of the 250+ music venues we work with started contacting us to say, "our state is forcing our venue to cancel all live concerts for 2 months or longer due to COVID-19. We had to reschedule almost 200 shows," recounts Amy Kintz.
In addition, there are serious ongoing talks that live events could NOT come back until December of 2020. With major concerts/tours postponed into 2021. Or even worse, a 2nd or 3rd wave of COVID-19 outbreaks when concerts resume that forces live event industry to shut down again.
So how can independent bands and rappers support themselves financially while staying connected with fans? How can artists satisfy the innate desire to perform live and share their music with the world?
We believe the MyAfton LiveStream platform is the answer.
The MyAfton LiveStream Platform launches soon, and artists can join the rapidly growing waitlist below for the chance to be some of the first performers.
MyAfton LiveStream Offers the Highest Artist Payout.
We made the decision to give a lion's share of the revenues back to the artist for LiveStream.
MyAfton LiveStream offers artists 70% to 90% of LiveStream revenues, plus artists keep tips and donations after the card processing fee. It is our goal that the higher payout tiers are easily reached by the local acts we book.
With the starting MyAfton LiveStream payout tier at 70% (a majority of the revenue to artist), it only takes 20-34 virtual tickets sold for a 75% payout, 35-49 virtual tickets sold for an 80% payout, 50-74 virtual tickets sold for 85%, and the top tier of 90% comes in at 75+ sold. This means the average local artist's fan base can easily make that artist 75% to 85% of revenues (the artist picks the ticket price).
This is great news for independent musicians, considering that other platforms such as Twitch are taking 50% of revenues, and the starting payout tier for Stageit is only 63%.
However, to reach even the next payout tier on Stageit of 70%, an artist has to sell $1,000 worth of tickets, breaking down to either 100 tickets at $10, or 200 tickets at $5 – which is out of reach for many local musicians.
Wait, So What's the "Catch?"
There is no catch. Sign up to the MyAfton.com platform is completely free, membership is free, and it's free for artists to setup and create their LiveStream performances.
For LiveStream, there are no ticket requirements. An artist can choose to reschedule their LiveStream at anytime if needed. We even provide 1-on-1 support with a Booking Rep, promo tips and strategies, and marketing advice to help our artists succeed.
How Does it Work?
Once you have a free MyAfton account and have setup your Artist Profile, you simply click the Create LiveStream Gig link from inside your account.
You set the date and time for the LiveStream and you set the virtual ticket price.
We handle all encoding, bandwidth, the technology, the virtual ticket sales platform, your sound check portal, and provide you with a dashboard to track your sales.
When it's time to LiveStream, you login for the final sound check and go live. During your performance you can live chat with fans.
How Much Money Can I Make?
Let's use a few examples. Remember, the more virtual tickets you sell, the more Fan Tips you're going to get. Historically, we see that Fans tip generously during online checkout for our live shows. Plus, with LiveStream Fans can tip/donate during your performance.
Local act sells 21 virtual tickets at $7.99
Artist takes home $88.20 + Tips
Local act sells 50 virtual tickets at $6.99
Artist takes home $297.07 + Tips
Local act markets their LiveStream like crazy and sells 110 virtual tickets at $5.99 each.
Artist takes home $593.01
The possibilities are endless. Established local/regional acts with a large fan base could be making $1,500 or $2,000+ per LiveStream with 200-400 virtual tickets sold depending on the ticket price they set.
How Do I Get Started?
Head over to www.myafton.com/livestream and create an account or login to your existing account. Setup your account and start creating your LiveStream gigs.
We can't wait to put you virtually "onstage!"
Other Resources:
So Shows Aren't Happening… What Now?