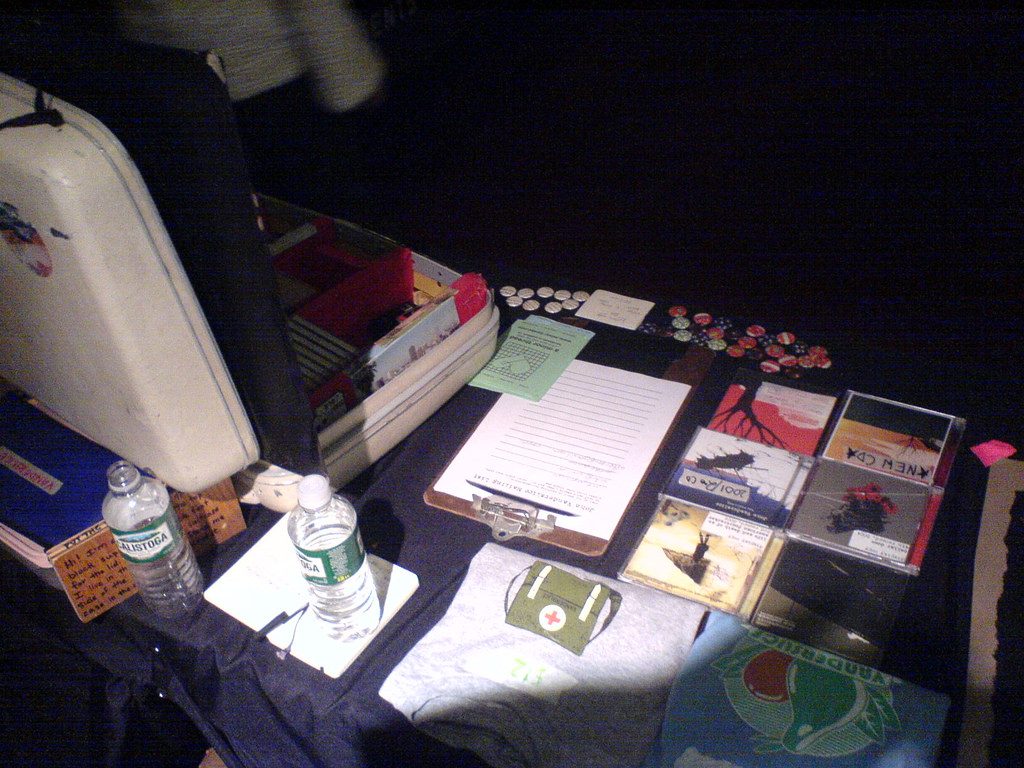 In our last blog, we gave you some suggestions on the fundamental items of your merch table. Now what?
Achieving Maximum Exposure
Let's go a bit deeper into putting together and managing your merch table at your shows. These are some solid tactics that will help you sell or use those T-shirts, hoodies, pins and stickers you ordered for maximum exposure.
Clubs usually have a merch table that artists can use for selling merch. However, you should have a small folding table you can easily bring with your gear to the show.
That way, on the off chance the merch table is broken, another act has taken it over or the table's simply missing from the club, you still have one. But usually the club has a table there already.
Make sure to get to the venue early so you have time to set up your merch table and to make sure you have a prime location set up.
I've personally played shows that don't have enough room for everyone's merch tables. That usually ends with someone sitting in the corner with a box of shirts and CDs in the hopes that fans would even see them.
Don't be the sad act without a merch home. Get there early and set up shop asap!
Crucial Elements of Your Merch Table
Once you have your box of merch (an old suitcase makes a great portable merch box) and your folding table, make sure to have the following:
Signage for your table with prices of everything you are selling, website address and whether you take cash or card. (Square readers are a great, affordable way to allow fans who don't have cash on them to buy something). A basic item list printed out or hand-written and taped to the table will do just fine.
A small cash box or manilla envelope with a little bit of basic change for fans who have cash. The simplest tactic is to break up a couple twenties into 10 one-dollar bills and 4 five-dollar bills per twenty-dollar bill prior to the show. You can do this at a bank or customer service of a grocery store.
Tracking sheet for all sales/giveaways.
A small battery powered table lamp. You may not need it, but if the club is really dark and your merch table is in the back, it's going to be difficult to make transactions and see the right change, see the signage, the merch or your fans! No one wants to go to creepy corner in the back of a dark club to buy something they can't see.
You can't go wrong with a tip jar for the band and/or the person running the table!
And don't forget to have a sign-up sheet (or cards you pass out to audience members before and after the show) for your email list!
Man (or Woman) the Ship!
You should always have someone manning the merch table throughout your show, whether it's you, a bandmate, a friend or fan.
My last band always made sure the person at the merch table (aside from band members) was attractive, dressed for the part and engaged every person who walked by or came up to the table. Fans are much more likely to approach a smiling attractive person than a scowling, stand-offish introvert.
If your merch person is lost in their cell phone, rude or doesn't really want to be there, it's not gonna help you sell any shirts. Our merch girl became an informal member of our crew and one of our fans' favorite aspects of our live shows.
Make sure your merch person knows how to handle the transactions.
Show them how to use the square reader if you have one, and make sure they know the prices for everything and where the cash box/envelope is.
Make sure they track inventory sales and promos.
And remember, when you play an Afton Show, you keep 100% of all of your merch sales at ours shows!
The Merch Table Hang Out Session
We encourage you to use your merch table not only as a place to sell merch, but also as a place to meet and interact with fans.
Invite the crowd back to your merch table after you play. Hang out there before your set.
Offer a free sticker to people who come talk to you at the merch table after your set, be creative so that you have a LINE of people at your merch table as soon as you're done playing.
Have your lead singer or YOU, if you're a rapper or solo artist, walk from the stage to the merch table after the last song and make an announcement to meet up at the merch table.
Our founder Ryan Kintz did this for every show he played as a band, and his band always had a crowd of people lined up at their merch table after their set.
Hanging out at the merch table is a tactic that even national touring acts use, as it gives fans a chance to have a face-to-face meeting with their heroes and it helps you sell shirts, CDs and get people signed up for your email list.
Don't Be a Cheapskate
When it comes to the actual sales of merch, don't be a penny pincher.
Offer discounts and deals like a couple bucks off if people want a shirt, sticker and CD. Buy two get one free. Get a free sticker with every t-shirt. Whatever. Be creative.
You can put this on your signage or you could simple offer it verbally to your fans as a one-time special.
If a fan is a buck or two short of being able to grab a shirt from you, sell it to them for what they can afford. This makes fans into super fans who will tell their friends how cool you are.
It also put another walking billboard for your act in motion.
If You Build It They Will Buy
Once you've got the hang of running a merch table for your basic gear, and you start making some money, DON'T POCKET OR SPEND THAT MONEY! Use it to reinvest in adding new pieces as time goes on.
Having as many different types of merch as you can is a great idea. Bring in new shirt designs. Add beer koozies with your band name on them. Get some posters (and always sign them!). Flash drives with your music preloaded on them.
Anything you can think of that your fans may want. The more diverse selection you have the more "deals" your fans can cash in on.
If you only have a CD, shirt and stickers than within 1-2 shows your fans will essentially own all of your merch!
Got any cool tips or tactics that have worked for your merch table? Drop us a comment below. We'd love to hear from you!