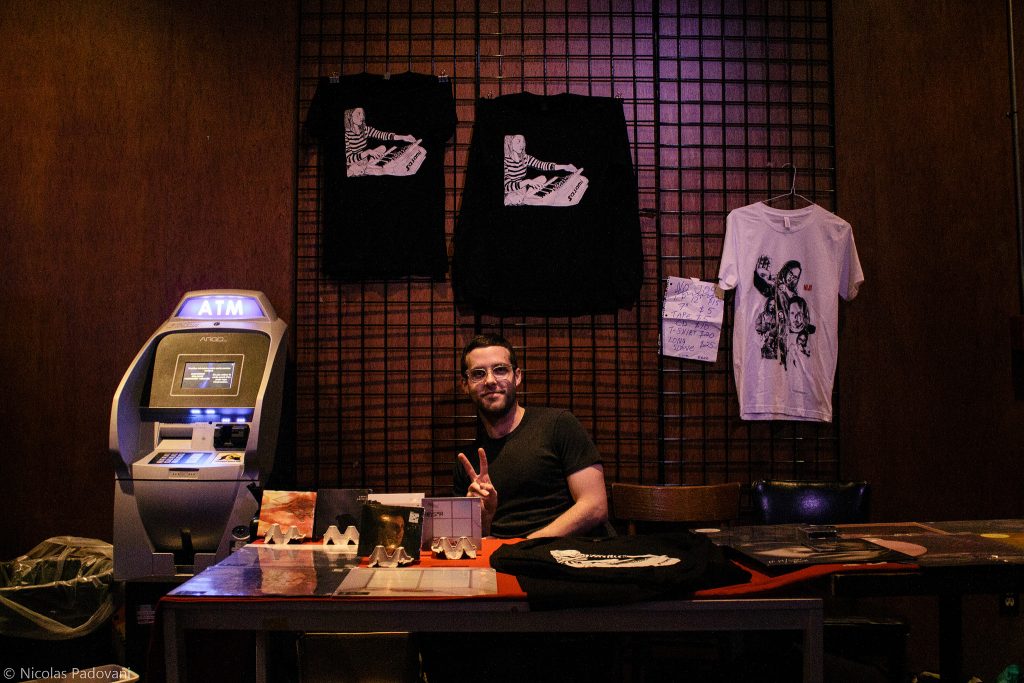 Getting Your Name Out There
One of the most important tools in an artist's toolkit is Merch (or "merchandise" if you're classy). For a local act, it's a no-brainer. As any nationally-touring act will tell you, if you don't have any merch, you need to get some now!
Most bands make the most money with the biggest return on investment with merch. They are also one of the greatest promotional tools you can employ on your rise to fame and fortune.
But there's a lot of types of merch to consider: T-shirts. Hoodies. Stickers. Buttons. Hats. Singles. EPs. CDs. Vinyl. Digital Download Cards. Flash Drives. Totes. Key Chains. Beer Koozies. Pint Glasses. Posters. Guitar picks. Drum Sticks. Etc.
What is the best return on investment and where do you even begin?
Where to Start
To get started, all you really need is a decent hi-res logo. You can build out fancier graphics and artwork as time goes on, but you don't need to in the beginning.
You can have hundreds or thousands of pieces of merch that can help you get your brand out there and put some money in your pocket with a basic black and white font of your act name.
A logo is pretty attainable, too. You can crank one out in an hour or two in Photoshop if you've got some chops with free font packages.
For my last band, I built two font-based logos of my band, which took me about two hours total, and we used those two fonts on every piece of merch we ever made or sold.
If this is a bit much, you can pay a graphic designer a little coin to make one for you. FIVERR is a great source for affordable, reliable freelance work like this if you don't know any artists locally.
Once you've got the logo, a quick Google search of "band merch" or "custom tshirts" should give you plenty of options to compare prices and packages. Do your homework and make sure to find the best deal for your needs.
Now, the question really is, what type of merch is best? What's the best "bang for your buck"?
Stickers and Buttons
The most affordable and easiest items to stock your merch table with are stickers and 1-inch buttons. You can usually get 100 1-inch buttons for about $15-$20. Expect 1,000 stickers to cost about $100, or 10 cents a piece.
You can sell the stickers and buttons at your shows and online to help recoup some of the costs. Your mindset with stickers and buttons should NOT be to make money, however. Think of them as a line item of your act's marketing budget! That being said, you should have a price tag on them and make them available for sale, so fans can see they are getting something valuable when you give them away.
You should mainly use these items to get your name out and to use for Deals You Offer Your Fans. You can even tell your fans that they get a free sticker if they promise that they'll put it on their car. Isn't it worth a dime if your fans are driving around town with your band logo on their car?
T-Shirts, Hoodies and Hats, Oh My!
Nothing should stop you from having T-shirts, hoodies, hats or other clothing apparel with your act name and your artist website on them. Ever.
If you don't have T-SHIRTS you need them NOW. These are the bread-and-butter of any merch table. T-shirts will generate more revenue than anything else you will probably ever sell. They are also a relatively affordable piece of merch you can invest in and will sell easiest to your fans.
In terms of cost, expect to spend anywhere from $2-10 per shirt (they get cheaper per unit with the more you purchase). The good news is you can almost always sell your shirt for far more than you paid. Fans don't balk one second spending upwards of $60 for a t-shirt for a nationally-touring band. Metallica recently rolled through town here and that's what they were selling their shirts for. Every single merch station had 10 lines of constantly streaming fans. If you keep your prices between $10-25 per shirt, you might have a sell-out on your hands in no time.
Let's say you find a deal of $3 per shirt and you sell them for $10 each. You will more than triple your return with every shirt sold. If you bought a meager 25 shirts for your upcoming show, you'd spend $75. If you sell them all, you'll bring in $250 total. That's $175 pure profit on a $75 investment.
HOT TIPS
HOT TIP #1: The biggest investment in merch is the first one. Don't pocket or spend the money you make on merch once you start making that money. Reinvest in more merch! Keep the cash cow fed and you will never worry about having a source of revenue for your act! My old band never spent the money we made as a band, we always used it to build the band up, whether it was merch or studio time or whatever would save us from spending our own money in the future. It works!
HOT TIP #2: Have as many friends as you know wear a t-shirt (even if they didn't buy it) and take a pic of them. Then post to your socials and have them do the same. This way with 1 t-shirt people keep putting on, taking pic, taking off and give back to you – you can create this BUZZ on social media that makes it LOOK LIKE YOU JUST SOLD 50 t-shirts. An apparel company did this grassroots approach and with just 1 t-shirt they made it look like they were blowing up in their city.
HOT TIP #3: Consider giving out free t-shirts or discounted ones to cover your costs of production to INFLUENCERS you know. People who are good looking, have big social media following in your city, etc. and say they get it free for cheap if they post to socials about it 2x this month. etc.
No Funds for Merch? No Problem
Artists tell us they lack the funds to get merch made. Well here's a couple tricks to tackle that so you have no excuse!
Tactic #1: The "Pitch In"
A super easy way to get merch is just have each member "pitch in." How much does it cost to order what you want? $100 or $150? If you have 3-5 members in your group just have each member pitch in $20 or $50 and you'll have what you need to make your first merch order.
I know money is tight. But if each member skips out on going to dinner or grabbing their daily coffee, they can put that $40-50 toward your merch fund.
Ryan Kintz, the founder of Afton, and I personally used this tactic many times while we were in our respective bands over the years. In fact, Ryan recently ordered custom beer koozies with his new cover band's name on them. Each band member pitched in just $19 and bam, they had what they needed to make the order.
Ryan also solved the "lack of merch problems" in about 7 days with this next tactic, without spending a dollar of his own money up front.
Tactic #2: The Custom Pre-Sale
Explain to all of your friends, fans & everyone you personally know that you are taking orders for T-Shirts (or hoodies, etc) and that you need to know what SIZES to order. Your friends, fans, and family should understand that you can't order 50 shirts in sizes nobody wants. You don't want to be stuck with 10 XS shirts.
When Ryan's band did this, they sold 21 shirts in less than 1 week! They had $210 in cash, and 21 shirts already ordered and paid for. That funded their entire merch order! Now they had money for extra inventory and now 21 fans were walking around as personal billboards, spreading the band name around town.
Merch is the Backbone of Your Act
This should get the ball rolling for you on the most fundamental ingredients to your act's brand. Your merch is the backbone of your act, both as a promotional tool and source of revenue.
It's tough making a living as a musician, but it's next to impossible without merch. So don't ignore this crucial aspect of your music career.
We'll get into more details on the next steps of building your merch table in a future blog. Make sure to check back to MyAfton blog regularly and drop us a comment below with your thoughts on getting merch for your act.