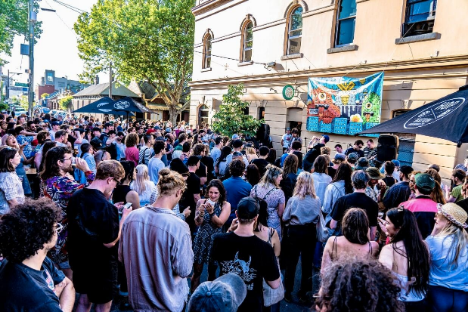 The world needs live music today more than ever, especially since the outbreak of Coronavirus. It's been hard for a lot of industries, and the live music industry has been hit harder than others.
Today more than ever is impossible to book live music shows. The live music experience is based on aggregation, and people's presence is fundamental for the artist to capture their audience.
Music shows are places where people gather together. They will dance, shout and jump all over, following the beat as much as they can, having drinks, hug, hold hands, and connect in a way that involves physical contact.
It is all about the entertaining experience, so bands and musicians can see the impact of their shows based on their audience's reaction.
Live shows, as we knew them before Covid, cannot happen with the "one-meter" rule in action. But it is great that at least there is a way to keep in the splint glowing – through live stream and live music. And perhaps the only option for the next couple of months.
Why live streaming?
The world needs music, and now more than ever! What's happening feels unreal. It is impossible to even think about going to a restaurant with the current restrictions, and with everyone trying to follow guidelines put in place to avoid the spread of COVID19.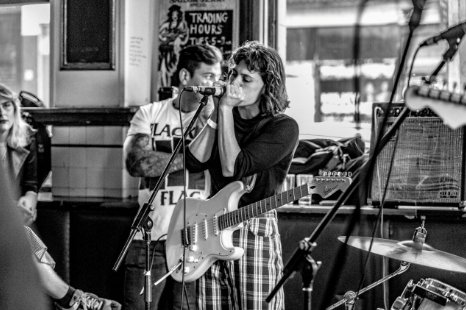 The debates on the viability of live streaming among artists and their fans have initiated a discovery journey for ways to satisfy either party. Different experts are trying to put in their efforts, to seem as though things will go back to normal, just differently, in what we now call the "new normal".
We have all been forced to adopt a new approach to how we consume entertainment. The pandemic found the world unprepared. And when it hit, everyone was hoping it would end soon, and everything should go back to the way it was.
But as days go by, the world is beginning to realize; this may be something we have to live with for a while. The ban on gathering, due to social distancing, has had an immense impact on the music industry.
And because of this, the entertainment world as a whole has gone through a significant change. There is no longer performing to large crowds, which benefits the audience and also the artists too.
More than ever, we are witnessing more consistent connectivity through WIFI. Even though stating indoor has become mandatory, the demand for entertainment seems to have doubled. Hence, consumers have now steered towards visual forms of entertainment. Services such as video streaming, gaming, and live streaming are now the new way of doing things.
The music industry, which has always been creative, has been compelled to dig even deeper. Now, an artist who is not able to tap into the new forms of media, as their routine cannot see the light of industry.
It is important that artists, even though these tough times, keep, and grow and engage the audience. It takes a long time and effort to build a name in the industry; hence, artiste doesn't want to let everything go down the river because of the pandemic.
Besides, chances are, this is what the industry will need in the long run. I think live streaming and live music streaming will continue long after the pandemic.
This may be another way of looking at everything that has been happening over the past few months. That as much as we cannot celebrate it, we need to appreciate how strong humanity has become in terms of improvising their ways out of trouble.
The entertainment industry is, therefore, stronger today than ever. And since the internet is already here, musicians are utilizing social media and other online channels to offer their followers fresh content.
I was trying to look at consumption habits between February and May 2020 and was amazed at how much music streaming has been affected. Artists and their teams are using more collaborations, live streaming, video streaming, and social media to support the COVID19 relief while trying to connect with their fans as well.
Present and future impact on music streaming

The pandemic started rooting its claws in the United States in March 2020. And for three consecutive weeks, there was a huge decline in streaming.
It began at 2% and then went to 8% and then 3.2%. This may seem like a small percentage, but it has never been seen for online channels. The closest the world has come to this low was in the weeks following the Christmas holiday – even then, it was only 1%.
The last week of April, however, the US market, along with witnessing a surge in streaming by 2%. And the incline has been continuing steadily ever since.
Spotify's Q1 2020 analysis shows that the daily volumes of active streaming have been fair as they forecasted. It is only in Italy and Spain, which were the worst hit that the numbers are lower.
Now that these fluctuations in audio consumption are eminent, artists and their partners are taking advantage of new media to reach the fans. And since most people are now working from home, it is clear that streaming services will continue to increase.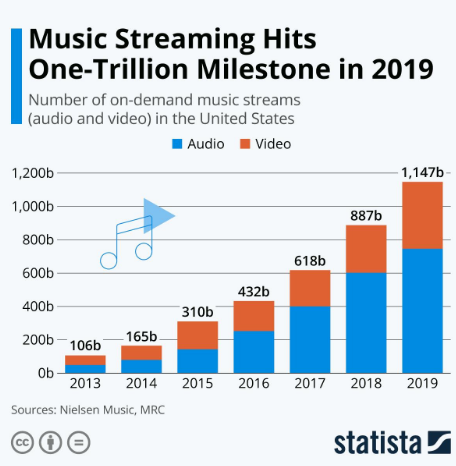 The contribution of streaming services
Since more and more artists are using these platforms, perhaps it is time that the stages gave them enough support. And I must acknowledge that most of them are doing this. Many are offering granular, non-identifiable consumer data to increase their reach to online consumers.
For instance, from May 15, 2020, Spotify has opened channels for artists and their groups to tap into the artist's analytics. There is now an application compatible with iOS and Android that lets team managers and members of the group to this information.
Such things indicate just how the pandemic is fueling online collaboration. And in the future, this will have a significant impact on the artiste's marketing strategies, helping them see what others are doing across the globe.
Spotify is offering the same at the moment, to other users in the world. The information has become a great pillar for marketing, even on different social platforms.
Current music live streaming
In March, there was a constant increase in the number of users using live streaming services like Twitch, Instagram, and YouTube, and Myafton.
Reports show that viewership on these video-sharing platforms increased. The Music and Performance Arts Category rose by more than 524%.
For instance, the Electronic and House artist, Diplo, opened a love streaming series on Twitch called Corona World Tour, which attracted a lot of viewers.
Other artists like John Legend and James Bay have used live streaming methods to connect with their fans on a personal level, to collect money and donate them to charities.
There are more artists who are using these channels, all pointing to the fact that live streaming is the best solution to this condition.
Every online platform is now open, with all forms of goodies for their users. And both artists and users have not been left behind.
After the Pandemic, What Then?
Online channels have continued to be a significant boost even though the lockdown has been a disaster for musicians across the world. The bread and butter for many musicians may have reduced too. And it is not all a smooth ride, though.
Despite the surge in online streaming, there are some music teachers who say their students have put off the classes until the pandemic passes. Others are not ready to pay for online lessons like they would physical ones.
Performing artists and musicians have mixed reactions on this. There has been a general increase in freelancers over the month of March 2020, and the surge continues. And world governments have launched different programs with funds to help cushions artists against the pandemic.
There are many concerts that have been canceled as well. And even with predictions that the pandemic may end on the soon, the performances have been pushed until later in the year.
Even if these shows begin again, we may not witness the days anymore when thousands of people packed concert halls. This "1.5-meter" thing is a real pain.
I am sure that the surge in live streaming will not fill the gap left for live performance. Not only because of the lack of physical attachment but because it is not easy to monetize. Some streaming services like Instagram are currently helping artists to monetize, but that may not be enough as far as the source of livelihood is concerned.
There has been a huge impact, especially to professionals who spend their life on stage. They can no longer share their ideas, collaborate, or feed off the energy from their audiences.
Simply put, live streaming will continue to be an alternative as long as the pandemic is concerned. After this, it may still hold water, just for far fans, but it will not remain the only way for artists to get their ideas out. Live music attracts more people than any other form of entertainment could. This is why it will come back stronger than before, to "quench the thirst."