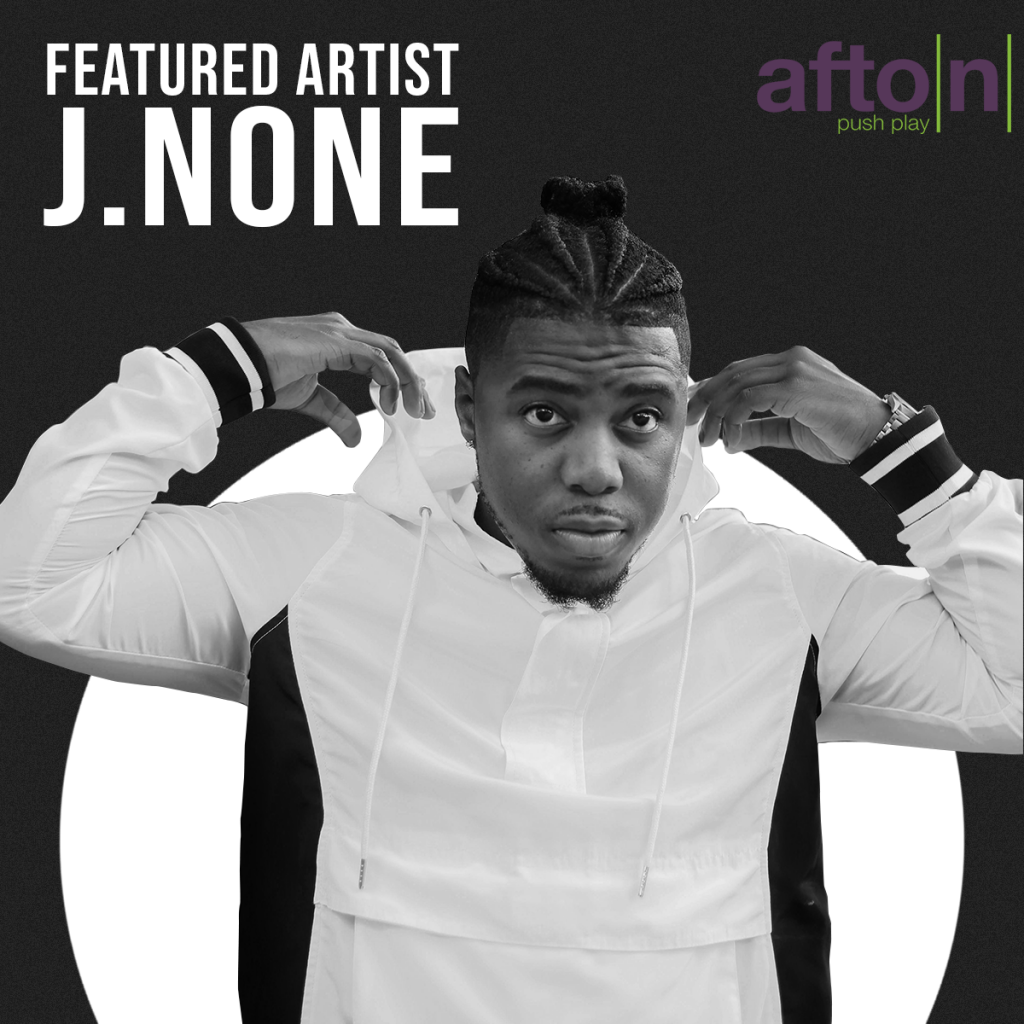 J.None
J.None is a singer/songwriter, producer, actor and multi-instrumentalist from Virginia beach,VA. When doing a live show he likes to use a loop station to sing A-cappella loops live and rap over them.
He started playing music in an orchestra when he was only 9 years old. Violin was his instrument of chose.
8 Questions With J.None
Who and what inspires you the most to keep going?
My mother definitely inspires me to keep going the most. Her back story is so crazy! Full of pain and suffering from the start of her life to now and she still continues to live, laugh hard and look after all 4 of her children whom she raised on her own. Seeing her get through all of that and still have love in her heart has inspired me to keep pushing for my dreams.
What things did you enjoy about playing with Afton?
I like that Afton shows are extremely chill and low-key. Intimacy is everything when it comes to shows. I want people to be able to see me up close and catch every vibe I let off from song to song. Also, 'The Henao Center' and 'The Abbey' are two of my favorite spots to perform in Orlando!
Where do you see yourself in 3 years and how can Afton help you get there?
In 3 years I see myself touring and doing my own solo shows while also coming back home periodically to help younger singer/songwriters and amateurs find their sound and hone their skills in recording, songwriting and live performance.
If you could play show with any artist or band, living or dead, who would it be? Why?
Michael (mf) Jackson!!!!! I was a dancer first when I was younger so being on stage with MJ would be CRAZYYYYYYYYY!!!!
What's one of the craziest things that has happened since you became a musician/artist?
I got to meet J.Lo and sing to her! (lawd have mercy)
Do you have any pre-show rituals before taking the stage? What do you do after a show?
Before a show, I play an old school video games on my computer like Super Mario World and sometimes I take a shot of Whiskey. After my show, I always go out for food and drinks wit my fam and fans. That's real love to me.
What advice would you give to a young artist just starting out?
I would tell young artists to try everything and every sound until they find a main one they want to marry. Be as creative as possible and never cut yourself off to just one thing. You never know what sound or producer or group or gig or whatever is gonna make you better and take your talent to that next level we all continually strive for EXPERIENCE!
What is one of the biggest lessons you've learned as an artist?
One of the biggest lessons… hmmmm…. I'd say to just truly be
myself all the time. I hear it said a lot but really NOBODY CAN BE
YOU so our most powerful weapon will always be us being who we
are 100% of the time.
Where To Find J.None
Other Resources