Become an Affiliate and Get Paid!
Here at Afton we are always looking for new, up and coming artists to book at our nationwide events! We have an awesome artist referral program where you can become an Afton Affiliate and we pay YOU to refer artists.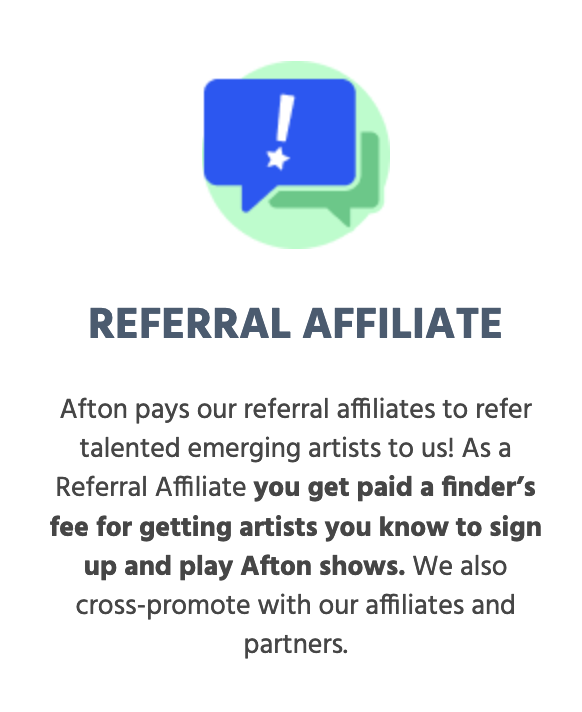 The Affiliate Process
When you sign up to be an affiliate you can refer artists directly from your account! You can then monitor their sign up process right from your account dashboard. That way you can see when they sign up, when they get booked for a show and even when they have successfully performed. That is when your payment comes in! When an artist performs at one of our events we send you a check!
How Do I Become an Afton Affiliate?
There are a few ways for you to be a part of the team! If you already have an account with you can refer straight from your account without any changes to your account. Or you can sign up free from the link below.
Or if you already have an account with us you can checkout the below video to see how to refer artists from your account.
Current Affiliates
We already have a ton of affiliates that we currently work with including, artists that we book, venues that we work with, DJs from around the country and even other booking agencies. A few of our affiliates have already been paid over 7K!
Tips For Affiliates
One of the most effective ways of referring artists through your account is to simply upload your email list (.CSV file) onto your Afton page and we will slowly email each artist on your list and let them know they were referred by you.
Another option is to simply post an image of the Afton logo with a "Book Shows Here" message next to it with your Afton account referral link in it on your website. That way whenever someone clicks it and signs up your account would be credited with that artist referral.
The last option (that a lot of artists use) is simply to share your referral link on your social media pages (this is especially effective for artists with big followings).
If this sounds like something that you would be interested you can sign up HERE
Other Resources
Also be sure to check out some of our other blog articles that we have.
Happy Referring!