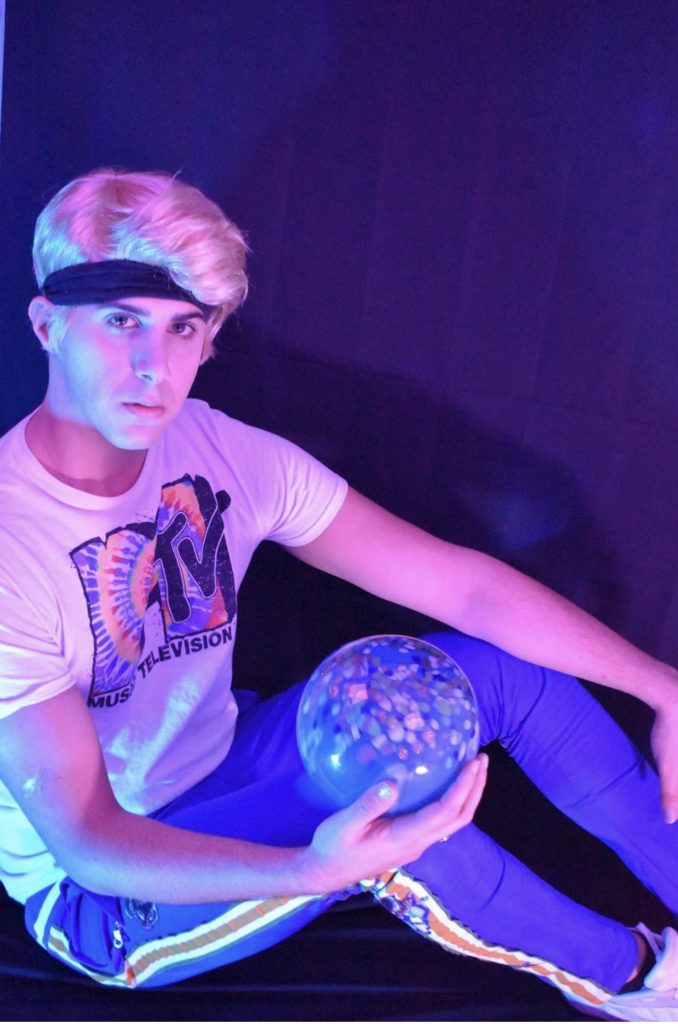 Saint Pete
MyAfton Emerging artist Saint Pete: My real name is Peter John Pappas, and I was born & raised in Park Ridge, Illinois! Growing up I lived in a medium sized home, in a safe neighborhood, where I could go outside and call on any of my best friends, to go on an adventure with or creative art together. Living in Park Ridge was a privilege, and allowed me to be who i wanted to be, from a young age- which gave me confidence looking back as i became older.
Community theatre companies were casting shows in all the surrounding suburbs, which I always auditioned for, and I'd often attend real broadway production casting calls and master classes in Chicago. I'll never forget when One December, my parents took me to see Annie. It was a matinee show and I loved every minute of it. It might even still be my favorite musical today…that and Joseph…. and the Amazing Technicolor Dreamcoat. Anyway, I left the theatre after watching Annie and when i got home, I was already planning my "Basement version" production to perform, and quickly got to work designing every aspect of my Annie revival.
Flash forward: I currently live in Orlando, Florida, Where the sun shines bright like a diamond, almost everyday and the energy in the air is both magical and contagious. I moved to Florida back in June of 2019, to embrace a new environment, find a new home, conveniently near a place that I've always been obsessed with going to my whole life- that being Walt Disney World. I left my friends and Family in Chicago, because I had to get away and find myself, and more importantly- my artist persona.
I began writing lyrics and melodies, filled notebooks and drawers in my kitchen stuffed with small hand written notes that I had collected throughout the years, and booked sessions to record at various studios, making demos that would soon be mastered and produced into tracks for my debut album. I've always been fascinated with element's that go into writing a "Hit Song' and after writing and recording the songs for Star boi, i can honestly say that my material is all very different, meaning no two songs sound the same. I intentionally did this because I took my time throughout the process, expressing major life changes or obstacles I was going through in various stages of my life through each tune. I started when I was 21 years old, and wrote almost all of these songs between then and when I turned 30 in November, I collected all my demos, and found a producer to mix and master the songs so I could start to put together an album.
I chose to name my album, "star boi" , because it is the character I found along the way, and he is both brave and daring, and has a story to tell. While writing my story and album, I revisited religion, and found an icon that was given to me as a child, through the greek church.. It was the icon of Saint Pete, which inspired my artist name to become- Saint Pete.. Just before I turned 30 years old, I found who I wanted to be as both a man and an artist. I also discovered my musical vision/genre/and audience, as I tapped into my spirituality, formulated a new belief system, and studied online through NYU: Tisch sponsored by a program called: YELLOWBRICK. I was able to take a class called: "Music Industry Essentials" which helped me quickly learn and understand the business side of pop music and what I would need to know as an artist breaking into the business.
I relate to saint Pete in particular, out of all the saints, because of the fact that I am a mediator, when it comes to my personality type. I'm often torn , especially when it comes to focusing on my craft, between taking care of myself and nurturing my vision, or attending and helping others first. At the end of the day, After I moved to Florida and focused on balancing my daily schedule between: prayer, meditation, fitness, writing and recording music, and managing my brand as an artist, my favorite time spent, in the past 6 months has been putting together my first album called: "Star Boi". It was a blessing in disguise. (Which I'll talk more about later on…lol)
9 Questions With Saint Pete
When Did You Start Playing Music and What Inspired You to Give it a Try?
My earliest memory of playing an instrument was on the piano that held a permanent place in the living room of my childhood home. As a kid, I watched my brother play the piano at home, and take lessons from my mom, who had a natural ear for music, and a beautiful voice too. I became interested in learning how to play the songs I heard my brother cranked out, but also wanted to sing too, because I heard my mom humming, and even singing at times, while playing. One time, i'll never forget, I came home from a long day of school, sat down at the piano, and tried to figure out how to play "My Heart Will GO On", after watching Titanic the night before and being so moved by the song, that I felt the urgency to write my own tragic love romance pop hit too!
But to be honest, I've always had a thing for pop music. I would spend the entire weekend in the basement as a kid, building a show, set to a tracklist made up of Michael Jackson and Britney Spears songs, for the most part, but had some other random oldies…oh and the Spice Girls too! Haha
I built set pieces, from boxes and other old furniture, and would paint and decorate them, making sure there was a dynamic to the backdrops, some 3D "Pop" aspect too. Since my brother, George, was into pop culture and MJ, I'll never forget he let me borrow his "Glitter Glove" for my basement show during"Tech Rehearsal" – I just danced and Sang, but I think it was in that basement, during those long weekends of hard work, that I developed a deep rooted passion for creativity, one that would surely benefit and support my artistic vision, one day..
Who and What Inspires You the Most to Keep Going?
The world TBH, When I become discovered…I'll be known and will come out and be heard, But only when it's right for me to shine.. Now is the right time for Saint Pete to present Star Boi to the world because his music and story will inspire others during these tough and scary times we live in today, Saint Pete has a story to share with you, much like the Wizard of Oz. However, you will learn that at the end of the day, you will walk away inspired to make 2020 your year, and to follow your heart's desire when it comes to your passions and career desires. Conspiracies are what Pete fights for, as he is brave, and believes that if so many individuals can come together and believe in something, then why are they so quick to be judged and called theorists?
At the end, finding my artist persona, my soul, my alter-ego- and last but not least- saint pete has helped me reconnect with , well …."ME!!".I'm happier now than I've ever been before, simply because I've been given the chance to share my story through a self- written album, Star Boi, and now I get to start performing it for the world too!
What Things Did You Enjoy About Playing With Afton?
I just played my first show, at the Abbey in Orlando, FL and it was a really fun first performance. Afton helped me book the show by giving me promo tips, guidelines, and even deadlines to meet, when it came to selling tickets for the show.
As a new artist, I spent 4 months, after moving to Orlando, growing as a person and i've changed so much in such a short time, that it scared me at first on how i was going to build my fanbase. I really have to thank Afton for helping me book my first gig, and learn how to find my fan base as a new artist because many people came out to see my first show as Saint Pete.
Where Do You See Yourself In 3 Years and How Can Afton Help You Get There?
It's weird because I've always been kind of futuristic, not psychic but I sometimes think too far ahead , instead of addressing the here-and-now. I know that If i continue to give my career as saint pete my all, stay focused, then in 3 years from now i see myself touring and filming a movie which details and revolves around "The Wizard of Pop"- essentially the story my album tracks revolve around- the score of my story, if u will.
I hope for Saint Pete to be an opening act on tour by summer, because his show will fit in with how festivals present their live acts these days: With lights , smoke, fireworks, etc.. My show is visually interesting because it incorporates projections that interact and detail what's going on in each of my songs, and also highlight footage from some music videos I've shot on my i-phone, all in a 3-D format. I know that by working with Afton, they can definitely help teach me the tricks that I will need to succeed in booking larger venues and opening acts for both festivals and tours!
If You Could Play a Show With Any Artist or Band, Living or Dead, Who Would it Be? Why?
I would love to play a show with Ariana grande because she has such a fantastic, stunningly trained voice and can truly deliver during a live show, and i know i would feed off her live energy and push myself to be more risky and share how strong my voice is, being more honest with the microphone-no holding back. A dead artist I would love to perform with would be Michael Jackson, obviously, because without the key memory of watching his "Thriller" music video and the glitter glove that my brother passed down to me to use in my show, then i wouldn't be able to draw inspiration for why i do what i do- because i wanna be a pop star just like Michael one day.
What's One of The Craziest Things That Has Happened Since You Became a Musician/Artist?
Ok, this may or may not be creepy to you but, i guess here it goes…and it's the truth! I recorded one of the last songs, "Work For Me", that would be on my debut album, and loved it so much that I immediately released it as a single. Since I was on a budget, (with everything that was going into producing an album), I decided to record footage on my iphone and figure out how to make a music video by using IOS store applications. Since it was October, and It was always a spooky time of year, i went to the graveyard to film for the video. I put my speaker on low, to remain respectful, and moved around, getting different shots of me dancing or playing around on one of the benches by the lake.
I've always been a huge fan of horror films forever, and I wanted to essentially make my own, by challenging myself, because spending the night there filming was truly terrifying…I'm not gonna lie! At the end of the day it was soooo worth it because it helped me figure out what the song was truly about , and it matched up in a totally unexpected way to how the video turned out…..it was truly scary!! When I was packing up, to go home in the morning, and get to work…my speaker started playing "giving me life" by Mariah Carey, randomly, which was so crazy because I had never heard that song before, and it just came on my Spotify. Turns out it was a blessing because I'm obsessed with it now, and it always reminds me of how brave I was that night.
Do You Have Any Pre-Show Rituals Before Taking The Stage? What Do You Do After a Show?
Yea, i have a magic wand that was specially made in Ireland, specifically for Saint Pete to use. It has different stones that help in various ways both mentally and spiritually. I hold the wand, and pray, and then begin to work out in my dressing room. I do push ups, drink water, lots of crunches, more water, then I take the wand and put all that positive energy and intention from my body and mind into it. I thank it for how grateful I am to be able to get on a stage and share my art, and then I bring the wand on stage, set it down and perform!
What Advice Would You Give To a Young Artist Just Starting Out?
If anyone..and I mean anyone….tells you anything negative about what you do, even when it comes to feedback, never let that make or break you because at the end of the day, more than likely, they have no idea what they are talking about with their feedback, unless they are a professional in the business of music. Otherwise, you start to believe everything you hear, and forget why it is you are doing what you are doing. Let your music become a new persona for you, and be careful who you share it with, because it should be sacred and rare to you.
I made that mistake, long ago I would get so excited about each song that I wrote, that I would share each demo with everyone, and almost couldn't even get to the point of releasing an album, because I was so excited to release and share each song I put together, almost instantly!!!
My point is, be patient and keep your ideas almost locked in a chest, with all the things that inspire you…for me it was my notebooks of lyrics, magic wands, spellbooks, crystals, candles, puzzles, games, legos, and coding kits. Make it your magic chest of ideas, and trust me you'll know when it's time to open it up and share your story with your audience, and heck, even the world!
What is One of The Biggest Lessons You've Learned As An Artist?
Take what people say with a grain of salt, if you know you gave it your all, that's all that matters. I had the idea for a while that my music would somehow summon a label's attention and magically notice me and see what I saw in my music , and sign me. It took some time to realize that that idea, was and still is a total fantasy.
If your vision and change to perform isn't happening and you've given it your all-then IT may just not be your time. But, the sun will come out tomorrow!
Best advice given to me: Get a white board , create a space in your room with other things that inspire you, and literally write all your ideas out, and then the music will come.
Any exercise or attempt that makes you uncomfortable when doing it, usually ends up being the best secret you never were told, meaning it benefits you in the end . Find the method to your madness, but be careful who you tell. Always share it with your fans, or those who accept your message.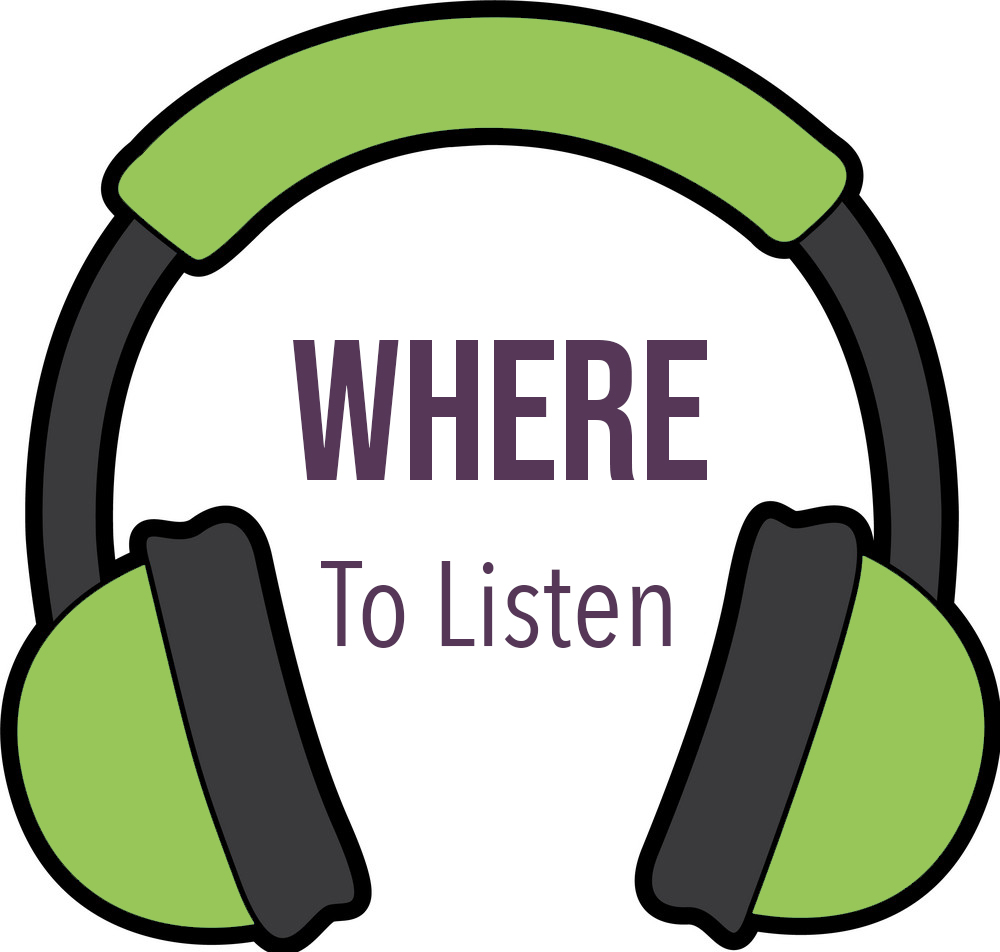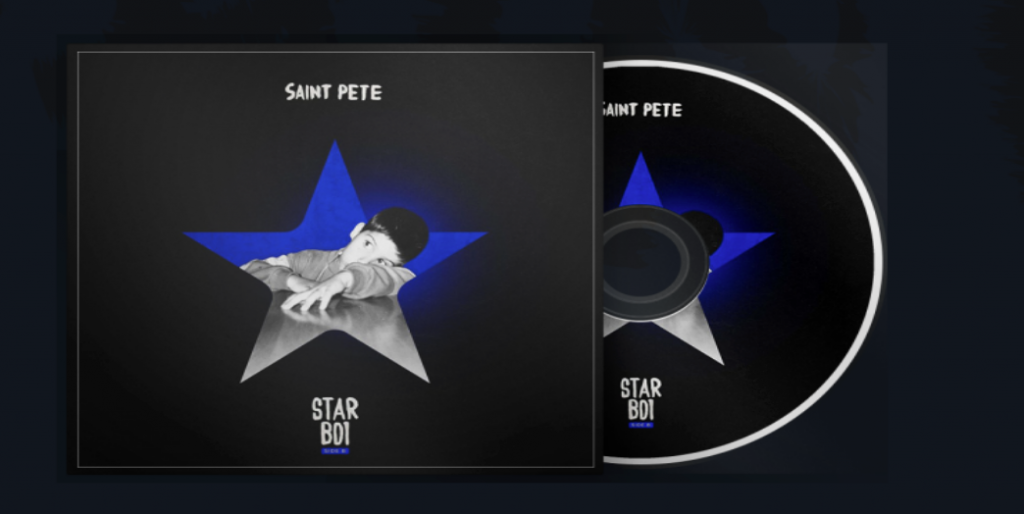 I'm excited because I am re-releasing a Deluxe Version of my album: Star Boi, with 15 tracks, 2 bonus tracks, which have never been released before. It will be out on April 1st. Want a physical copy of the Star Boi album mailed to you, free of charge? All you have to do is become a fan and join the PETE PACK.Follow Saint Pete below on social media platforms (links below) and shoot him a DM him after. You will then get a free copy of his debut deluxe album, along with :a mini poster (signed and bedazzled by Saint Pete), album booklet, and a sweet sticker pack! Can't wait to connect with you

– Saint Pete
Other Resources