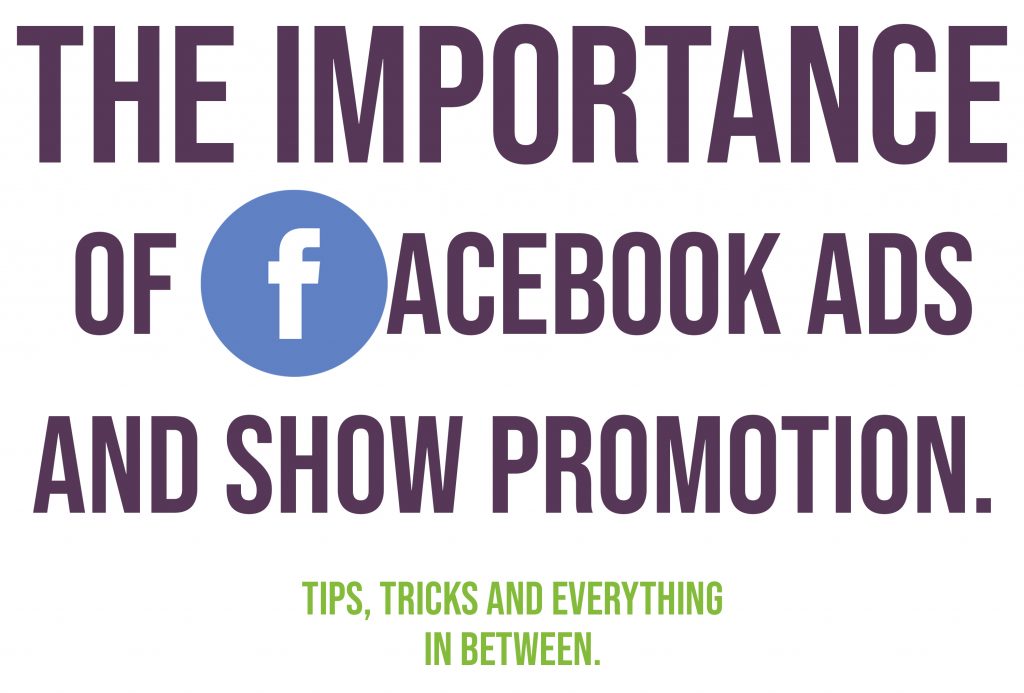 Facebook Ads and Promo Tips
I will be walking you through some tips and tricks regarding both Facebook ads and other promo tips that we have learned along the way. Hopefully you will be able to apply some of these tips to your ads as you promote your next show.
Most artists just starting out may not have extra money that they are able to spend on promotion for their concert/event. So for the first part of this article I will go over some tips that don't cost you any money and then I will follow up with some tips for artists that have a small budget to work with for promotion.
In Person Promotion
One of the easiest ways to promote is in person. You talk to friends, family and co-workers almost on a daily basis, so it is very easy to inform them about your upcoming show. Usually these are the most likely fans to attend your shows, so it is a good idea to start your promotion with them.
The good thing about Live Stream is it allows those friends or family that are across the coast from you to attend your show. Where as, if it was a regular concert they would be a lot less likely to attend because of the distance or the inability to travel. So just remember this is a great place for you to start your promotional efforts if you have an upcoming show and are looking for a place to start!
Online Promotion
Another easy way to promote is promoting your show online. We live in an age where we can contact people with the click of a button and also have a ton of social media outlets at our disposal. Most artists already have some kind of social media account whether that be Facebook, Twitter, Instagram or Youtube (If you do note have one make sure to create as many as you can after reading this blog article).
Each of the social media websites have a lot of built in features that can help you creatively promote your show. Whether that be Youtube being able to upload an entire video, Facebook to go live and chat with your fans or Instagram by posting a quick story update to your fans.
The more you use each social media site the better that you will understand some of the great tips and tricks that you can use with each one.
Artist Networking
The final tip to promoting a show is by networking with other artists or companies. This can be a great tool to use for any artist! A great thing about our music community is that so many artists and companies enjoy working together and helping one another out to further their career. I have seen a lot of artists making special posts about a friend of theirs or a fellow musician that has an upcoming show. This is the same for companies as well. A lot of companies may know or follow an artist and will help them out by giving them a shout out on their social media.
Here at Afton Shows we have given out custom shout outs to a TON of artists that book with us. We offer a lot of these shout outs for free as a perk when the artist reaches certain benchmarks (You can see those HERE).
For some shows we have had artists that did not want to wait to reach the benchmark to get the social blasts so they purchased one of them from our store. If you are interested in one of those you can check them out HERE. We have built up quite a large following on our social media accounts filled with up and coming artist that are always looking for the next artist to network with. Because of this a lot of artists have found success by getting custom social media blasts from our store.
Promotion With a Budget
Now I will go over some tips for artists that have a small budget to work with. I truly believe the best form of promotion is Facebook ads. This is because Facebook has become such a powerful social media presence over the years and that gives you (the artist) a huge network of fans to work with. In the future we will be making a blog article that walks you through how to setup a Facebook ads account, but for now if you do not have one you can head over to youtube and find a ton of walkthrough tutorials on there that can help out!
Facebook Ads
The first step when setting up an add on Facebook is making sure you have your audience ready to go. Most artists know from booking shows and social media just who their audience is and usually the age group of their fans. If you do not have that info you can actually get it from your Instagram account by checking and seeing the age and gender demographics of your fans from the 'Insight' section of your account. You will then be able to narrow down your ad to just that audience so you know that the ad is being shown to the correct people.
If you are an artist that has been selling merch or music online to your fans there is a good chance that you have a list of email address' from your fans. This can be an AMAZING tool to help your ads target new and existing fans to see your ads. From your Facebook account you can create a 'Custom Audience' that will display your ad directly to fans linked to that email address that are on Facebook.
You can also use your email list to create what is called a 'Look Alike Audience'. This basically takes your email list and finds the Facebook accounts that are linked to them and then it displays your ad to other Facebook accounts that have very similar likes, demographics, page follows and general interests.
Instagram Ads
All the tools above that I mentioned for Facebook ads can also be used for Instagram ads since they are both owned by Facebook. From the Facebook ad creation screen you can actually choose which social media site your ads are displayed on. So if you find that 90% of your followers are on Instagram and not on Facebook you can create a custom audience and set it to ONLY display to your Instagram followers.
The next thing you can do is to use your 'Look Alike Audience' (if you created one) and set ads to only display on Facebook. The reason to do this is if you have mainly Instagram followers this is a great way to find new fans on a platform that you dont have a ton of followers to start out with. As I mentioned above the 'Look Alike Audience' uses info from accounts linked to your email list to find NEW similar accounts. This way you are targeting both NEW and OLD fans to come to your show.
The Final Tip
The last tip I would like to go over is a pretty simple one but it is one that has helped us a ton when advertising on Facebook. When you are first creating your ad and it ask you what kind of budget you would like to use (Daily budget or Lifetime budget) we have found that daily budget is a lot better. For whatever reason our ads have been given priority over other ads when we choose this option instead of a lifetime budget.
The only thing to be aware of is when you select daily budget (of lets say $10 a day) you need to log in and check on your ad each day so you don't spend more than you wanted to spend on your whole promotional budget. When you login to check your ad make sure to click on 'View Charts' and you can see all of the results of your ad. And then you will be able to learn from those results and apply them to future ads.
We hope you took away some tips from this article that you will be able to apply to your future show promotions. And as I mentioned we will have more blogs like this in the future that dive deeper into the creating of a Facebook ads account for those of you that don't yet have a Facebook ads account yet.
Other Resources
How an Artist Can Market Their Livestream