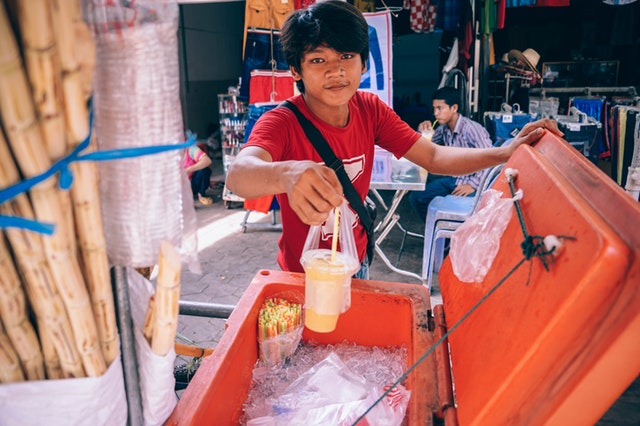 The Art of Selling
"It's not a 'cause!' I don't think six and a half thousand Africans dying everyday from a preventable, treatable disease like aids is a cause. I think that's an emergency." As U2 front man Bono explained to NBC's Brian Williams in May of 2006, his concern for the continent of Africa is deeply seated—and understandably so.
When U2 isn't busy making multi-platinum selling records or selling out arenas like Madison Square Garden for many as five consecutive nights, Bono spends a significant portion of his down time working as an unofficial ambassador to many African nations. In regards to his efforts to raise funds and increase standards of living on the continent, Bono explains, "My goal—my job—is to put myself out of a job. So I can be in a rock band, in all good conscience." He facetiously continues, "And get on with my spoiled rotten rock star's life."
Bono's passion and concern for the people of Africa is unquestionably pivotal for the work he does to help them. However, as he explains, his success—both in his African relief efforts and in his music career—is thanks in large part to his ability to sell. "I genuinely see myself as a traveling salesman. I mean, I think that's what I do. I sell songs door to door—on tour. I sell ideas—like debt relief. And like all salesmen, I'm a bit of an opportunist." He continues, "I see Africa as a great opportunity… for us in the West to show our values."* Bono has used his ability as a salesman to not only build a legendary career in the music industry but also to rally support for a struggling continent in countless ways—like convincing President Bush to commit $10 billion for African debt relief back in 2002. **
Selling is so much more than completing a transaction. It is communicating, it is teaching people to make informed decisions, it is making sure that no one misses out on a valuable opportunity. And if you, as an artist, don't invest the necessary time and energy learning to sell, your potential fans will be the ones who truly suffer.
The opportunity to enjoy your live show or to be impacted by the songs on your CD is pretty valuable, right? As an artist, it is your job to make sure no one misses out on that opportunity. Of course, some people aren't going to get it… and that's fine. But you owe it to everyone else to make sure they understand just how valuable of an opportunity you're offering them.
No one is as capable as you are of effectively communicating about your art. You know your music better than anyone, because you created it. And if you don't take it to the people who need it—who will? The answer is, no one.
What Works For You
Obviously, not all artists have the same objective. Someone who writes love songs with one person in mind may not want to share what they have created with anyone else. However, some artists aspire to impact millions with their music. Neither goal is necessarily right or wrong—just different. But given the choice, it is safe to say that many gigging musicians would choose an audience of millions over an audience of one, because it is only natural to want to share what you have created.
With this in mind, it is important to realize that there are only two factors that determine the impact your music will have on society. The first is, of course, the music itself—the fruit of your creative ability and effort. The second and often less recognized factor is your ability to sell your potential fans on your music and ultimately on you as an artist.
These two factors are independent, so it is not necessary to sacrifice one to achieve the other. The goal is not to find a middle ground or strike a balance between artistry and salesmanship. Rather, an artist who hopes to make a broad and significant impact must maximize his or her abilities in both arenas. When considering two extreme examples, it is clear why each of these factors is 100% necessary for most artists to feel completely fulfilled in their careers.
At one end of the spectrum is an artist who is very personable and does an exceptional job of selling people on her music but devotes little to no time and energy actually creating art that is meaningful and deserving of attention. She may end up selling a great deal of music, but sadly, the impact her music has on its listeners will be limited—stifled by a lack of artistic investment. The other extreme is an artist who devotes countless hours and unmatched focus to every song—creating deep, beautiful, life-changing music—but never leaves his bedroom. He may find considerable personal satisfaction, knowing that he's created something great, but without any listeners, his music will have no impact beyond that.
This is not to say that there's anything wrong with either of these extremes. Every artist should choose the path that is most in line with his or her goals. However, many artists aspire to make a deep and widespread impact with their music, and accomplishing this requires a commitment to excellence in both artistry and salesmanship.
While many artists enjoy creating music as a hobby and wouldn't change that for the world—some aspire to make a career of music. Since, for these artists, the notion of a "day job" is unpleasant at best, the notion of salesmanship is an absolute necessity. Unless an artist learns to sell their music, they are forever bound to the dreaded day job—only able to make music in their off time.
Granted, there are some artists (famous examples include Lisa Marie Presley, Paris Hilton, etc.) who are able to make music fulltime without needing to sell even a single CD or concert ticket. These artists can pay their bills regardless of whether or not they are capable of selling their music, but this circumstance is far from typical—an extreme exception. In almost all cases, a fulltime professional artist MUST know how to sell their music—in order to keep their "job" making music.
Making It Happen
Some will argue, "I don't need to be good at selling, because I'll find people to sell my music for me." And in fact, there are plenty of people (managers, booking agents, record labels, etc.) who are in the business of selling artists' music for them. But in regards to this issue, there are two principles that are absolutely vital to understand.
First, there are literally millions of artists competing for the attention of these "professional" salespeople, so the only artists that attract their attention are those who are skilled at selling themselves and their music. Because of the sheer volume of solicitations these people receive, artists who are ineffective at selling themselves are often simply ignored. The second principle to consider is that artists who have a proven sales history are much more appealing to industry professionals, because they are a much lower risk. In addition, artists that have proven their ability to sell their music are in a much better position when it comes time to negotiate contracts—such as management agreements and record deals.
In your music career, as in most arenas, the better you are at effectively communicating, the more successful you'll be. Throughout your career, no skill will serve you as well as those of artistry and salesmanship. Always make a consistent effort to improve at both, and as Bono's experience exemplifies, you'll be glad you did.
"I would say that my father encouraged us not to dream, because to dream was to be disappointed," Bono recalls. Growing up, he was accustomed to being told things like, "Get any old job… become a salesman." Despite being drenched in negativity, this ironically turned out to be just the advice Bono needed to fuel a legendary career as an artist. "That's what I have turned into," explains Bono, "a salesman." **
CITATIONS:
*Hewson, Paul D. Interview. "May 2006." Bono In Africa With Brian Williams. NBC News Specials. NBC. 21 June 2006.
**Wenner, J. S. (2005, November 3). [Podcast] Bono: The Rolling Stone Interview. Bono: The Rolling Stone Interview. Retrieved March 22, 2006, from http://podcast.rbn.com/rstone/rstone/rss/bono_rs.xml