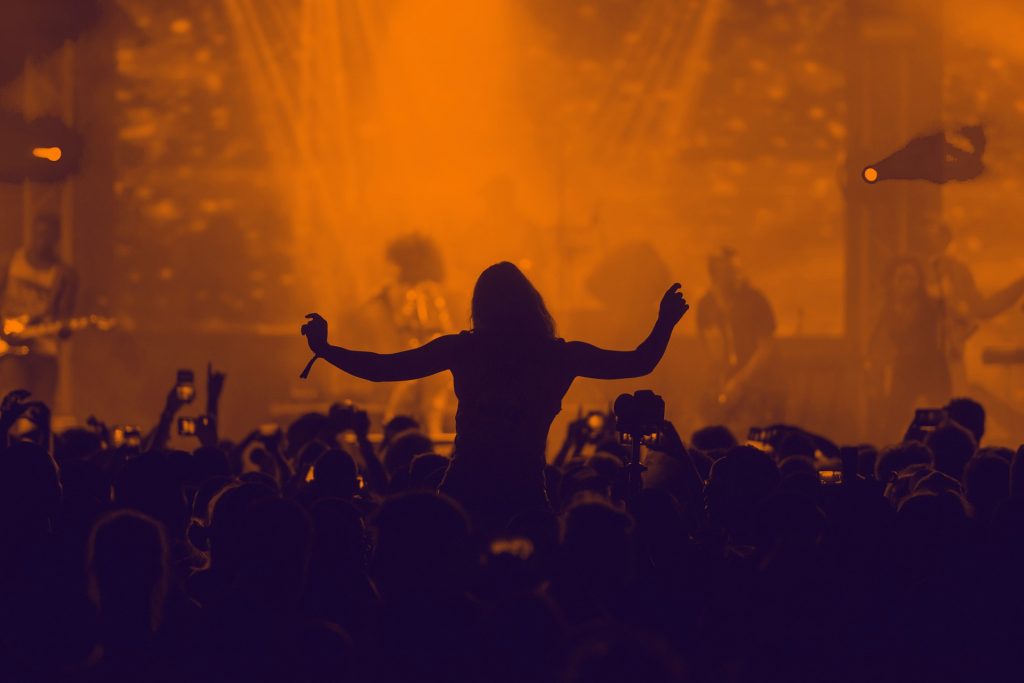 How long is too long?
If you're just starting to get your music out, you're probably pretty excited to play everything you've written. You probably have every single song in your set laid out perfectly. You probably made your set way too long.
When it comes to getting more fans, you need to pace yourself.
A super long set can actually damage your ability to draw new fans. Keep it short. 15-30 minutes is a good range. Anything longer and you're losing people. That's one of the reasons Afton Shows set times are the length they are.
"Leave Them Wanting More"
As the Hall-of-Fame soul legend Bobby Womack once said, "Leave them wanting more and you know they'll call you back."
This should be your mantra when performing a live show for potential new fans, not just in the beginning, but throughout your music career.
Don't burn them out. Leave them wanting more!
Go All Out Then Get the Hell Offstage
For your first few shows, especially, play your 4-5 BEST SONGS EVER and play them with full confidence, passion and enthusiasm. Don't hold back. Become the star you know you are. Go all out! Give yourself some time to talk in between songs to the crowd, then get the hell offstage.
Right after a show is the single best time to make some progress on your fan base and grow your audience. Don't waste that opportunity by disappearing to the green room or the parking lot to "celebrate" your epic performance. Use that time after you melted faces to meet those people, sign them up on your mailing list, sell CD's, and get them to your merch table.
If you blow your audience away with a killer short set, the chances of them becoming a fan and buying your merch go through the roof. If you wear them out with a long set, the tables will turn and you'll find yourself hanging out alone with your crew after your marathon set wondering why no one is showering you with praise, adulation and cash.
Do They Know All the Words?
The ONLY people who want to hear you play 1-3 hours are your die hard fans. But you still want them coming back for more. And the longer the set the more you lose people. If they don't know your music they get bored.
Think about an artist you now love and know all the words to their songs. Did you know all those words the first time you heard them? Of course not.
That takes time. The 1st time you heard them, if they played 2-3 hours you might have never become a fan.
It's only AFTER you know every song and lyric by heart and it's familiar to you that you want to see them play for three hours straight.
What About National Tours?
If you did not bring 80% or 90% of the crowd, and if you are not the headliner, there is no reason for you to play a super long set.
These days, most national headliners (where ticket prices are $30 to $50+) are only playing a 60-90 minute set, tops.
The exception may be prog rockers like Minus the Bear or The Dearhunter or jam bands like the Grateful Dead or Phish.
But those acts are playing to a die hard existing fanbase every show who know the words to all of their albums. They didn't start out playing long sets, they had to build that audience first.
Legends Need Not Apply
The Eagles and Pearl Jam can play a three hour set. Because every song is a HIT SINGLE and they play to sold out stadiums. If you're not The Eagles or Pearl Jam, or you're not selling out stadiums, don't play a long set. Even one hour can be too long, especially if you're just starting out.
It's not just rock bands. Most touring rappers play 20-30 minute sets. Even rappers like YG or Lil Wayne only play about an hour live. Public Enemy and Snoop Dogg can perform an hour and half long shows, but they are long-standing legends and fans are more likely to stick around for their sets.
That being said, even your favorite artists, even the legends, can find themselves performing in front of a yawning, distracted crowd of fans checking their texts if they go too deep into their "new album" or weird, rare cuts no one knows.
First Date or Job Interview?
Think of playing your early shows like a first date or job interview with your fans. Have you ever been on a date or interview that just went on too long? If so, you know how these potential new fans are feeling.
Don't squander this opportunity to impress them. Keep it short. Keep it electrifying. And you will most likely see those new fans at your next show, and they just might bring some friends with them.
Remember: Leave Them Wanting More!
Using this one simple tactic, you will see your fanbase skyrocket with every show you play.