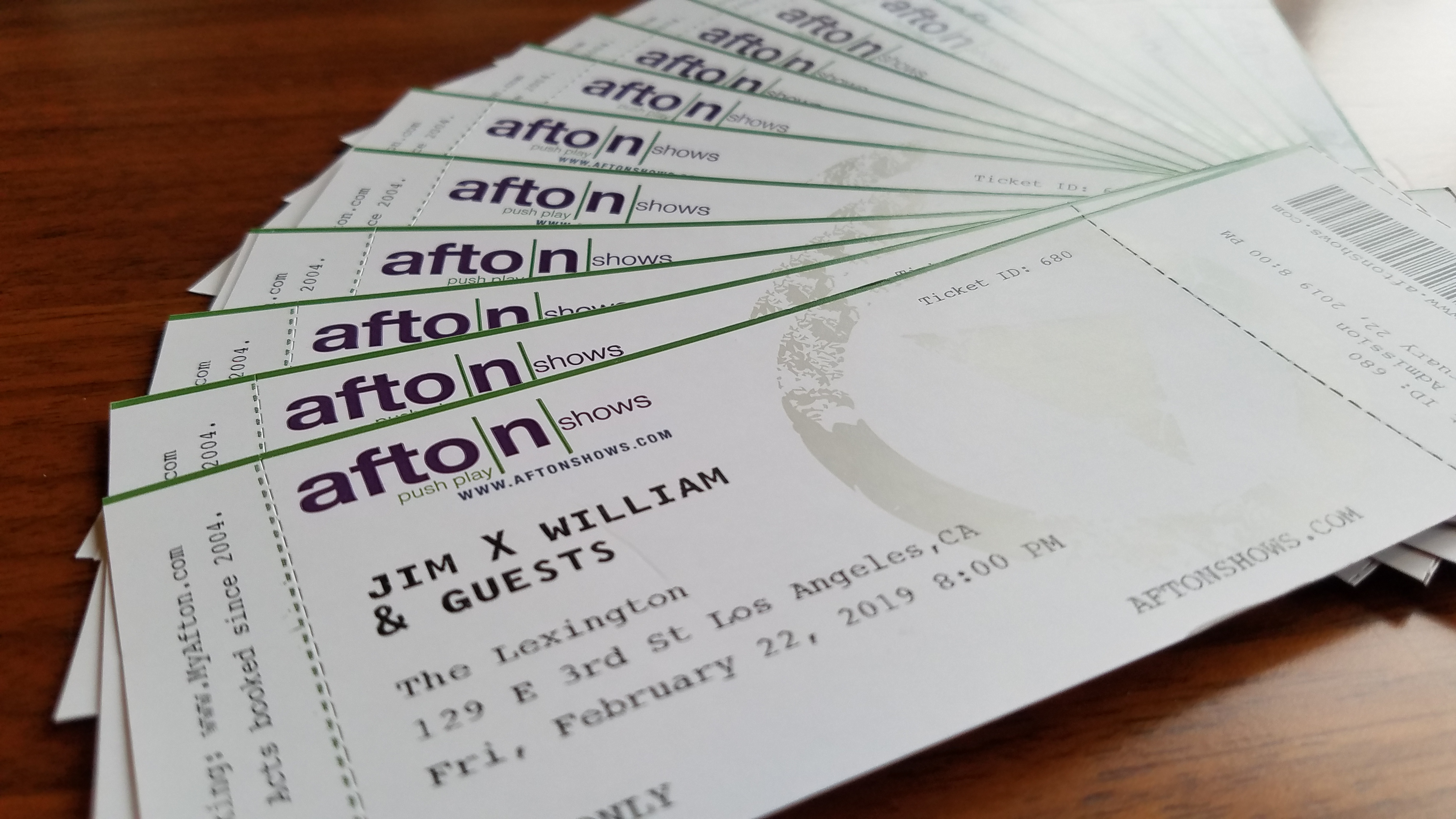 So you think you can't sell any tickets, eh? Well, here's twelve tips to help you get over your doubts!
FRIENDS AND FAMILY:

If you haven't already hit up those closest to you, what are you doing? This is an easy layup. A no-brainer. Ticket sales and marketing 101. If the people closest to you don't want to see you perform, you might rethink this whole being a musician thing altogether! Hit up every single friend you know. Hit up your family members you aren't fighting with. You gotta job? Hit up your coworkers. (And see if you can post a flyer somewhere while you're at it!) Do you have roommates? Is your girlfriend/boyfriend coming? They better be. Have you hit up your closest people yet? While you're at it, make a list of all these people and check them off as you sell them a ticket (or two). Get their emails for future marketing. After you've hit all these people up, go back to them and see if they know anyone else who might want tickets.


TELL-A-FRIEND NETWORK:

Nobody likes to go to a show alone. Keep that in mind when selling tickets. So, sell tickets in PAIRS (unless they can only swing one). Remember, every person is potentially two tickets. So if you get ten people to buy a pair, you've hit your goal of 20 tickets, just like that. If you've got your friends on board and they already have tickets, see if they know anyone who might want to come too! You can bet on the fact that each of your friends have at LEAST 1 or 2 other friends who might want tickets. So if you have ten friends, and they just tell ONE other person who wants a ticket, you've doubled your sales! Word of mouth is the most effective form of marketing out there. If your friends dig your music, they will have no problem telling their friends about your show. Don't feel bad using them to promote your show. 9 out of 10 times, they are more than willing to do it. Just don't forget them when you become a star!

DIVIDE AND CONQUER:

How many people are in your group or posse? Split up the ticket sale duties between group members! If you have 4 people in your crew, that's only 5 tickets each and you've sold 20 tickets in no time! Do you have a manager? Street teamers? An entourage? The more people in your crew that are selling tickets, the less each of you need to sell. And if you don't know 5 people, you need to get out more!


FACEBOOK:

Build a Facebook event, invite your fans, share daily until day of the show. Post at different times of the day to maximize the algorithm and to hit different audiences. You can also schedule the posts so you can "set it and forget it". Change up the "copy" in each post to keep it fresh. Be clever, witty or wild for best response. Make them remember you! Include all the details, like date, time, location and address. Use the map. Post pics, flyer or video if you have it. Don't forget to include the ticket link and promo code! Facebook makes it easy for bands and artists to easily promote themselves with zero budget. Ask your friends and fans to share the post!


HIT THE STREETS:

Get a staple gun, a stack of show flyers and hit the pavement, old school style. This tactic is the old tried and true and does work. Post flyers around town. ALWAYS HAVE PHYSICAL TICKETS ON YOU! You never know when someone might want to buy one or two. Think record shops, coffee shops, bars, clubs, restaurants, pool halls, liquor stores, other venues, INCLUDING THE ONE YOU'RE PERFORMING AT! Post anywhere your fans might hang out. Have a strategy, look at a map on google and get friends (or street teamers) to help you to maximize reach. 3 people can reach way more ground than 1! And don't forget the handbills and ACTUAL TICKETS! Give out handbills in front of a local show near venue (or at that venue) after a show. Go to bars and clubs with handbills and strike up conversations with people and mention your show. If they seem interested, give them a handbill and let them know you have tickets for sale ON YOU! Give them the promo code price!


TWITTER:

Tweet to your followers, and don't forget to include the ticket link and promo code! Make sure to tweet daily at different times to maximize your reach. Change up the "copy" with each tweet to keep it fresh, be clever, outrageous or witty for best results. Don't forget hashtags and tagging the venue, other artists on the bill and @AftonShows and we'll share your tweet too! And ask your friends and fans to retweet!

GIVEAWAYS:

Give fans a download of your single or some merch (T-shirt, stickers, autographed band/show posters, or something of value) if they buy a pair of tickets. You could even buy a pair of your own tickets and use that pair for your own contest or giveaway. Maybe have people share your social media post of your show for a chance to win a pair of tickets. Pick someone at random and give them the tickets. If you don't have physical items or you're flat broke, take a page from Kickstarter and give away "experiences"…like a hangout at your band practice or a night on the town with the band/crew. A shoutout on stage (bring them up at the show!). Early access to your show, or first to get a copy of your upcoming single/EP/album. Be creative. What would YOU want from your favorite group or artist?


INSTAGRAM:

Post your show details to your followers and don't forget to include the ticket link with promo code in your bio! Use a pic of you or your band, or make a meme, with the show details in the image. Make it clever, crazy or witty and you'll get more reaction. Post daily at different times. Use hashtags and tag the venue, other artists, and @Aftonshows. You can share to all your social media from Instagram, so it's easy to mass connect from this social media. Save the pic on your phone and you can send it to people via text, Snapchat and email too.

MAKE A SCENE:

Network with other bands or artists and see if they'll help promote your show. The catch is you should willing to promote their work too! Ever wonder how a "scene" starts? By building it from the ground up. Find artists and bands you like and go to their shows. Make friends. Build alliances. Play each other's shows. Put them on your bill, play their shows. Support those around you and they will support you. Collaborate with them. Ask them to guest on a song or two, and do the same. Put them on your albums. How many of your favorite cuts have "featuring…" at the end of the title? Why do artists and bands do this? BECAUSE IT WORKS! You share in the work, the glory and the mutual admiration of your fans. Their fans get turned on to your work and your fans get turned on to theirs. Everybody wins! The more bands and artists you network and work with, the more YOUR audience and fans grow. Find out who's playing your upcoming show and see if you can collaborate on just ONE song and plan to do the same for them THAT NIGHT. PROMOTE THAT! Alliances and networking is crucial to growth.


FOMO:

Also known as Fear of Missing Out. Ever hear about a show or a party after the fact and you're kicking yourself for missing it? Make your show the next one. Let your fans know that this show is NOT TO BE MISSED and tell them WHY. Plan for something special that will never happen again. Make it an event! Maybe a once-in-a-lifetime collaboration, a song you've never played live before, a tribute to a legendary artist or hero of yours, maybe it's a limited-press mixtape or single release show or maybe it's your first show ever! Whatever it is, tease the hell out of it! Let your friends and family know that if they miss this, they're going to miss something special. Every single show you play should always be unique. You should always be thinking about how to up the ante every time you take the stage and you should make sure your fans know it. No two shows should ever be the same. Plan something special. You're an artist. Embrace it.


LOCAL PRESS:


Look for a local radio station or show (college radio loves helping unsigned artists!) and do an interview leading up to the show. Give them a radio-friendly track to play on the radio. If you're too far away from the studio, you can do this by phone. If you have more than one person in your group, make sure the best communicator does the interview. And hit the show/ticket details at least twice. Another approach: Get a small feature written or posted about you in your city's weekly or daily paper, or if there's a local music magazine or web zine, try to get them to cover your band as a profile to use for press for future shows (this is more of a longer term goal, not always the best for last-minute coverage). Make sure the venue you're playing at has an ad in the local paper that is promoting your show leading up to it.

VIDEO KILLED THE RADIO STAR:

Video is a powerful tool in your promotional arsenal. Make a quick video and post on Youtube to share on social media. If you think you aren't ready for that or don't have a "video budget", reach into your pocket, grab your phone and realize you have a full scale video studio in your hand. The capabilities of nearly every smartphone nowadays make this inexcusable not to use. It doesn't have to be fancy. Just make it honest, raw, and to the point. You can get creative if you want, but you don't have to. Hell just a face-fronting camera shot from a bedroom has made every day people millionaires and bigger stars than anything you hear on the radio with nothing more than a cheap webcam and internet connection. Talk about your show, where people can get tickets, etc. You can also do a Facebook live stream video with your phone every day leading up to the show, where you do your own AMA (ask me anything) with the comments that come through while you're live and use it promote your show. Keep it short. Just a :30-:60 is best. If doing a Facebook live keep it under 2-3 minutes total. People love SEEING their favorite artists. If you connect with your fans this way, you'll do wonders for your show turnouts and your success in general.