HOW DOES AFTON PROMOTE THEIR EVENTS & THEIR ARTISTS?
Afton strives to raise awareness for all of our shows, and aims to maximize exposure for our artists in the process. On the local level, there is no promotion tactic that is more successful than the simple face-to-face interaction between an artist and their fans. No company, agency, or club can ever substitute this vital interaction between artist and fan. Because of this, we will always do our best to get the word out about our shows, and to create awareness about our artists while they proactively network and build their fan base through their personal connections. Nobody can do the work for you, but rest assured we are doing everything we can to get our show listings and our artists out to millions of music fans nationwide. This is a co-promotion effort. We have yet to see another company or venue that promotes their local artists more than we do. When you book with Afton, you know we have your back. We empower, we teach, we support, and we promote alongside our artists!
ARTIST-SPECIFIC FACEBOOK ADS PERK: 7.2 Million – 14.5 Million Impressions Annually
Artists booked for an Afton show earn our Facebook Ad Perk as soon as they sell 10 Tickets in advance. These ads specifically promote that artist. We create, launch, and pay for these ads. We run these ads until 4,000-10,000 people have seen them. *Depending on their city's population, ad impressions range from 4,000-10,000.
*View all Ticket sales Perks at: www.myafton.com/perks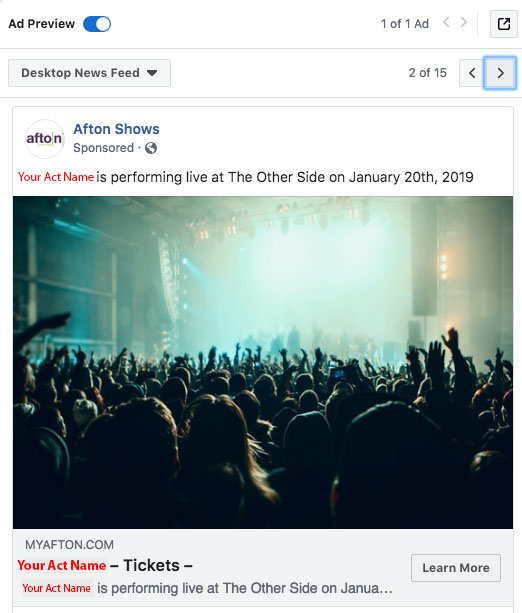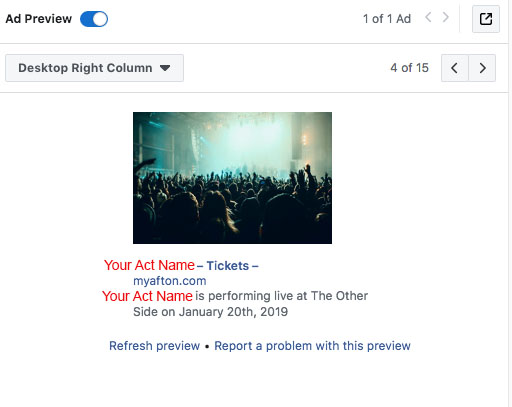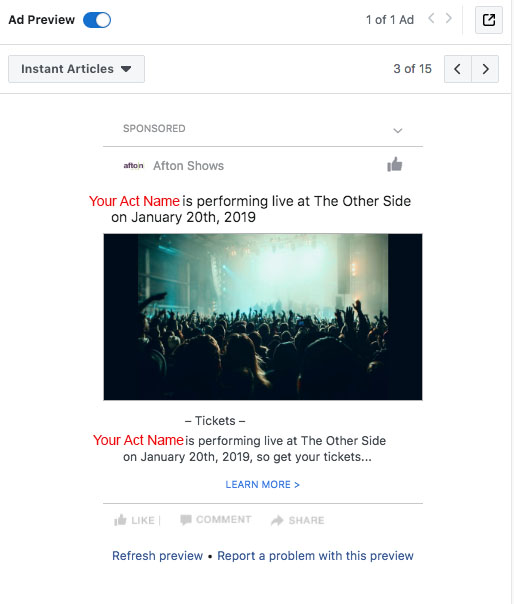 PARTNERSHIP WITH BANDS IN TOWN APP: 18 Million Users
Afton booking sends a live feed of our concert listings through a partnership we have with BandsInTown.com – (www.bandsintown.com concerts pulls data from a user's iTunes library, Facebook Likes, Spotify, Rdio, Google Play and Twitter accounts to pre-populate a customized list of tracked artists). With over 18 million users, Bands in Town is one of the best ways for music fans to find concerts in their area. We send a direct profile feed for each artist we book that is posted on Bands in Town. Each act has their own profile so they can start building trackers. Their Afton show, and their act specifically, is posted on this site.
1-ON-1 PROMO HELP FROM YOUR BOOKING REP
Each artist that books with Afton will get their own Booking Rep for 1-on-1 communication through email. We've booked over 12,000+ all local shows so we know what works, what doesn't, and what common obstacles our local musicians encounter when they promote a show. No other venue or promoter is going to spend the 1-on-1 time that we do to help you maximize your Ticket sales and maximize the effectiveness of your promo time. If you have specific obstacles, road blocks, or just need help – your Booking Rep is always there for you with proven strategies that have helped tens of thousands of our artists grow their fan base.
ONLINE AD CAMPAIGNS: 20 Million – 40 Million Impressions Annually
Between the online Facebook, Instagram, Google Adwords, and Twitter ads we run on top of the Facebook Ads perk above, 20 million to 40 million people see ads for our Afton shows and National Tours. Afton is constantly promoting our shows and our brand to music fans in both Canada and the U.S.
VENUE LISTINGS, MAILING LIST, & SOCIAL MEDIA
Afton promotes shows at over 160 music venues (and growing) in the U.S. and Canada. Each show is also promoted by the venue themselves. Shows are posted on the club's calendar, the club's social media, and promoted through the club's mailing list and other media channels. Afton updates our venues with lineups regularly so that the venue lists our top acts first. Afton also sends flyers to each venue.
MORE FLYERS GO OUT FOR AFTON SHOWS THAN ANY OTHER LOCAL SHOW
We have more Flyers given out and distributed than most (if not all) other shows featuring local artists. We do this by equipping each of our artists with their free Flyer pack, which they can distribute however they feel is effective. Our Flyer Design Tool allows our artists to create great looking flyers without having to hire a graphic designer.
On our main ticketing website we have "Featured Artist" spots that showcase the artist's picture, act name, and a link to buy tickets for the show they're playing. This is free to our artists, and is earned by one of the top ticket sellers for each show. This is ranked every week and rotates weekly. The featured artists are seen by thousands of music fans buying tickets for our upcoming events.
HIGHLY TRAFFICKED WEBSITE VISIBILITY
Each show we book will be listed on our event listings website www.AftonShows.com, which receives thousands of visitors each week. We also post our shows on our social media pages. We have hundreds of thousands of music fans that visit our event listings website and social media sites each year!
AFTON'S SOCIAL NETWORK: Over 100,000+ Followers
We also have a social network of tens of thousands of music fans, between our AftonShows Facebook, Instagram, Snapchat, Twitter, and YouTube accounts. We regularly post updates and tweet about our show listings and featured artists to help spread awareness about local shows. We also regularly post pictures from our past shows to add exposure for our artists that way as well.
FREE ARTIST RESOURCES BLOG & PODCAST
Our mission is to empower unsigned artists to reach the level of success they're looking for. We provide free resources, tips, strategies, and more at our www.MyAfton.com/Blog and on our new Podcast! Our goal is to help every musician, no matter what level they are at, even if they never end up booking a show with us. A stronger local music scene helps everyone so we strive to each artists how to promote better, build their fan base, and how to effectively sell Tickets for every show they play.
ARE RADIO ADS, PRINT ADS, OR TV ADS COST EFFECTIVE?
We have produced over 12,000 concerts and worked with over 200,000+ local acts since 2004. We have extensively tested and re-tested the effectiveness of every possible promotion tactic our staff could think of over the past 14+ years. We can only put our limited resources into the promotion tactics we know will cost effectively yield results. We have paid for and tested Print, Radio & TV ad campaigns for many years, but we have abandoned these methods because they are grossly overpriced and ineffective when promoting unsigned local/regional artists. Even for our National Tours, an artist has to be huge for this to actually work. As such, we've chosen to not waste resources on these types of advertising for our all local/regional shows or even for mid-level touring acts.
MORE IDEAS?
We are always open to new promotion tactics. We welcome any new ideas, and we will thoroughly review and test any good ideas that we have not tried yet. Please email us at: booking@myafton.com