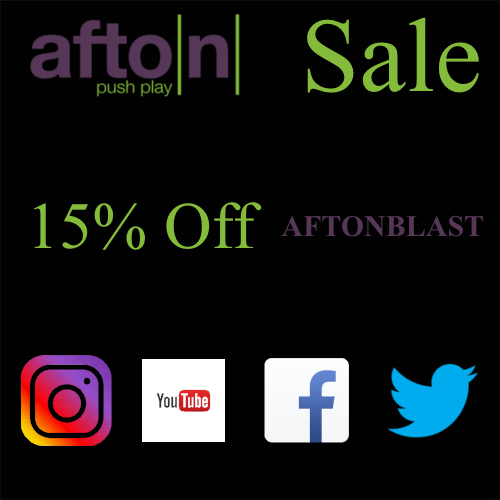 Afton 15% off Promo Sale!
We are very happy to announce our 15% off sale for all of our promo products in our store happening now through May 19th! We have tons of promo products to choose from!
Digital promo is a crucial part of a show for any artist. With that in mind we have a ton of Social media blasts available to our artists including Twitter blasts, Instagram shout outs, Facebook posts and putting your YouTube video up on our page for a ton of exposure!
For each of our blasts all we need is your handle (Ex. @aftonshows ), the message that you would like posted (Ex. "Hey I am Artist X checkout my music here: music link" ) and a photo that you would like posted with it.
Twitter Blast!
We make a post from our Twitter account with an audience of about 15 thousand followers! https://twitter.com/aftonshows
Instagram Shout out!
We create a shout out from our Instagram account with an audience of over 8 thousand fans! https://www.instagram.com/afton.shows/
Facebook Post!
We create a customized post on our Facebook account with an audience of over 47 thousand fans! https://www.facebook.com/aftonshowsconcertproduction/
YouTube Video!
With this promo blast it is a little different. You send us your YouTube video file and we post it directly on our YouTube account. That way anyone that heads to our YouTube page can check it out! As an added bonus if you have a song on Spotify you just send us the link and we will get that posted to our Spotify Playlist titled Emerging Afton Artists. https://www.youtube.com/channel/UCqKDAEJQNR6U08d3Nm_F72g
How to Get The Discount?
Just make sure to use the promo code AFTONBLAST at check out to receive the 15% discount for your order.
Where to Purchase?
Just head over to our store to purchase a promo blast: http://www.myafton.com/store
Other Resources
Don't Wait Around For Your Big Break